Nixxes and Insomniac Games have shared the Ratchet and Clank: Rift Apart PC system requirements ahead of the game's launch on 26 July. The requirements are split up into various tiers. You can get away with playing the game at 720p 30FPS with a GTX 960 if you want. However, if you're looking for the best, most attractive ray tracing experience, you'll need a powerful GPU.
The highest setting for Ratchet and Clank: Rift Apart is labelled as "High" with "Ray Tracing Very High". It runs at 4K 60FPS and demands an NVIDIA RTX 4080 or AMD Radeon RX 7900 XTX. You'll also need an Intel Core i7-12700K or AMD Ryzen 9 5900X.
Surprisingly, Ratchet and Clank: Rift Apart doesn't require an SSD on PC. While Insomniac Games recommends it, the lowest spec says you can get away with an HDD with at least 75GB of free space.
Ratchet and Clank Rift Apart System Requirements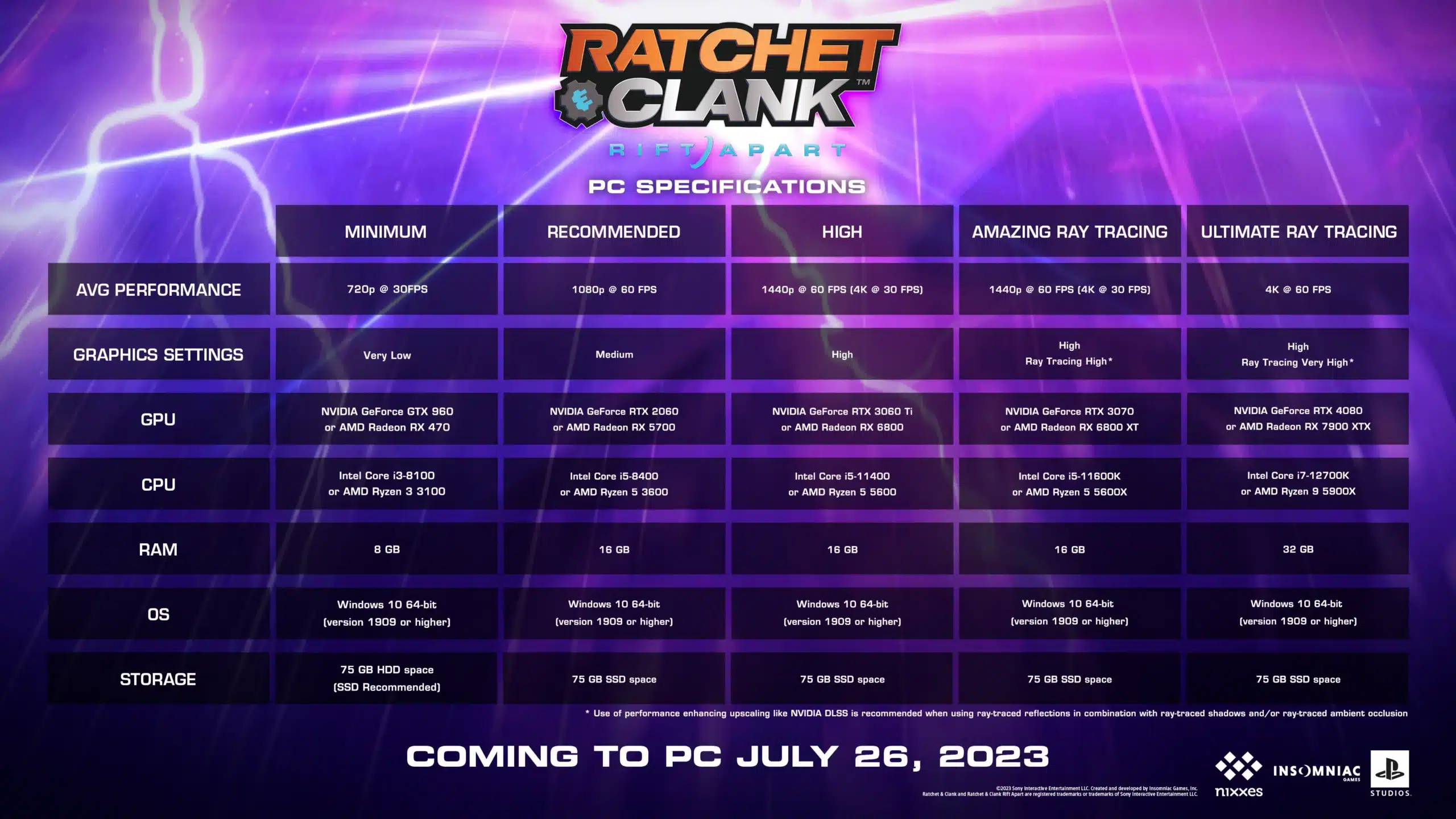 Minimum
Recommended
High
Amazing Ray Tracing
Ultimate Ray Tracing
Average Performance
720p @ 30FPS
1080p @ 30FPS
1440p @ 60FPS (4K @ 30 FPS)
1440p @ 60FPS (4K @ 30 FPS)
4K @ 60 FPS
Graphics Settings
Very Low
Medium
High
High with RT
High with RT Very High
CPU
Intel Core i3-8100 or AMD Ryzen 3 3100
Intel Core i5-8400 or AMD Ryzen 5 3600
Intel Core i5-11300 or AMD Ryzen 5 5600
Intel Core i5-11600K or AMD Ryzen 5 5600X
Intel Core i7-12700K or AMD Ryzen 9 5900X
GPU
NVIDIA GeForce GTX 970 or AMD Radeon RX 470
NVIDIA GeForce RTX 2060 or AMD Radeon RX 5700
NVIDIA GeForce RTX 3060 Ti or AMD Radeon RX 6800
NVIDIA GeForce RTX 3070 or AMD Radeon RX 6800 XT
NVIDIA GeForce RTX 4080 or AMD Radeon RX 7900 XTX
RAM
8 GB
16 GB
16 GB
16 GB
32 GB
OS
Windows 10 64-bit
Version 1909 OR Newer
Windows 10 64-bit
Version 1909 OR Newer
Windows 10 64-bit
Version 1909 OR Newer
Windows 10 64-bit
Version 1909 OR Newer
Windows 10 64-bit
Version 1909 OR Newer
Storage
75 GB HDD Space
(SSD Recommended)
75GB SSD
75GB SSD
75GB SSD
75GB SSD
Ratchet and Clank: Rift Apart comes with some enhanced PC features including optimized ray tracing, ultra-widescreen support and more. Check out the trailer below ahead of the game's 26 July release date: