The Razer Kraken gaming headset was one of my favourites of 2019. You can read the full review here. It retailed for R1,499 and featured some decent audio, the gel-cooled earcups and a comfy design. But if you are looking for a headset that is a little cheaper than the Kraken, the Kraken X may be for you. It retails for R999 and could be the best budget gaming headset on the market not only being extremely versatile, but you are getting the "Razer" experience at a fraction of the cost.
For R999 you are getting a comfortable headset, with decent audio and a stylish design. It is a well-rounded package with no gimmicks and hogwash. Just a good headset that delivers on what it is meant to do.
Razer Kraken X Tech Specs
7.1 Surround Sound
250 grams
Bendable Cardioid Mic
40mm drivers
On-ear controls
Supports almost everything
Design and Comfort
Just as I mentioned before, the Razer Kraken X is as box standard as it comes and there is nothing wrong with that at all. It looks like a traditional gaming headset with its sleek black design, cushioned headrest and puffy earcups. The outside of the earcups has the traditional honeycomb cutouts with black Razer logos on each cup.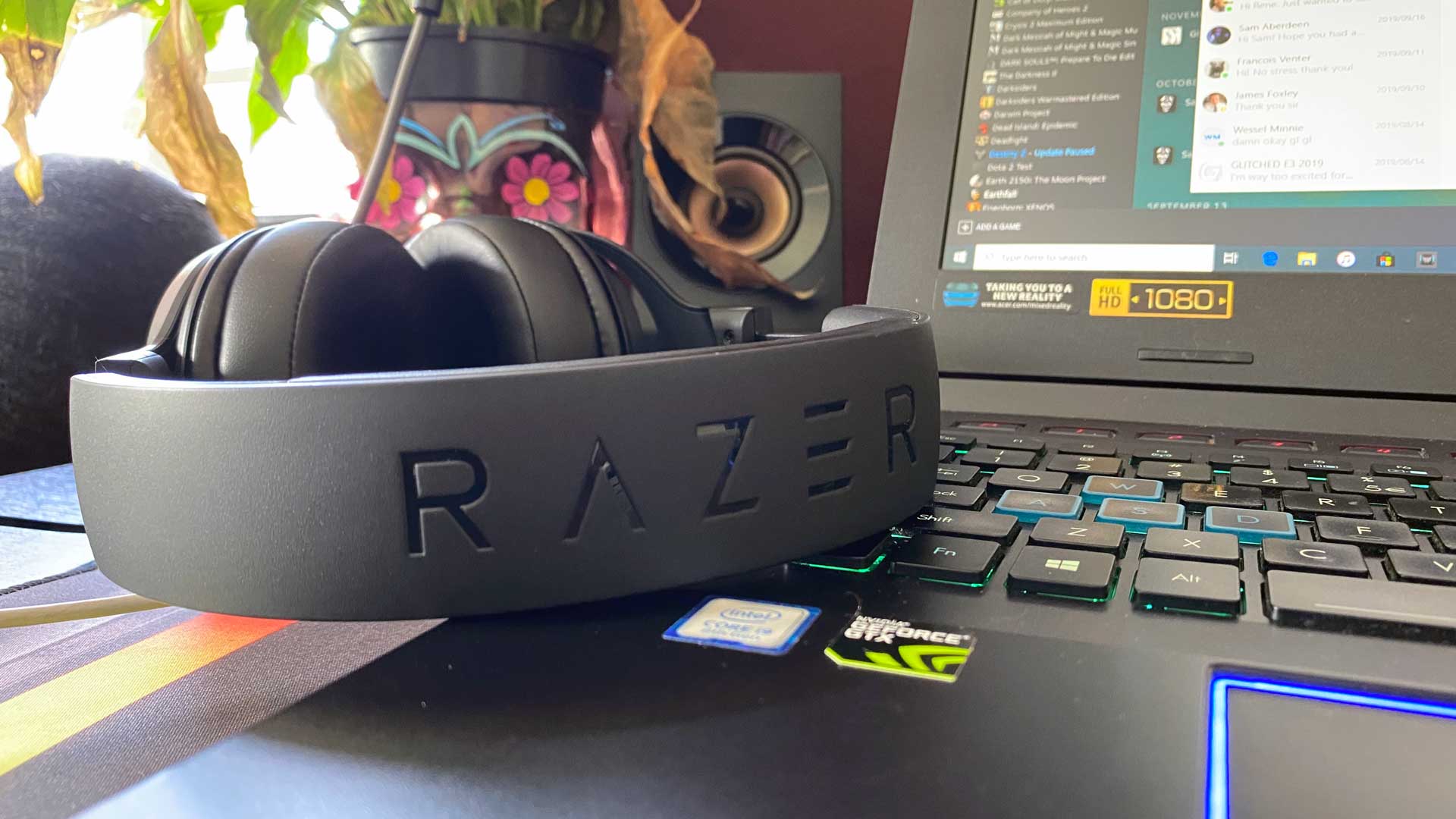 On the left earcup, you will find all the controls used to adjust and mute the headset. They are easy to access with the mute button featuring a satisfying click in and out button. The volume dial is also easily adjusted with your thumb and once you have discovered both of these media controls, accessing them comes naturally.
I do have a problem with the microphone, however. Most headsets feature a retractable or removable microphone but the Kraken X does not. Instead, you are stuck with a mic that dangles out in front of you at all times with no way to put it away. Sure, you can bend it a bit but overall, it just slowly moves its way back into your face. There is no getting away from the fact that it gets in your way.
Looking past the microphone, the rest of the device is quite versatile. It comes with a splitter in the box and the 3.5mm audio jack can connect to almost everything on the planet.
My only issue with the overall design was the head cushion is limited to the centre of the headrest and the sides are plastic which can cause a bit of discomfort after prolonged use. It also looks strange as you would expect the cushion to just be a bit bigger than it is.
When it comes to comfort, the Razer Kraken X is very comfortable. Yes, even with the limited head cushion. It works well while wearing glasses too, something I have had to get used to in recent headsets now and even with them on, the cushioned earcups seal off the outside world quite well.
Performance and Sound
I tested the Razer Kraken X with a PC, PS4, Xbox One and Switch. Basically, all the main gaming platforms on the market with a headphone jack and they all worked extremely well. The sound was clear with the odd explosion from Destiny 2 lacking that kick you would expect from a large bass driver. The headset does not have crazy bass levels but the balance of sound is more than ample to deliver a well-rounded gaming session.
The stereo directional sound made games like Modern Warfare easier to hear footsteps of oncoming enemies around me while every ooze of the hive was heard in Destiny 2. The headset managed to deliver some great high-quality sound across all tested platforms and was a massive step up from the portable speakers on the Nintendo Switch.
Are they the best drivers I have ever tested? Well, no. My PS4 Platinum headset knocks it out of the park with its 7.1 virtual surround sound but it is also three times the price and not half as comfortable as the Kraken X.
The Razer Kraken X does have 7.1 virtual surround sound but it only works on PC and makes use of Razer's proprietary surround sound software which is also limited. This also means you need to install that damn Razer Synapse program in order to activate the feature which, in my opinion, does not deliver a big enough of a difference to warrant the trouble it takes to get it hooked up in the first place. In short, the stereo sound is more than enough for this headset regardless of the platform you are playing on.
When it comes to the annoying microphone, it works well. Even though you can't get it out of your face, the sound is clear and voice chat is great. I had complaints that it often came across a little noisy but then again, this is a budget device so no surprise here. Just don't expect anything life-changing when it comes to the microphone. It just works.
Verdict
Overall, music and gaming sound while using the headset where okay. There are better headsets out there with bigger kicks and better drivers but the Razer Kraken X delivers a decent experience for the price. It is sort of in the middle of "budget" and "sort of high-end" and will keep you comfortable for those long hours of gaming no matter the platform you are on.

This review was based on a unit given to us for the period of two weeks by Razer