RIDE 3 is obviously the third entry in the franchise by Milestone and it shows. The game focuses on the evolution of the motorbike and RIDE 3 shows its own evolution, from an average-at-best racing game to a title that can compete with the best racing games out there. RIDE 3 pushes me to my absolute limits as I struggled at first, but throughout it all it kept me going with some great systems and most importantly, exhilarating racing.
Related: Pokémon: Let's Go Eevee Review
So just how robust is the RIDE 3 package? Well, the game features 30 unique tracks, faithfully recreated that motorbike fans will start drooling over, from the infamous Nürburgring to Cadwell and my personal favourites so far, the island of Tenerife and Imatra in Finland. The tracks have been recreated in such detail and the game basically takes you for a ride (sorry, I had to) across the globe. Yes, there's a lot of tracks and several game modes to enjoy, with basically everything a motorbike enthusiast would ever want in one package, but it's those glorious motorbikes that count the most.
With RIDE 3, Milestone stepped up their game in a big way, delivering over 230 motorbikes from iconic Honda NSR 125 R two-stroke released in 1992 to absolute monsters like the BMW S 1000 R and so much more. Then, there are 30 brands to choose from and every one of the motorbikes can be customized by the player. Not only that, but they look stunning, almost photorealistic, which is shown in such detail when a race starts and your player character looks down at his motorbike.
Playing through the career mode, which is massive with probably over 100 races to compete in and a dozen game types, I never once felt bored. In fact, I was on the edge of my seat most of the game as even on the easiest difficulty, the game is felt extremely challenging to me.
Sure, I'm not the best at racing games but RIDE 3 pushes me to my limits just to get a second place finish. That's, in my opinion, a good thing, as that challenge around every corner and the knowledge that I could completely lose my lead at any moment was thrilling.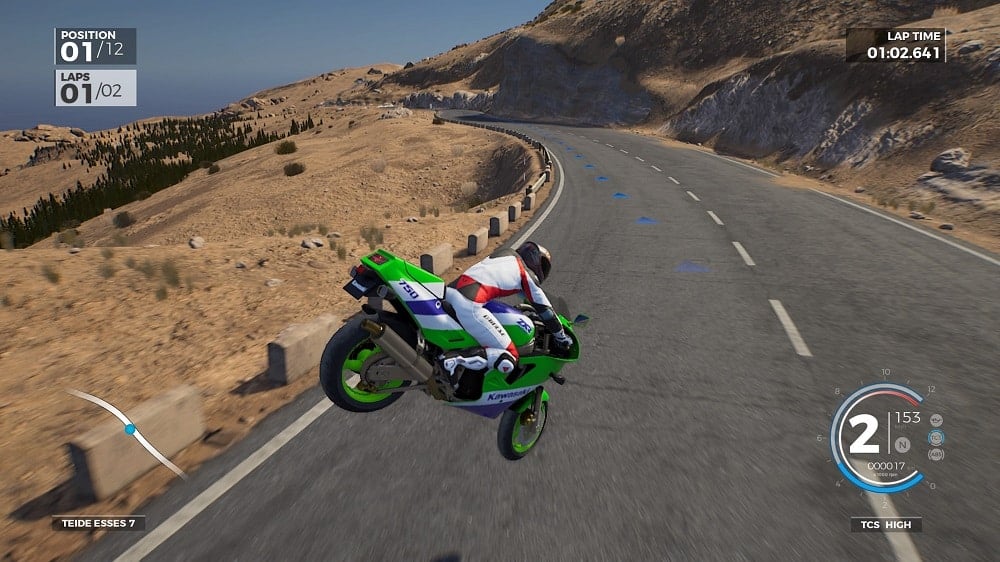 Even more thrilling was the speeds I could reach, so much so that I found myself slowing down a bit on purpose, not because there was a sharp corner on the horizon, but simply because I couldn't handle the speed at first. The game does have a great introduction, but nothing can really prepare you for straddling a 1000cc Superbike and racing in a pack of other riders.
As I learned all the intricacies of each track, my performances improved. RIDE 3 doesn't spoonfeed the player too much and that's great, as learning a track on your own and knowing exactly how far you can push a specific motorbike is a reward in itself.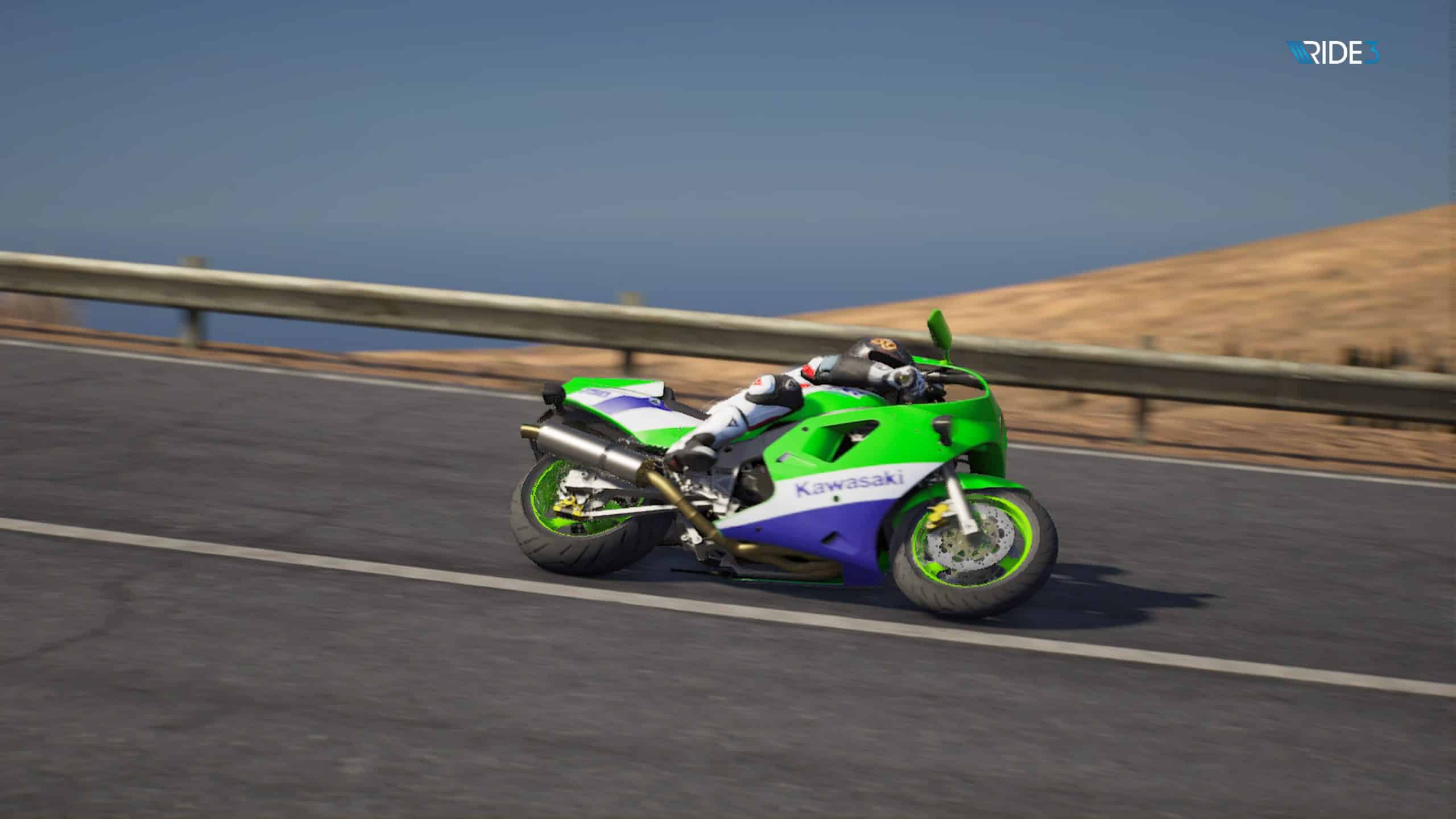 RIDE 3 provided me with a motorbike journey I simply didn't expect to like as much as I did in the end. There was even this feeling of "just one more race" which I almost never get from any type of racing game and that, in itself, is a great compliment. The game gives you so many customization options, game modes from drag racing to standard laps and point-to-point races that it never got repetitive.
After playing with dozens of beautiful motorbikes and riding through most of the faithfully recreated tracks, I was certain of one thing, there is a great love for everything motorbike from these developers and it shows.
There are, however, some issues that I experienced with RIDE 3. First off, the AI leaves a bit to be desired as the riders don't even seem to know you are there, sticking to their specific lines and even pushing you off a line at times. This can cause some frustration when you are still in the pack and can make cornering unnecessarily difficult and frustrating.
Then, there are a few minor technical issues. Shadows seem to pop in from time to time and it breaks the immersion a bit. There's also an issue where you get a message "race over" before you've crossed the finish line, and the music cuts out a bit while a track is loading. Loading into tracks are fast, but the game takes a good while to load on initial startup, which is annoying when you want to get that quick race in before you need to go do something else.
On the technical side, there is a big positive as well. The game runs wonderfully well and there is even an option to prioritize frame-rate over resolution on the PS4 Pro, which is something not enough games do. The glorious sounds of the motorbikes also leave little to be desired, making the game a joy to play with nothing game-breaking to report.
Lastly, one of the game's modes needs some serious attention. Time Attack can be fun and in the career section, I had no issue with the mode. However, when you try to beat other players' times and climb the leaderboard, things get frustrating.
If one of your wheels so much as touches the outside of the track, you get an "Invalid time" message and you have to start all over again. Hopefully, the developers can give a bit more leeway to this system in the future.
I didn't have any big issues with multiplayer as the game quickly found and connected me with several other players to race with and although I did experience a few hiccups, it was mostly a smooth ride. The only thing is that everyone in my matches had 1000cc monsters, while I still had a 750cc the early 2000's, so if you do plan on enjoying the multiplayer, wait a bit until you unlock some great superbikes.
Speaking of unlocking things, the game has a great and rewarding credit system, with which you purchase new motorbikes. Even if you lose, you get some credits, which means everything you do feels rewarding and I never had an issue with having to farm more credits to progress.
With that being said, you can purchase a credit multiplier buff from the store for R89, which is a little disappointing. What isn't disappointing is the great, free and user-created content you can get, in the form of the Livery Editor hundreds, if not thousands of options to customize your garage full of motorbikes. This is all free and you can share and create your own as well, which is pretty awesome.
The Verdict
RIDE 3 offers an amazing package for motorbike enthusiasts and exhilarating racing that will challenge your skill even at the lowest difficulty setting. With motorbikes that look nearly photorealistic, spectacular performance and a tonne of faithfully recreated tracks, as well as nearly 300 motorbikes to enjoy, the game is huge. The career mode alone will keep you busy for dozens of hours and then you can also head into some great weekly challenges, join the fast-paced action in multiplayer or simply improve your skill.
RIDE 3 has a rewarding credits system that feels just right and it kept me going for much longer than I would have ever expected to play a motorbike game. Sure, the game does have a few technical flaws and the Time Attack mode is infuriating, but motorbike enthusiasts should definitely not steer clear of this one. It is the best motorbike game I have played so far and Milestone has definitely stepped up their game.
This review was based on a code sent to us by Milestone.

Available On: PS4, Xbox One & PC  | Reviewed On: PS4 Pro | Release Date: 30 November 2018 | Price: R1,069