Let's clear the air for a second. The Saints Row reboot has been under a lot of fire since its reveal last year. Right out of the announcement, fans of the series tossed a lot of hate its way after developer Deep Silver Volition showed off a more mature, dare I say "woke" game. Gone are the 5-foot-long dildos, spandex, nipple caps and devil wings. Instead, Saints Row is now a more focused action adventure that is a lot more believable than anything that has come in the past.
Sure, this could be the game's ultimate downfall. After seeing multiple titles succeed thanks to their ridiculous factor, I can't help but feel sceptical about this reboot. I won't lie, I wasn't the biggest fan of the original games in the first place. I felt they were a bit all over the place at times and the gameplay never really knew what it wanted. A sort of hogwash of ideas that resulted in a messy mix match of gameplay.
It was fun, don't get me wrong but in today's time when games need more foundation, this reboot might just be the change we have needed. I can't help but feel that booting up yet another ridiculous Saints Row game will get tiresome before it has a chance to get good.
So this Saints Row reboot. Is it good? Well, the more I see of it the more I kinda feel like it might just scratch that itch we have had for insane open-world games. I am not a fan of its lead cast. I can already tell they are going to get annoying very fast but the gameplay looks pretty impressive and the idea of co-op makes this even more attractive.
Last week, I watched a good hour of new Saints Row gameplay and it finally answered the questions I had since the game's reveal last year. Deep Silver Devolver keeps pushing this whole "emotional" element in the game but I just can't bring myself to see it yet. I did watch the gameplay demo on my phone while sweating like a pig on an exercise bike in the darkness due to loadshedding so perhaps that didn't help either. But I won't be going into Saints Row for the cast. I want the gameplay and so far, it looks amazing.
There's a lot to unpack in Saints Row when it comes to the world and its gameplay. Missions seem to have been scripted with a lot of attention to detail so the world doesn't start to blend into itself while you go about these tasks. One demo we saw had a mix of single-player and co-op gameplay. The player had to track down one of its team members who was kidnapped by a rival gang.
This team member was locked up somewhere and the only way to save him was to beat the location out of a rival member. Being Saints Row, this rival gang member just happened to be taking a dump in a portable toilet. The perfect place to lock from the outside, chain to the car and drive around while using the toilet as a wrecking ball.
Where do you ever get to do this? While the idea seemed like something right out of Jackass, it worked for the gameplay. The player drove around swinging this portable toilet into objects swishing all nasty stuff around while trying to get answers from the now covered-in-poop rival gang member.
Once he got the location of his locked up friend, it resulted in an intense infiltration of a rival gang safe house and a lot of hand-to-hand combat. I won't say there is anything wow about this system but you can kick and punch your way to glory. Things around the player also break as you send enemies flying into chairs and even pipes on the wall.
Shooting seems to follow in any third-person shooter's footsteps. You point and shoot. Of course, enemies in Saints Row have health bars so you'll need to face off against all sorts of difficult foes. As you cause a ruckus in the game, you can earn Notoriety Levels. These act as a sort of "wanted" system. The higher the level, the tougher the law enforcement is. You'll have to think fast and shoot even faster to get out of those tough spots when the world comes after you for blowing something up.
As you progress in Saints Row, more skills can be unlocked that will further enhance the gameplay. Skills are then assigned to your D-pad for easy use. Things like tossing a grenade or even grabbing an enemy and tossing a grenade down their pants. These skills seem fun to pull off and in a way, add more gadgets and weapons to your arsenal without really taking up inventory.
Perks, on the other hand, are permanent unlocks that act as buffs to your character. These are a sort of "equip and forget" feature. Things like drawing in cash laying around, dealing more damage from behind, building up car boost faster, etc.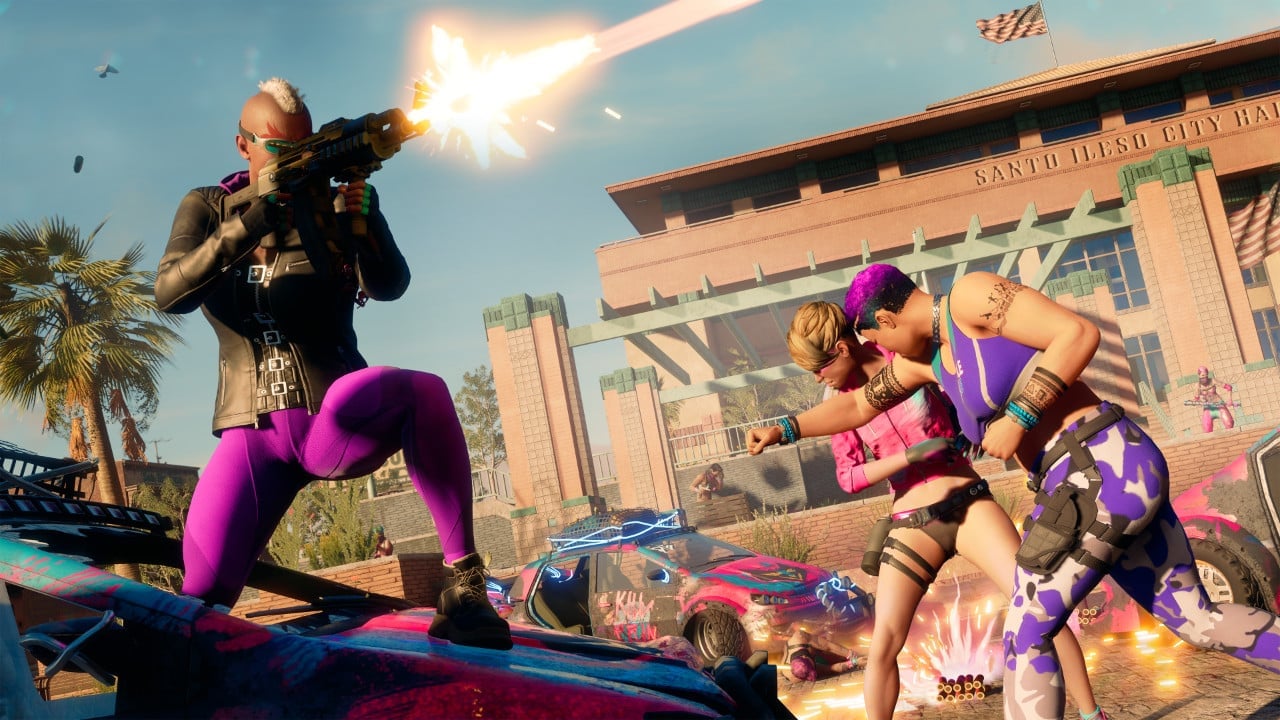 This all ties into how you want to play Saints Row. If you are going to drive around a lot then you'll equip perks for that. If you are going stealthy then you would focus on perks for that. There's a lot of freedom here to make the experience the one you want but whether or not these skills and perks will actually feel substantial is still up for debate. Let's be honest, many games fail to make perks relevant especially in an open-world.
One thing I did enjoy was the co-op. Even if Saints Row ends up being a snoozefest, everything is better with a friend. Deep Silver Volition says the entire game is playable in co-op which is good news. There are also specific challenges players can take on with a friend. One is called Mayhem and it was just about blowing stuff up. Players had to shoot cars with rocket launchers just to blow them up and rack up a certain amount of damage dealt in dollars within a time limit.
There's still a lot I want to know about Saints Row before I tell you to go ahead and pre-order it. Sure, at the moment it looks fun and the customization system looks next-level. But customizing a character or a car doesn't make a fun game. I want to know how detailed the world is around me and what exactly will I be getting up to in-between missions. Having a cool-looking character, skills and perks is one thing but we need things to do in order to keep busy.
While I doubt Saints Row is going to live up to its original games, the reboot does look fun. There are no superpowers and the crazy seems to have simmered down a bit. But there might be a good-old mindless open-world game here to enjoy. I just hope it doesn't get bogged down with taking itself and its already-cringe cast members too seriously.
Saints Row is set to launch on 25 August for PS4, PS5, Xbox One, Xbox Series X/S and PC.