Sony has showcased its new PS5 controller the "DualSense". The announcement was posted on the PlayStation Blog where the company showcased the brand new next-gen controller along with its key features. Sony announced that they have begun shipping the final controller in its final design to developers who are implementing its unique features into their games. The DualSense will captivate more of your senses as you interact with the virtual worlds in the PS5 games. It will also implement the PS5's Tempest 3D AudioTech to deliver new immersion to players.
Read More: LEGO Super Mario Sets Release Date and Pricing Revealed
Sony highlighted the DualSense features in a blog post stating that the controller still manages to keep much of what gamers love about the DualShock 4 while adding new functionality and a refreshing design. Sony touched on some key features in the DualSense Controller including;
[perfectpullquote align="full" bordertop="false" cite="" link="" color="#0FB0ED" class="" size="21″]Haptic Feedback – Adds a variety of powerful sensations you'll feel when you play, such as the slow grittiness of driving a car through mud. We also incorporated adaptive triggers into the L2 and R2 buttons of DualSense so you can truly feel the tension of your actions, like when drawing a bow to shoot an arrow.[/perfectpullquote]
Sony explained that the DualSense Controller has been designed to look and feel smaller than it actually is. The design of the controller was possible thanks to their design team working alongside their engineering team to create a new sleek design while keeping the weight down as well as the battery life up.
The controller no longer has a "Share" button. Instead, Sony has replaced it with what they are calling a "Create" button which will go hand-in-hand with the PS5 software. The controller will allow users to create epic gameplay content to share with the world. Sony will share more on this at a later date.
[perfectpullquote align="full" bordertop="false" cite="" link="" color="#0FB0ED" class="" size="21″] Our goal with DualSense is to give gamers the feeling of being transported into the game world as soon as they open the box. We want gamers to feel like the controller is an extension of themselves when they're playing – so much so that they forget that it's even in their hands![/perfectpullquote]
The controller also has a built-in microphone array which will allow players to chat with friends without a headset.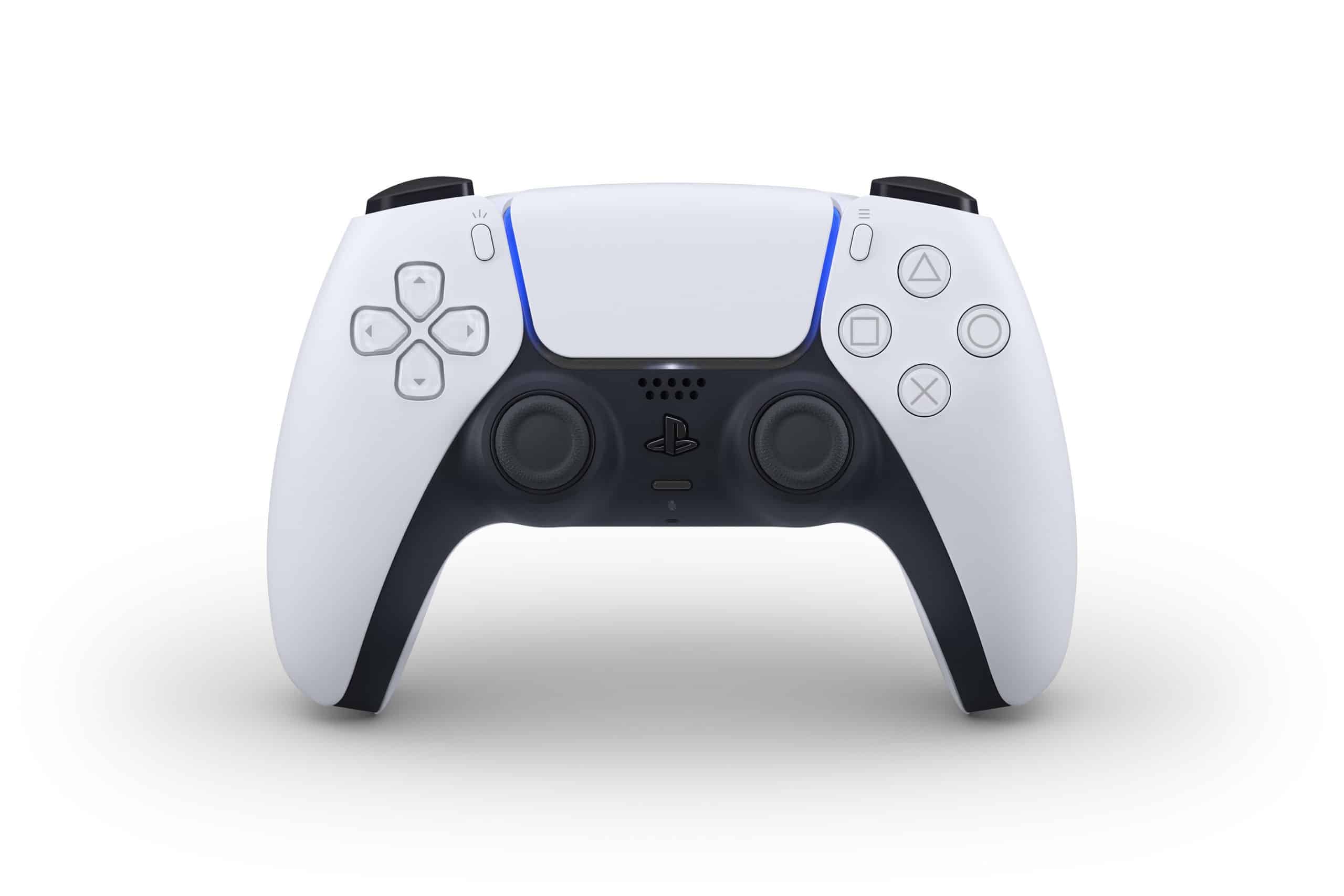 As for colours, Sony states the company went with a two-tone design and repositioned the light bar that now runs around the touchpad with a glowing light at the centre of the bottom.
Sony states that the tested this new design with hundreds of gamers with all sorts of hand sizes and types in order to achieve the comfort level they wanted.
[perfectpullquote align="full" bordertop="false" cite="Jim Ryan, President & CEO, Sony Interactive Entertainment " link="" color="#ED9B0F" class="" size="21″]"DualSense marks a radical departure from our previous controller offerings and captures just how strongly we feel about making a generational leap with PS5. The new controller, along with the many innovative features in PS5, will be transformative for games – continuing our mission at PlayStation to push the boundaries of play, now and in the future. To the PlayStation community, I truly want to thank you for sharing this exciting journey with us as we head toward PS5's launch in Holiday 2020. We look forward to sharing more information about PS5, including the console design, in the coming months."[/perfectpullquote]