The first trailer for Sony's upcoming Morbius dropped last night and if you have not had a chance to watch it yet, you should. The movie stars Jared Leto, Matt Smith, Jared Harris, and Adria Arjona and is based on the Marvel Comics character, Morbius the Living Vampire. The trailer is as dark as it is freaky and it is setting up the film to be an awesomely-uncomfortable watch.
RELATED: Sony Will Not Be Attending E3 2020 – Show Will Have New Experiences
Morbius made his first appearance in 1971 as Dr. Michael Morbius, a biochemist searching for a cure to his rare blood disease. His search then accidentally turns him into a crazed superhuman vampire. The film has been in development since February 2019 and most of it has been kept under lock and key but the first trailer has dropped and it is quite revealing.
Now that you have watched the trailer, we can take a look at the Marvel Cinematic Universe connections in the Morbius trailer. It is a tricky situation because just like Spider-Man, Morbius is in "association" with Marvel Comic meaning this is a Sony film. However, it seems that the film will connect to the MCU more than we expect.
In the trailer, we get our first look at the Spider-Man tie-in with street art that has the word "murderer" slapped across it.  This no doubt points to Morbius taking place after the events of Spider-Man: Far From Home which revealed Peter Parker's secret to the world at the end of the movie. He has since been branded as a murderer after J. Jonah Jameson got everyone hot and bothered by twisting the truth.
Another quick spot in the trailer is Michael Keaton who is said to be playing Adrian Toomes, also known as Vulture. His appearance means that he has escaped prison somehow after the events of Far From Home where Peter Parker and he had a brawl and was locked away for being crazy.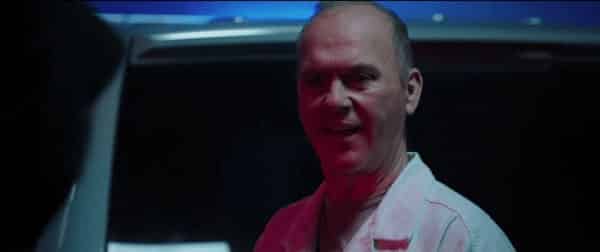 Fan speculation points to Sony building up the Sinister Six to take down Spider-Man at a much later date. Sony revealed last year that the studio had big plans for the Spider-Man series and creating its own cinematic universe seems to be the best way to go about it. At least we know that the film will tie into the Marvel Cinematic Universe.