Suicide Squad: Kill The Justice League was a big focus of the February State of Play this week. The game has been in development for a while now and acts as the direct sequel to Batman Arkham Knight. However, underneath the spot-on Harley Quinn voice acting, Suicide Squad: Kill The Justice League seems to be your typical games-as-a-service superhero game. The only difference is you're supervillains this time around instead of Avengers.
If we look back at the most recent GaaS attempts at the superhero genre you'll likely remember Marvel's Avengers and Gotham Knights. Two games which were built on the idea that gamers want to spend hundreds of hours grinding through a boring open world with friends in order to get gear and do it all over again. Suicide Squad: Kill The Justice League seems to be just another one of those.
The most recent gameplay overview exposed the features most gamers were concerned about – open worlds, co-op, battle passes, loot, cosmetics and in-game purchases. Don't get me wrong, the idea of King Shark wearing a Superman outfit sounds great on paper but when it costs extra money every month only to lock the cosmetic at the end of a mindless battle pass grind, that isn't fun at all.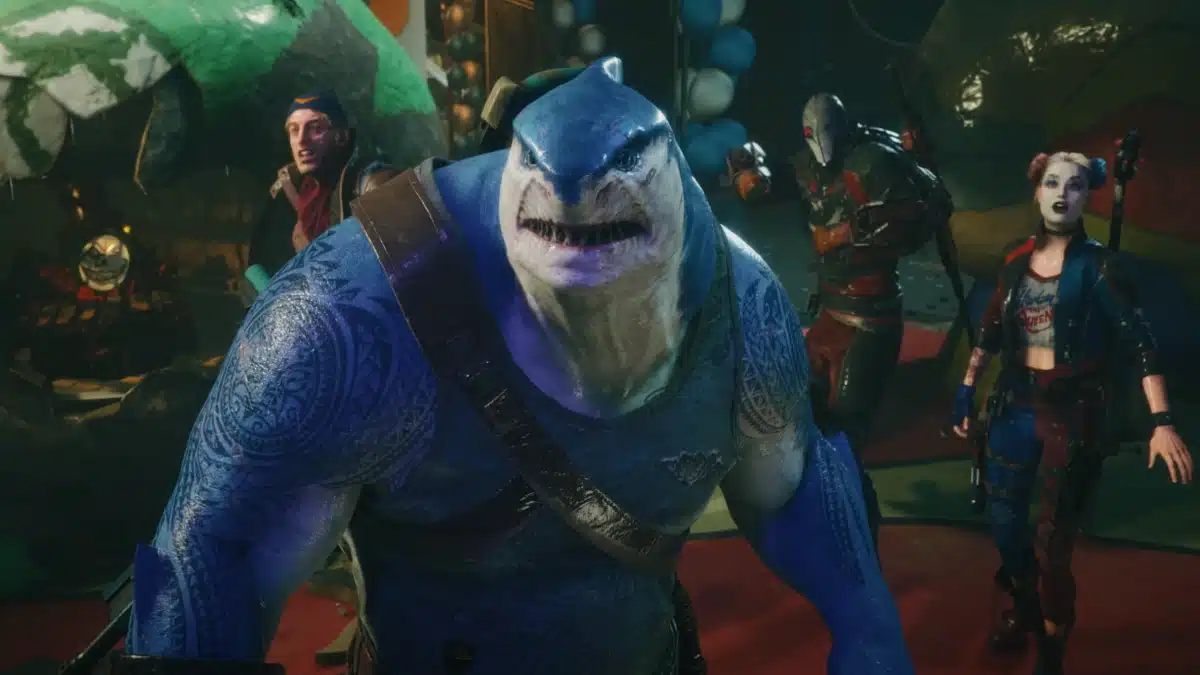 Rocksteady didn't hold anything back during the gameplay overview and confirmed that Suicide Squad: Kill The Justice League "will be supported after launch". The studio confirmed new playable characters, gear, future battle passes and seasonal content. Today, the official FAQ for Suicide Squad: Kill The Justice League also confirmed that players would need a constant internet connection in order to play the game either solo or in co-op.
Rocksteady's FAQ does confirm that all post-launch content will be free. This includes playable characters, missions and gameplay content. However, the battle pass will then fund this development. The FAQ says that each battle pass will have paid and free tiers. Of course, all players can unlock the free tiers but if you want the real meat, you're going to have to spend money and then work every day to unlock all those tiers so you don't feel like you've wasted money on the pass.
The FAQ also says that Suicide Squad: Kill The Justice League does not include loot boxes. But who even used loot boxes now? Battle Passes are basically loot boxes spread out into a rack. A thing of the past if anything.
While a GaaS supervillain game might be something the world needs right now, gamers are definitely sceptical about the game after the recent failures of Gotham Knights and Marvel's Avengers. It is also disappointing to see Rocksteady develop this cash cow after the incredible Arkham series that built success on a solid single-player experience.
If anything, Suicide Squad: Kill The Justice League hasn't been made for Arkham fans. Even the gameplay showcase didn't do a great job of leaving a lasting impression. The characters just flew around the screen shooting large purple weak spots. Sure, the cinematics look great and the idea of playing the bad guys is interesting but not if this is just another Marvel's Avengers rehash.
And this isn't just my opinion I am pulling out of nowhere. Gamers have been complaining about the GaaS mechanics since the trailers dropped. You can't see it but the videos on YouTube are sitting on 80% dislikes with over 4k dislikes on the "Behind the Scenes" video and 11k dislikes on the co-op trailer.
YouTube comments also express the disappointment felt across the gaming industry this morning.
"Do studios not realise that there can only be so many live service games until there's too much? Not every game needs to be designed around sucking up as much free time as possible"
And the Marvel's Avengers comparisons don't help either.
"They can make it sound as great as they think it is all they want, the fact that they confirmed it to basically be Square's Avengers down to the battle pass inclusion, and they tried to breeze past that just makes this an instant NO-BUY completely."
We kind of saw this coming already after the recent leak included so many horrible tabs such as "battle pass" and "store". Not to mention the wide range of currencies which turned out to be XP points you'll likely need to grind in order to power up in the game.
 Suicide Squad: Kill The Justice League is set to launch on 26 May for PS5, Xbox Series X/S and PC.