The Mario Party series has been known for its crazy party antics. It is hands-down one of the best party games on the market and I have fond memories playing the series since back on the Wii. Super Mario Party for the Nintendo Switch represents a new direction for the series in which the game makes use of the Switch's great hardware and accessories to expand the experience even further. While some parts of the game did not gel well with me, it boils down to whether or not you will have a great time with your friends and family and that is all that matters in this case. Super Mario Party may not be the best game in the series but it is one of the best party games on Switch.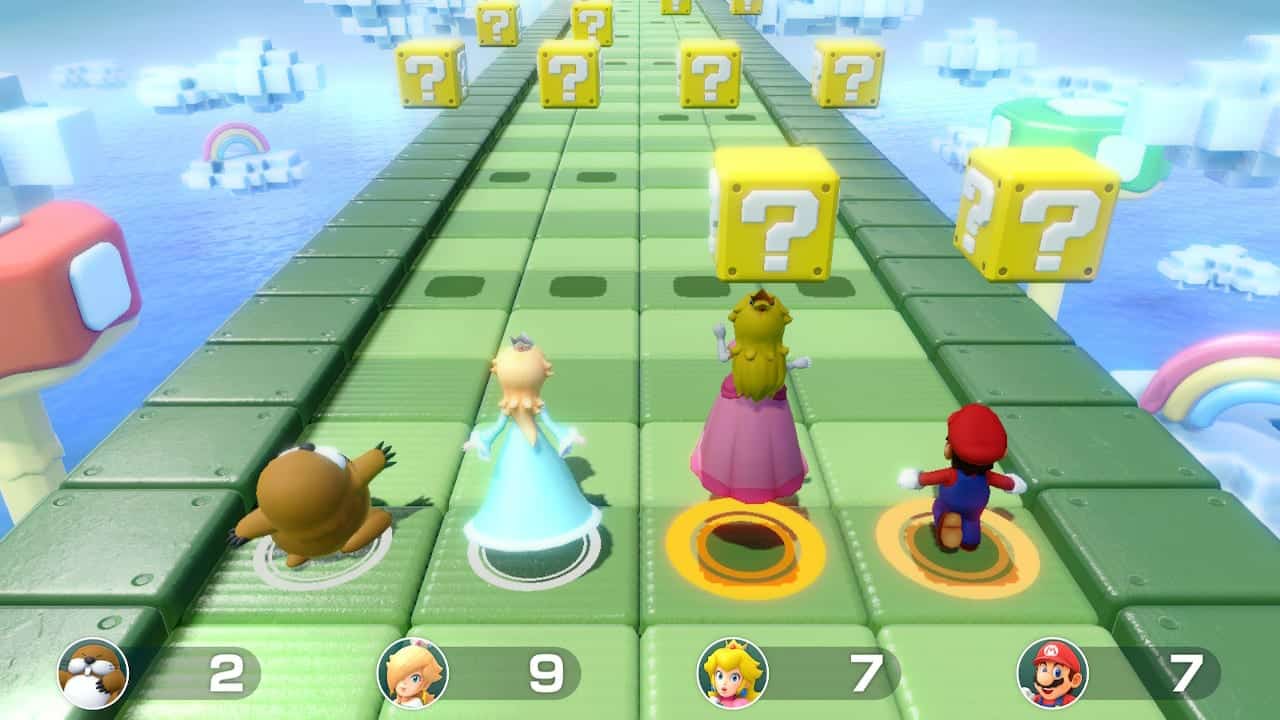 Like past Mario Party titles, Super Mario Party revolves around a series of mini-games set across various game modes. These game modes act as the foundation for the Mario Party experience and the minigames come in different forms and add padding to the game's framework. Some of them are competitive, some of them see you fight three players, and some of them is everyone for themselves. Super Mario Party is a party game and a very lonely one if you are playing solo. I would even go as far as saying that once you have played the game with friends, it is hard to get into it without them. AI fill the empty spots in your team but they have some questionable gameplay choices and often you would fight with them for simply not listening to you or making bad decisions.
There is a big difference between fighting with a teammate for doing something stupid and fighting with an AI for doing something stupid. One is fun and the other is simply frustrating. Super Mario Paty takes place in a hub where you walk around and select these various game modes that you play. The traditional Mario Party mode is back where you and your friends venture across a board game-like map, competing in minigames for coins and sabotaging each other in order to get to the golden star. The player with the most stars at the end of the game wins. This game mode has seen some new refreshing additions like a partner mode that lets you get an AI friend to double your dice count and an addition of a load of new minigame blocks.
One major new change to the Mario Party Mode is how the game flows. The boards are smaller and instead of being a linear experience from start to finish, these boards now offer different routes across to take in order to earn more coins to buy these golden stars. The characters you can choose in the mode are no longer just a pretty face either. Instead, they now offer unique dice sets that have earnable coins on some faces and different numbered throws on others. This adds a unique strategic approach to the game when selecting your character and once you prefer their pros and cons to their dice sets you will land up racing to their selection as fast as you can.
An average game mode of Mario Party takes roughly 60 minutes but can go all the way up to 120 minutes if you select more turns. The experience is packed with great minigames as you try and earn more coins than your friends, steal their coins by landing on specific blocks, and the deceit of throwing them under the bus at every opportunity. Super Mario Party does a great job at creating a party atmosphere which you will never want to get away from. But the magic of the game is in its minigames as not one of the two are the same by a long shot. The sheer amount of variety and how they all work makes every one of them a joy to play. Throughout my game time, I did not play the same minigame more than once which just goes to show how much there is in the game.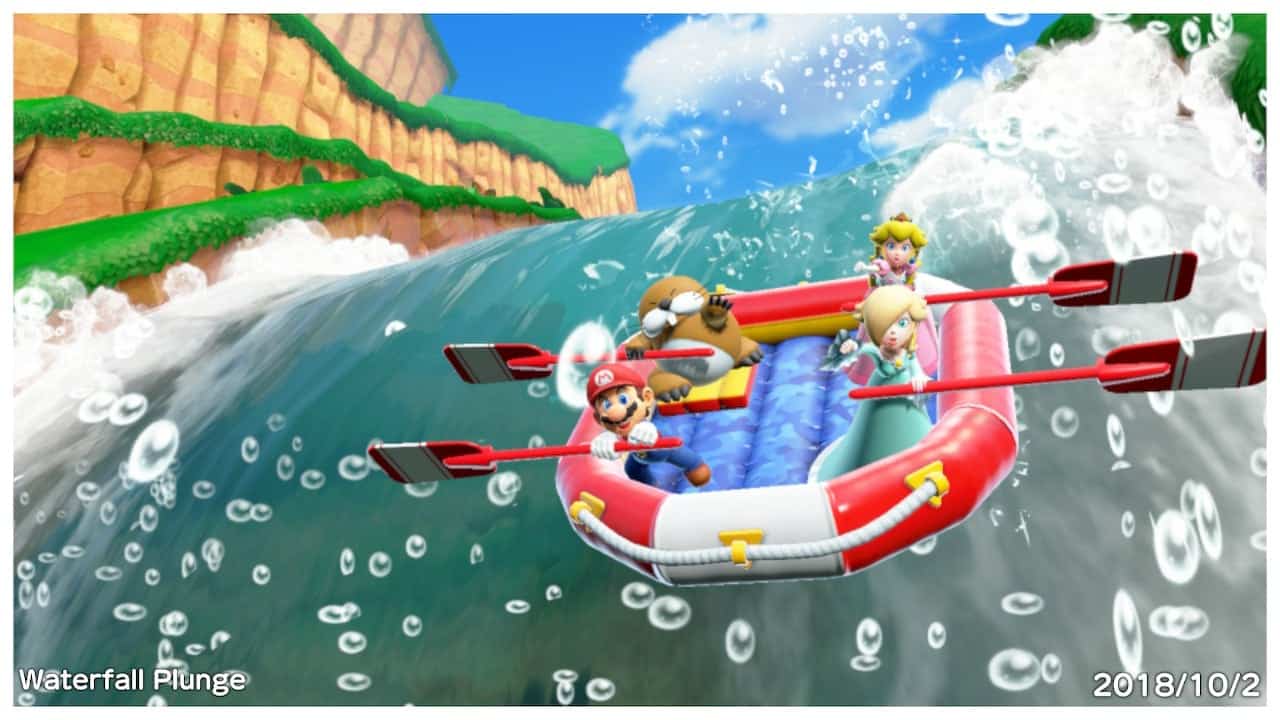 To list the minigames would be a chore but some jewels include a pie throwing contest, horse race, a photograph game where players race to be the closest to the camera, and an Overcooked-like game where you have to cook food while the other players get in the way. There is no doubt that Super Mario Party offers the best selection of minigames to date with over 80 of them being playable throughout the game modes and every single run of the Mario Party Mode managed to deliver a fun yet competitive gameplay experience.
Apart from the Mario Party Mode, Super Mario Party has a range of other modes. One of these is a River Survival mode where you and three friends race down a river, taking different routes and playing minigames in order to earn more time. These mini-games are less competitive and more cooperative where you all need to do your job in order to get the best rank and the most time awarded. The mode is over when you run out of time so the game is a frantic race to the end as you shake your arm to row down the river as fast as possible. This mode was fun and even though it had no PvP side to it, I could not help but scream at my niece when she rowed us into the wall ruining our path towards the balloon that held the minigame.
The other game mode is a rhythm mode where you shake your Joy-Con to the beat to try and match whatever is playing on the screen at the time. It is fun but not precise. Most of the time you would be shaking and trying to master the beat and the game would not pick up what you were doing. I blame the lack of precision on the Joy-Cons. However, the minigames in the game mode are pretty cool and the soundtrack you move to is made up of remastered classic Mario tune which is always great to hear. I would have preferred a button-mashing version of the game instead of looking like a fool waving my hands in the air to try and rack up points.
Super Mario Party also has a two console mode which I could not test for the simple reason of not owning two consoles. The game modes look cool and make use of the console's screens to deliver a unique double-screen experience but again, you need two consoles. The main game does not and that is a sigh of relief. The entire experience works extremely well as it stands with four Joy-Cons being the most amount of controllers you need to host a Mario Party with friends. We also have an online mode which lets you play the game modes online so if you don't have friends around this makes for a decent solution to the problem.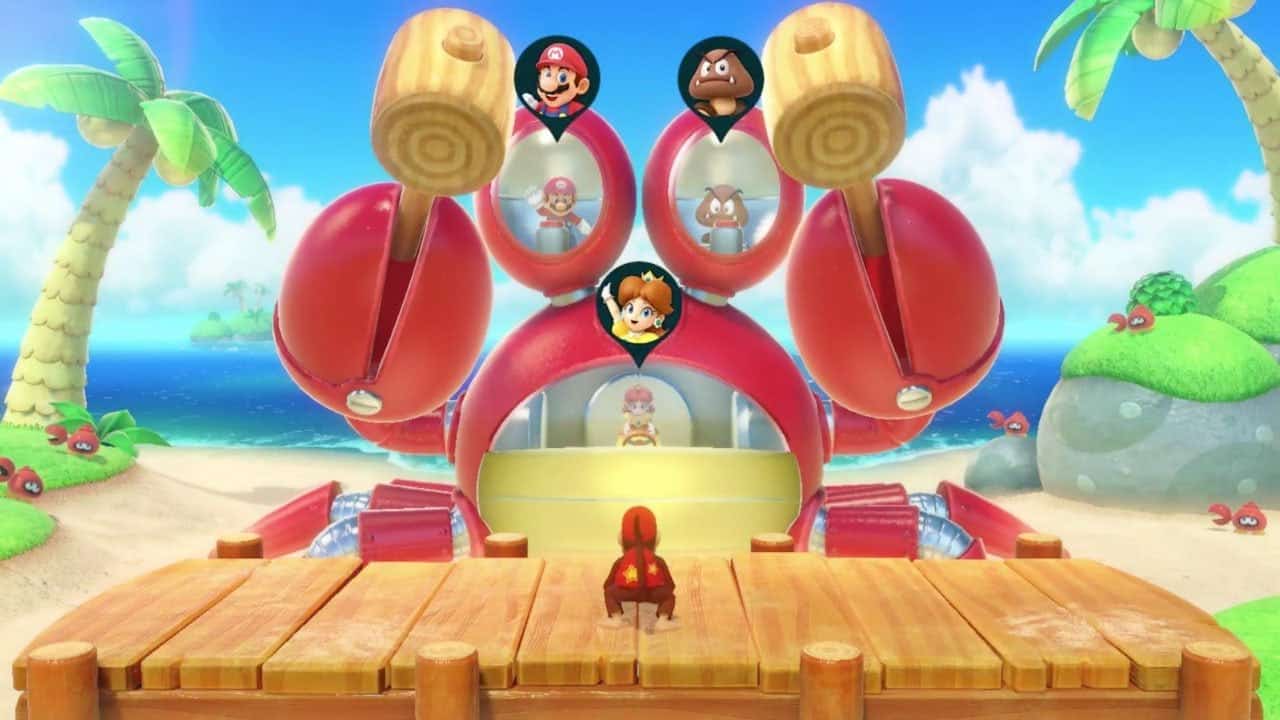 Super Mario Party is the best Mario Party game to date with over 80 minigames set across various well-designed game modes. The sheer amount of quality and quantity in the game makes it a jewel. Sure, the rhythm game is cheesy and Nintendo is pushing it by asking for two consoles but the other modes offer enough to warrant the game's price tag. This is the video game that will replace all your boardgames in the house and there is nothing wrong with that.
This review was based off a code sent to us by Nintendo
Available On: Switch | Price: