CES has always been big on TVs and displays but every year the competition gets a little tighter as the big TV giants bring their best of the best to the show. CES 2019 was no different as Samsung, LG and Hisense made sure to deliver unique experiences that each set them apart. We decided to take a look at the best TVs of CES 2019 starting off with LG's Signature OLED R TV.
Check out some gorgeous footage from CES as we explore the expo and take a look at the best TVs on display;
[su_youtube url="https://youtu.be/xEM2R6us2QU"]
LG Signature OLED R
LG no doubt had the best showing at CES 2019 as their brand new Signature OLED R TV completely blew me away. The display rolls up into a Dolby Atmos soundbar and unrolls into a gorgeous 4K HDR display, one which you would never expect just came out of a box. Usually, when tech is announced, especially new tech, it is normally skimping on features but I am surprised to say that the LG Signature OLED R packs everything you would get if you had to buy a standard OLED TV. 4K HDR, and it is an OLED which means it has perfect blacks, bright whites and rich colours but the best of all has to be the box which the TV rolls up into. The box doubles up as a soundbar that has fantastic Dolby Atmos tech built into it.
Image showing the OLED R rolling up into the soundbar
LG is confident that this new step in TV technology will set them apart from the rest. For a few years now, brands have been finding creative ways to create TVs that looks good but also double up as a piece of furniture in your home. We have seen this with the Samsung art TV and LG's 2018 Wallpaper TV that acted as an art piece.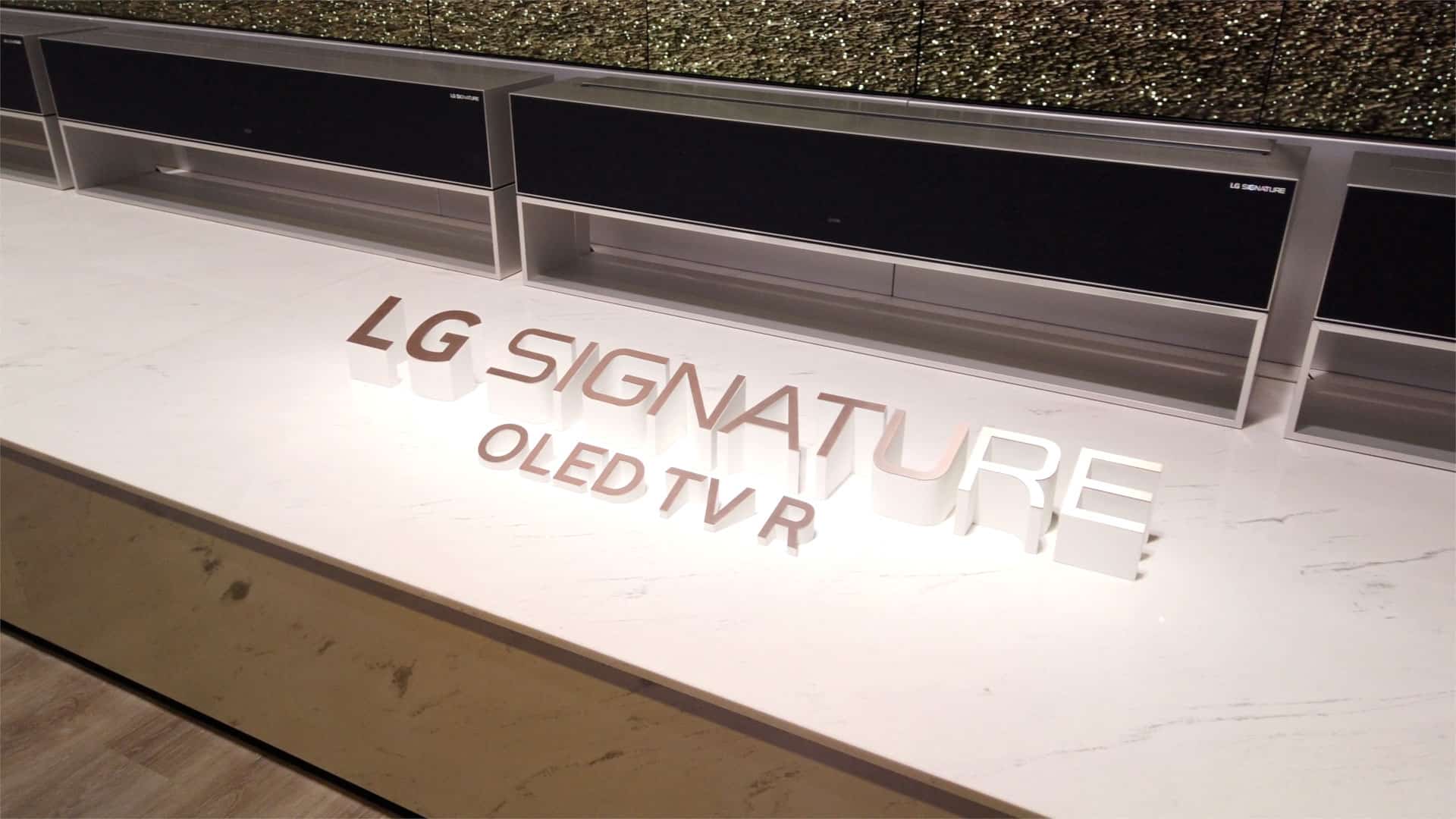 This new rollable TV can now disappear into a box that looks like a counter in your home it is bridging the gap between technology, form and function and if anything, it is going to set a new trend for the future of TV technology. The LG Signature OLED R TV is set to release later in 2019 and start at $20,000
Samsung 8K QLED TV
Move over 4K because 8K is here…well sort of. Samsung's Micro LED technology is still a few years off of being consumer ready but the tech giant already has plans to bring 8K into the living room. At CES 2019, Samsung had a load of new 8K QLED TVs on display and they were pretty sexy. Starting at 65-inch and going all the way up to 98-inches, the 8K QLED range promises to be a huge jump over 4K when it comes to picture quality, colour gamut, blacks, brightness and viewing angles.
The most interesting of all is the new Quantum Processor that powers the tech in the new QLED displays. Samsung had a lot of 4K content rolling on these TVs and the CPU was responsible for making it look richer and more detailed than ever. This means that these 8K TVs could turn your 4K content into a viewing experience that you have never seen before simply by upscaling the content to 8K.
The details I saw cannot be put into any photograph and I can assure you that as a 4K TV owner, 8K is truly phenomenal. Sure, we are not even ready for 4K here in SA but that does not mean the rest of the world is stopping anytime soon. 8K is real and Samsung's QLEDs are not playing games. Samsung will be releasing only the 85-inch 8K model for $14,999 starting 3 February 2019.  As for the other sizes, the release date and pricing is not available yet.
Hisense Laser 4K HDR TV
I know what you are thinking, Laser TVs? What year are we in but hear me out? It is always cool to see a tech brand trying something so far out there that no one else is attempting and the Hisense Laser 4K HDR TV is more than just a TV, it is a laser projector that is capable of some pretty cool things. Unlike conventional TVs, the Hisense Laser 4K HDR TV uses a laser projector to emit the picture from the laser box onto a giant board in front of it. No, it is not a projector as projectors rely on light. This laser TV uses actual lasers to create the image so every pixel is unique and it is not a case of light just shooting out of a box onto a screen.
The previous Hisense Laser TV only had two lasers, a red and a green but the 2019 model has three, RGB which lets it deliver the higher resolutions and HDR. One very cool feature of the display is that the glow on the actual image is a lot less harsh than a conventional TV. Because the lasers shoot up against a screen, they disperse and travel further upwards, this means that the imagery is bright but it does not travel towards you making viewing the picture much easier on the eyes. This is due to the lack of pixels shining in your face, hurting your eyes.
The Hisense Laser 4K HDR display comes in a 60-inch and can go all the way up to 100-inches. The two-colour model currently retails for $9,999 with the three-colour model without a price and release date. I am sure Hisense will be rolling out the top of the range laser 4K HDR display by the end of 2019.