Origin PC has a new Big O and is the ultimate gaming machine. No really, they might say it is but it is indeed. This massive box is an all-in-one tower of every console on the market as well as a crazy NVIDIA Titan RTX PC built right into it.
RELATED: Next Marvel Avengers Team Will Be "Very Different" and Phase 5 Confirmed
Not only is it as powerful as ever, but it also looks like something we will find when we raid Area 51 in September. This box contains a PS4 Pro, Xbox One X, Nintendo Switch, and a powerful gaming PC all designed to work seamlessly together out of one RGB-filled machine.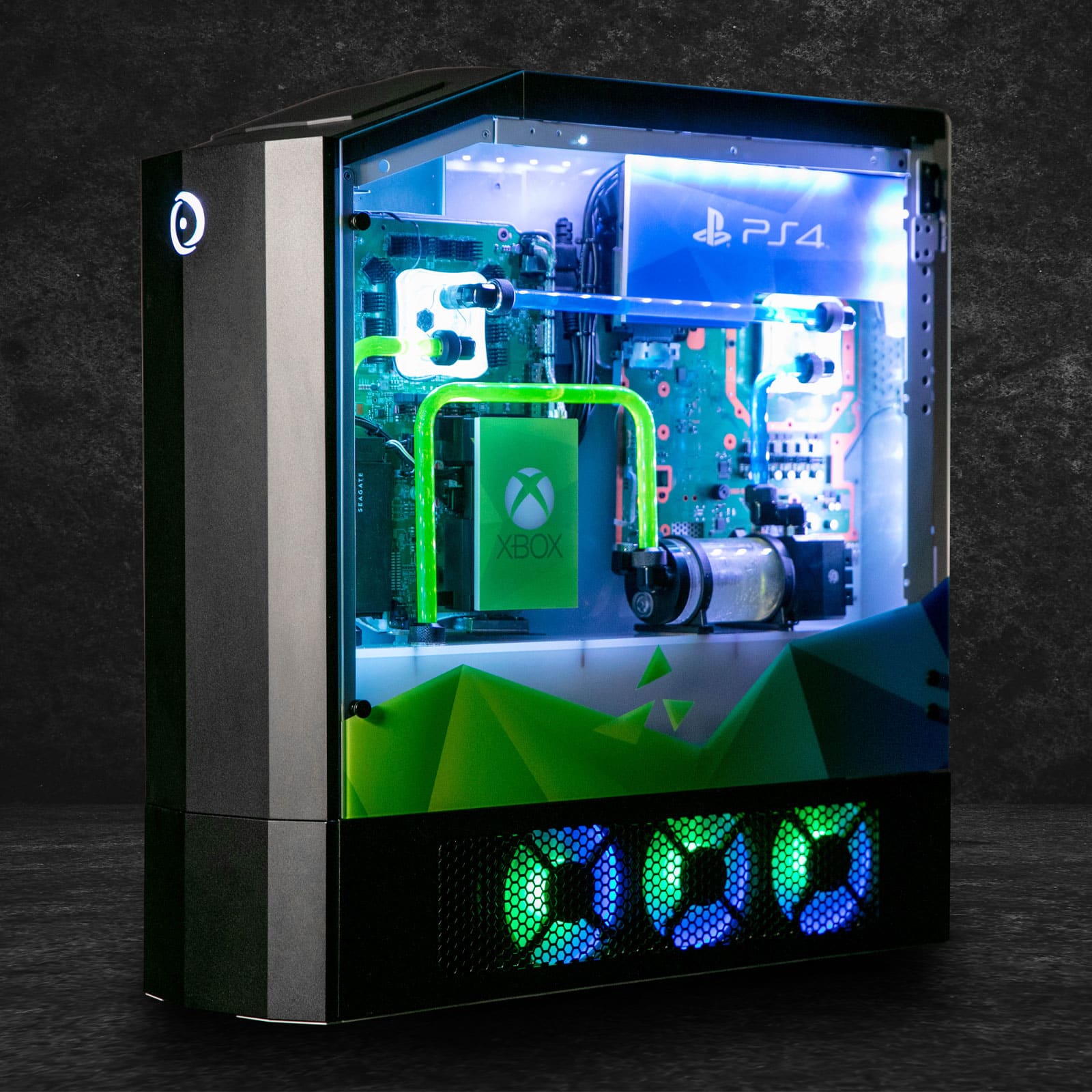 So how was this Big O designed? Well, Origin PC took apart a PS4 Pro and the Xbox One X and mounted all the internals into the chassis. They added a liquid cooling system (which is green and blue to represent the brands) and ran the pipes together across the clear tempered glass.
On the front, there is a Nintendo Switch docking slot where you can slide your console into and have all the functionality of the console. They also added a 2TB SSD to both the PS4 Pro and Xbox One X installation for the sake of it.
On the opposite side of the two consoles, there is a PC build into it featuring a red-styled liquid cooling system powering some crazy internals. No really, this hardware is unnecessarily-insane;
Case: Custom ORIGIN PC GENESIS with RGB Lighting
Side Panels: Tempered Glass with HD UV Printing
Mounting: Standard Orientation with Vertical GPU Mount
Motherboard: MSI MEG Z390 GODLIKE
CPU: Intel Core i9-9900K
GPU: NVIDIA TITAN RTX
RAM: 64GB CORSAIR Dominator Platinum RGB (4×16)
OS Drive: 2x 2TB Samsung 970 EVO NVMe
Storage Drive: 14TB Seagate BarraCuda
Cooling: Custom CRYOGENIC Hard Line Liquid Cooling
Fans: CORSAIR RGB Fans
Power Supply: 1000W EVGA SuperNOVA G3
Add-on Card: Elgato Game Capture 4K60 Pro
Operating System: Windows 10
It all lights up throughout the box and it controlled through the various USB ports, DisplayPorts and HDMI inputs and outputs at the back. You can set the box up to one TV and simply switch on whatever you want to use at the time and use it. Want to play PS4? Just use the HDMI splitter controller to change from the PC and you are good to go.
This is one insane machine. If you want to watch it in action, UnboxTherapy put together a video showcasing the Big O features as he played PC and PS4. Check out the video down below;
[su_youtube url="https://youtu.be/ErQQc6cUSTA"]
What you be expected to pay for this Big O? Well, there is no real price for it at the moment. Origin PC built it to celebrate their 10th anniversary but I suspect if you're a millionaire it would be possible if you had the right people to talk to.