Bandai Namco and developer Supermassive Games have released the story trailer for its upcoming horror game, The Dark Pictures Anthology: The Devil In Me. In addition to the new trailer, the companies also unveiled a release window of Autumn 2022 as well as a collector's edition in the Animatronic Edition.
The Dark Pictures Anthology: The Devil In Me goes for a slightly less conventional approach to any games we've seen in the popular interactive horror series before as it throws a group of documentary filmmakers in what appears to be a spooky torture hotel filled with traps straight out of a Saw movie. Of course, the ultimate goal will be to keep every character alive by the end.
The official plot description for the game reads:
"A group of documentary film makers receive a mysterious call inviting them to a modern-day replica of serial killer H.H. Holmes' 'Murder Castle'. It's an opportunity that's too good to pass up and could be just the thing they're looking for to win some much-needed public interest.

The hotel is the perfect set for their new episode, but things aren't quite as they seem. The crew discover they're being watched and even manipulated, and suddenly there's much more at stake than just their ratings!"
The Dark Pictures Anthology: The Devil In Me will also come with two editions: the standard edition and the Animatronic Edition.
The Animatronic Edition (exclusive to the Bandai Namco Store) includes:
The Devil in Me full game (PS4, PS5, XBOX ONE, XBOX SERIES X|S and PC Download)
Exclusive animatronic bust figurine (11 cm, resin, hand-painted) : Du'Met uses the bodies of his victims to construct horrific animatronics. This one is his mentor and inspiration, serial killer Manny Sherman
The Animatronic's box
Exclusive Lonnit Entertainment business card
Exclusive Hotel Postcard + Envelope
Printed map of the hotel's island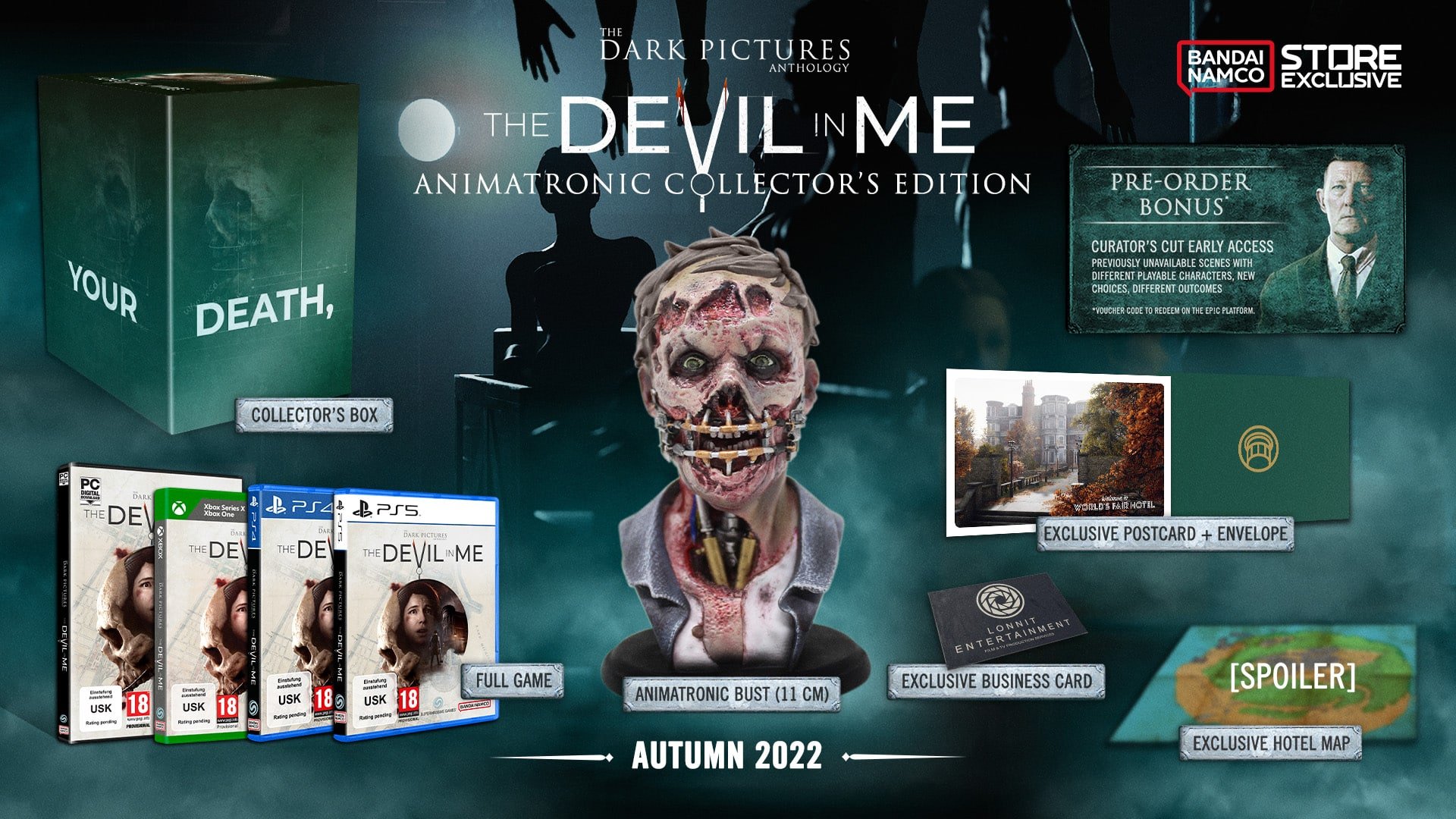 The Dark Pictures Anthology: The Devil In Me releases in Autumn 2022 for PS4, PS5, Xbox One, Xbox Series X/S and PC. Watch the story trailer below.
Source: Bandai Namco Entertainment