At first glance, the Cluvens scorpion gaming chair and computer workstation looks very similar to Predator Thronos. You know, that giant mechanical gaming setup with three screens, a mechanical mount, vibrating chairs and feet rests. However, it's actually a lot cooler mainly because it moves as if it was alive. The massive scorpion sting-like display mount retracts backwards and forwards and even the legs can dip you down as you climb off like some fabulous Egyptian goddess about to bathe in the blood of your betrayers. Of course, it is expensive coming in at $3,200, or around R60k. However, it is a small price to pay especially if you're into cool-looking, over-the-top-gaming equipment.
READ MORE
For starters, the Cluvens scorpion gaming chair and computer workstation weighs about 120Kgs. It is around a 1.5 meters long and 2 meters tall. Cluvens says "This villainous Scorpion can transform!" over on its website. It really does. Cluvens claims the chair includes multiple motorized pieces and move around when opening and closing to not only enclose its user in an immersive gaming experience but to also lift them off the ground as if they were piloting an alien robot creature.
[perfectpullquote align="full" bordertop="false" cite="" link="" color="#FFE212″ class="" size="21″]The tail of the Scorpion extends to become the overhang support for screen mount. Both the angle and the distance of the monitor is adjustable using a controller. Whether you have a single curved monitor setup or a triple monitor setup, it will deliver the positions you desire."[/perfectpullquote]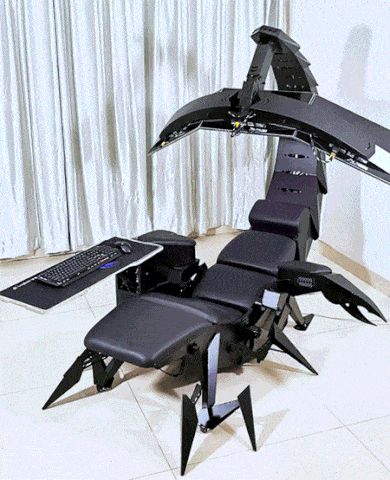 In addition to the fancy mechanical sections, the chair also doubles up as a massage parlour. It includes motorized vibrators and heating functions so gamers can enjoy some relaxation while they save the world from whatever threat in whatever game they are playing.
Speaking of playing games, the most important part of the chair is its gaming support and the Cluvens scorpion chair and computer workstation is built for anything. The tail where the displays are places supports and ultra-wide 49-inch monitor (like the Samsung one we have reviewed) or three curved 27-inch monitors. Of course, you'll have to decide which is best for your viewing experience. You then hook all this up to whatever gaming rig you are running. Hey, you could totally splurge on Cluvens scorpion chair and RTX 3090 and it may just come in at under R100k. Good times. You can read all about this chair here.