This coming week sees Moon Knights' on-screen debut, the latest Marvel Cinematic Universe series to premiere on Disney +. While Moon Knight will mark the first time a relatively unknown character is introduced to the MCU, it is one of the most exciting. Especially given that there are so many Moon Knight comics around.
Moon Knight follows Marc Spector, a man with multiple personality disorder who becomes a living vessel for the Egyptian moon god, Khonshu. Marc is also sometimes known as Steven Grant, a millionaire playboy or Jake Lockley, a down on his luck cab driver.
Moon Knight has always been one of the most complex and intriguing characters to come out of Marvel, and the upcoming six-episode show will hopefully be the start of many more appearances.
If the trailers for Moon Knight is all you know about the character, and you'd like to go into the show with a little more backstory, I've picked three short Moon Knight comics that offer the perfect backstory for the character and lay the groundwork for what will hopefully be another fantastic Marvel show.
Moon Knight Comics to Read
Moon Knight: Crazy Runs in the Family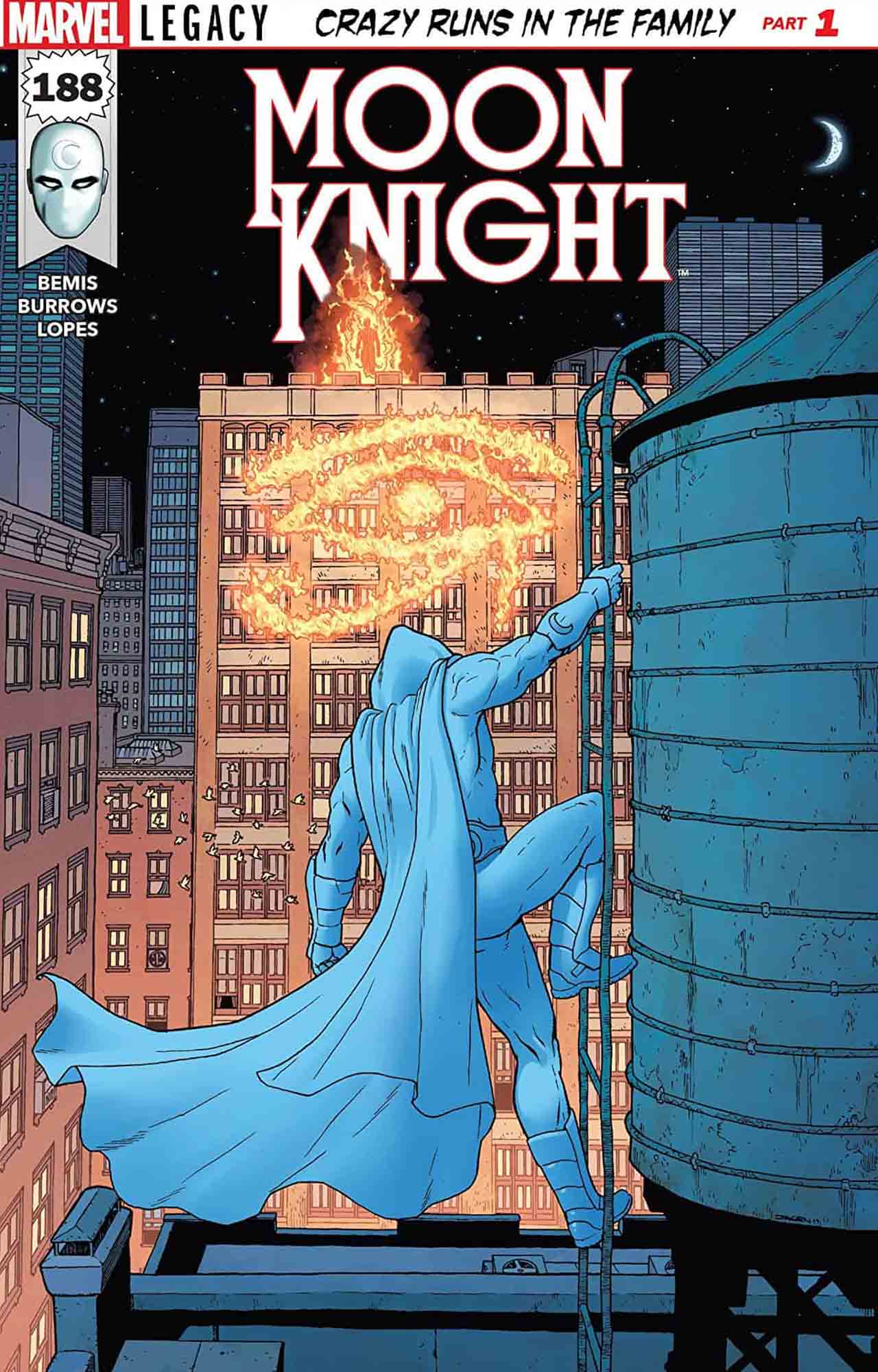 6 Issues written by Max Bemis (Heavy; Evil Empire; Crossed: Badlands) and with art by Jacen Burrows (Providence; God is Dead; Crossed)
Moon Knight: Crazy Runs in the Family is an excellent run for anyone interested in seeing more of the internal struggle between Marc and his multiple personalities. We follow Marc as he tries to reconcile his violent tendencies as Jake Lockley with his higher callings as Steven Grant while not losing himself along the way.
Moon Knight: Crazy Runs in the Family pits Marc Spector against an enemy unlike any he has faced before and introduces readers to his greatest nemesis. As Moon Knight, Marc Spector has always tried to be a protector that operates in the shadows; however, this new big bad on the scene is burning up those shadows with blinding light and fire and threatens to burn down all that Moon Knight has built up.
Moon Knight: Lunatic
5 Issues written by Jeff Lemire (The Nobody; Black Hammer; Sweet Tooth) and with art by Greg Smallwood (The Human Target; The Punisher; Batman: Killing Time)
If you're looking for a comic that showcases Moon Knight at its craziest, then Jeff Lemire's Lunatic is what you want to read. It's a gripping series sure to have new and existing fans alike question everything they thought they knew about the character.
Marc Spector is a vigilante and detective who has been fighting criminals and keeping New York City safe for years. He has always wrestled with Moon Knight, Jake Lockley, and Steven Grant, his other personalities. However, when Marc wakes up to find himself in an insane asylum with no powers and a lifetime's worth of medical records, all of his identities and his history is called into question.
Follow Marc as he not only tries to escape but also to rediscover who exactly he is. Everything you know may be wrong, and you'd be insane not to find out for sure.
Moon Knight: From the Dead
6 Issues written by Warren Ellis (Hellblazer; Iron Man: Extremis; Thunderbolts) and with art by Declan Shalvey (28 Days Later; Hero Killers; Injection)
Moon Knight: From the Dead is a great place to dive into the world of Moon Knight and see the series at its very best without getting overwhelmed by backstory.
From the Dead re-introduces readers to one of New York's wildest vigilantes. A man who dresses all in white because he wants his enemies to see him coming but intends to remain in the shadows as the night's greatest detective. Marc Spector is Moon Knight, but sometimes even he isn't sure who that is.
Moon Knight protects the street with two-fisted justice and three different personalities. Moon Knight: From the Dead is a wild ride almost as twisted as the main character himself.
Want to pick up any of these Moon Knight comics for yourself? Then remember to head over to Critters and Comics or click here. Also, if you're new to comics but you'd like to start collecting, click here to read out post on everything you need to get started.