A Total War game would not be complete without a list of features to check. A great combat system that focuses on both turn-based action, an ever-expanding world to explore and a large emphasis on historical accuracy. Total War: Three Kingdoms checks all those boxes and in the end I was happy I got to review this remarkable game. It has been a while since I sat down to play a Total War game, and Three Kingdoms left me as satisfied as ever. This could (finally) be the best Total War game in the series and it is about darn time.
It is the sheer detail in Three Kingdoms that brings the game to life. The game kicks off in 190 AD which follows the Han dynasty on the verge of collapse. As you explore the various game modes and factions, your main goal is to bring peace to the land and become the one true ruler in China.
Total War: Three Kingdoms has a large focus on its story and it is delivered in a beautiful way inspired by the Romance of the Three Kingdoms by Luo Guanzhong. This game mode sees your generals explore a giant map as towering people able to defeat soldiers and enemies instantly. When you do engage in battle, the game loads into a separate battle mode that focuses on heavy tactics and planning out your approach.
These battles are where the game's deep systems come into play by using your diverse army, your unique hero classes and abilities to take down your opponents. The true joy was overlooking these battles as they played out in front of me. You can pan your camera all over the battlefield and even zoom into a duel between your hero using his special abilities to his advantage. Hero classes add another dimension to these battles as they are necessary to ensure victory.
Commanders are great at rallying troops, Sentinels are great at taking charge and have some rather powerful swordsman that you can recruit later down the line, and the Strategist buffs combat and recruit decent archers into the field. There are five hero classes in the game, of which you can only take three with you into battle at a time so knowing your opponents and how far you have developed each hero and their abilities, is key to winning the fight. The whole idea of each battle would be to use as many resources you have at your disposal and build an army with heroes and forces that compliment each other.
These massive battles surely make you sit back and enjoy the experience. Even during the night, the armies wield torches and it is all brought to life in a gorgeous way. Arrows flying into the air, the thumping of horse hooves on the ground as they race towards their opponent and me, sitting high in the sky overseeing it all.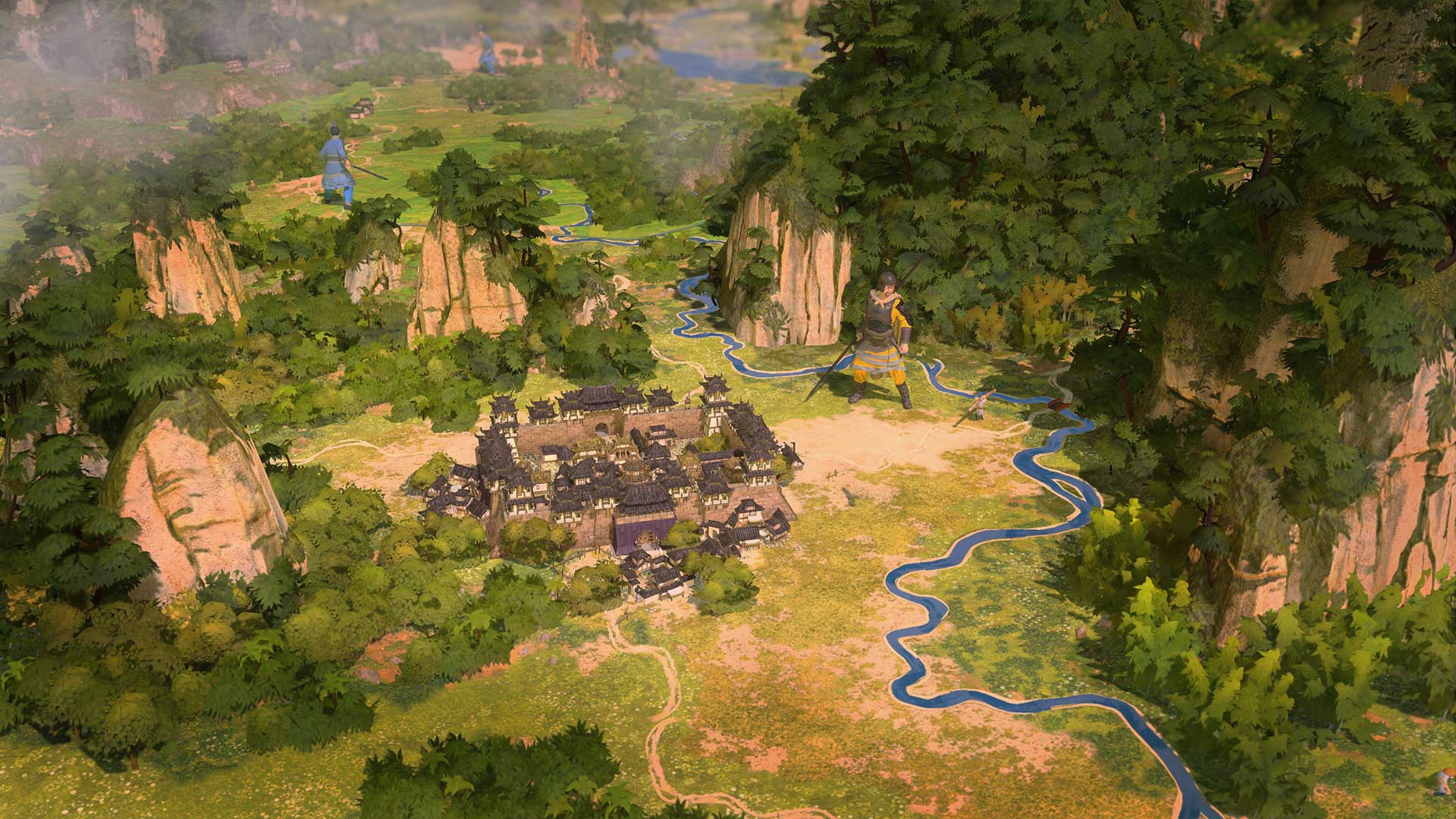 When starting out the game, you get to choose from a selection of leaders available across various difficulties. Cao Cao is the beginner's choice and me, being new to these games went with him. "Beginner" means you get given a decent settlement, army and a not-so-tough opponent to defeat before taking control of the province. The harder the leader's difficulty, the less you start with, the more your opponent has and quicker you will fail. Cao Cao also has a great special ability that lets you spend points earned to influence the feelings of other factions on the map. If they hate each other, they will kill each other giving you the opportunity to sit back and watch, avoiding conflict.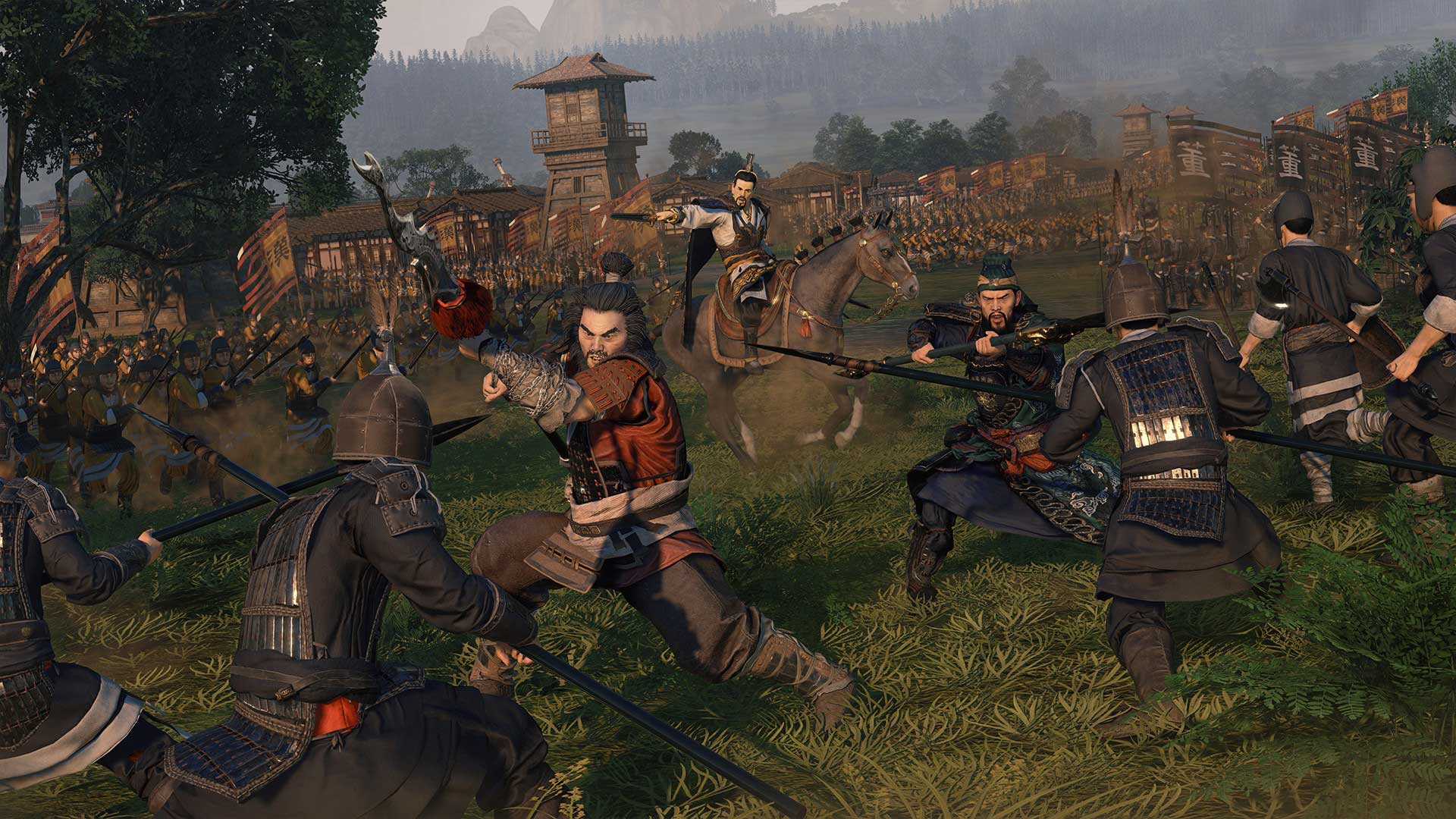 The diplomacy and espionage systems in Total War: Three Kingdoms go beyond just interfering with someone's opinion on another leader, but it weighs into many of the game's systems. The game's many, many turns during a campaign means there has to be a decent military and diplomatic system running in the background and I was not disappointed. Every character has layers of details to them from a back story to perks if placed into the right governorship or ministry giving you buffs and bonuses.
[perfectpullquote align="right" bordertop="false" cite="" link="" color="#637018″ class="" size="21″]Keeping everyone happy and maintaining the best armies and people is harder than it sounds but the fun of it all is how deep these systems go.[/perfectpullquote]
You would not want to place two generals with hot heads into the same team and recruiting a well-known and powerful general into your army and giving him a bad position will result in him being unhappy and he would abandon your army in the worst of times. Juggling your population back in your settlement and constructing the right buildings and keeping everyone happy is yet another layer to this deep experience.
The growth of your army is key to winning the war but keeping the population at a steady pace with your food supply is tough. You also don't need to manage this all either yourself as you can assign members of the court roles to each settlement to help take the weight off you.
Everything just works really well and when I was looking for a system to tweak, there was a menu to do it in and it made things much easier. Deep into the game, you could be managing dozens of settlements and armies so keeping your head above water is made easier with these great menu implementations.
Performance wise, the game runs really well when it is not loading. You will want to install this on an SSD as at first I used an HDD and it took over five minutes to load a battle. Not ideal. My GTX 1070 was perfect for it visually and I was able to run everything on max while still being able to really get into the combat with the hundreds of people herding together and see the action up close and personal. Very little frame rate drops and the attention to detail was great. Some issues like blocky animations do persist on almost all characters but it was not the end of the Han dynasty.
Verdict
Total War: Three Kingdoms is a fantastic strategy game. Take it from someone who bearly plays these sort of titles (I prefer a good old RTS game like Anno 1800). It was tough to understand at first but its systems are well-rounded to make managing them all a dream. Besides the extremely long loading times, the game makes for not only a fantastic historical experience but one of the best turn-based grand strategy games I have played in ages.
This review was based on a copy sent to us by Creative Assembly
PC Rig – CPU: Intel Core-i9 8750HK | RAM: 16GB | HDD | NVIDIA GTX 1070
Available: 23 May 2019 | Price: R599