The popular Theme Hospital spiritual successor "Two Point Hospital" has finally made its way to PS4, Xbox One and Nintendo Switch today after being delayed from late 2019 to now. The delay seems to have been worth it as SEGA and Two Point have released a fantastic hospital simulator that works like magic on a controller. If you have ever played a sim game on console, you would know that it is hard to make them work. A controller is not a mouse and is limited in movement and button but somehow, Two Point Hospital is fantastic to play and just works.
[perfectpullquote align="full" bordertop="false" cite="" link="" color="#1C8400″ class="" size="21″]
Before I get carried away, it is important to note that the developers have yet to patch the save corruption issue I faced twice in a row. I spent over ten hours playing the game only for it to crash while saving and destroy my save data. I tried reporting it but received no feedback at all. 
[/perfectpullquote]
Two Point Hospital sees you manage a range of hospitals across a crazed region where out-of-this-world diseases have been found. We are talking about clowns who cannot stop being clowns; people who's heads have turned into light bulbs; and men and women who have lost all their colour. Anyone that has played Theme Hospital will feel right at home here as you explore each chapter and get introduced to the many different ways to heal the people and manage your hospital.
Two Point Hospital starts out slow as I learnt the dos and don'ts of running a basic hospital with a GP's office, pharmacy and General Diagnosis. Before I knew it I was handling staff wages, researching new rooms and services and training staff while juggling ghosts, how hot my hospital was and taking on challenges like building a high-end staff room. It all gets rather chaotic very quickly and just a few chapters in, my inner businessman was grinning from ear to ear as the hardcore management portion of the game showed its head.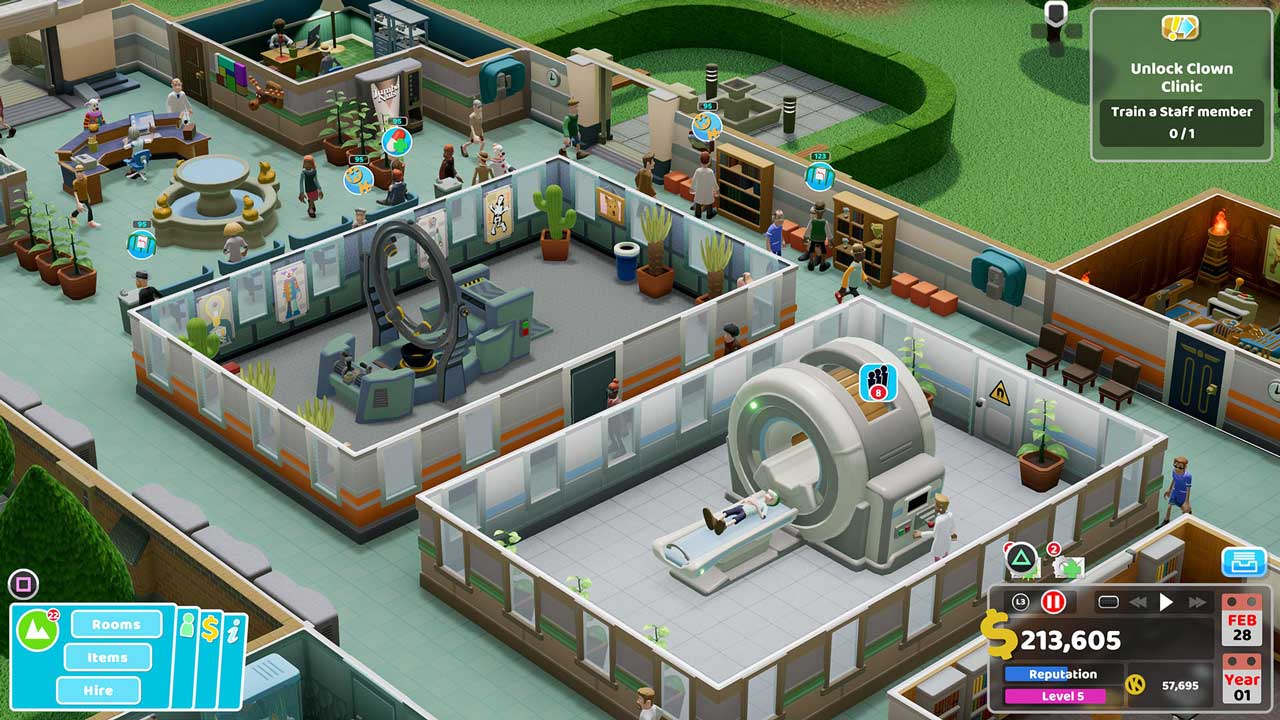 It is that kind of game you sit back and enjoy while binging Netflix as most of the time, you just need to set things up and let them run while meeting new requirements throughout each chapter. Every stage has a three-star target but you can move onto the next level once you hit one star. I am a completionist so I went for three stars each time. It also helps that the real challenge and rewards for hitting the other two remaining stars make it all worth it.
Some stages had me training two staff members for the first requirement and then another ten to hit the target. While this was happening, the influx of visitors increased, people became rowdy, staff demanded more money and everything became a lot harder to juggle. It all flows in the most brilliant way and if you continue each chapter, the anticipation of a chaotic hospital makes all the fun.
Building and managing the hospital feels great too with controls easy to master and get around. Placing a room down, choosing a desk and hiring someone to work in that room takes a few seconds and flows perfectly with the intuitive controls. I often got carried away with building new rooms, placing down doors and lining up toilets perfectly so I could fit in another cubicle. The building aspect alone in Two Point Hospital is a highlight of the game and while it is simple, each level only has so much space in each hospital so you have to be careful and manage your space accordingly.
Later on, in the game, you can unlock new items to purchase using Kudosh which is earned by completing levels and challenges thrown at you by the medical board and your staff. These challenges range from curing a set number of patients to building a specific quality room. The items I unlocked all help with the general comfort and design of the hospital and after a while, you can give each section its own theme and look.
The patient's happiness is, of course, the key to a successful hospital and Two Point Hospital has some great mechanics that all contribute to the overall level of it. Making sure you have ample seating, your rooms are not too cold, there are enough drink and snack machines and entertainment to keep everyone busy is challenging. I built a handful of snack and drink machines and still had lines of people trying to buy them at the same time. People get thirty, I get that.
Two Point Hospital also has a certain flair to it that is quite funny to watch. Radio stations, posters, and the people and their sicknesses all add this fictitious comedy to the game and it is brilliant. Every new sickness is a new way to experience a hilarious treatment method
As for the package, Two Point Hospital is huge as it includes both expansions which come with new items to unlock and use as well as diseases and treatment rooms to make use of.  Unfortunately, the game does not have the sandbox mode at launch but Two Point promises they will patch it in sometime in March as a free update.
As I mentioned before, Two Point Hospital is a great console port. While I suffered from that terrible save data issue at first, the game still took away hours of my life and I found myself mindlessly sitting and managing my hospital. It runs great on the PS4 Pro too with no frame rate issues or performance jitters at all.
Verdict
Two Point Hospital is a great example of a management game done well on console. I was not expecting it to be so darn addictive and feel so great but it did. Its a decent asking price and with the promise of future content coming our way is a great game to pass the time.
This Two Point Hospital review was based on a code sent to us by SEGA
Available On: PS4, Xbox One, PC, Switch | Reviewed On: PS4 Pro | Release Date: 25 February 2020 | Price: R549