Spider-Man: No Way Home is the biggest and most ambitious Marvel movie yet, filled with villains from previous Spider-Man films and much more. It also tells a very personal story of Peter Parker this time around. For the first time on screen, we have a Spider-Man who is completely unmasked and can no longer enjoy any of the perks that come with anonymity.
Peter Parker is now effectively Spider-Man sun up to sundown, which would be bad enough, but when the public who once adored him start hating him and turn him into public enemy number one? Well, you have a Spider-Man who is willing to do just about anything to make the world forget he exists.
In an act of pure desperation, Peter reaches out to Doctor Strange for help. However, when that help backfires, the stakes are higher than Peter could ever have imagined. Peter is forced to discover the true meaning of being a superhero.
If all of this sounds like it came straight off the page of a comic, it's because it kind of did. While Spider-Man: No Way Home isn't based on any single comic, it draws inspiration from a handful. So if you're still thinking about the movie or haven't even watched it yet, here are two "amazing" Amazing Spider-Man comics to read.
Spider-Man: One More Day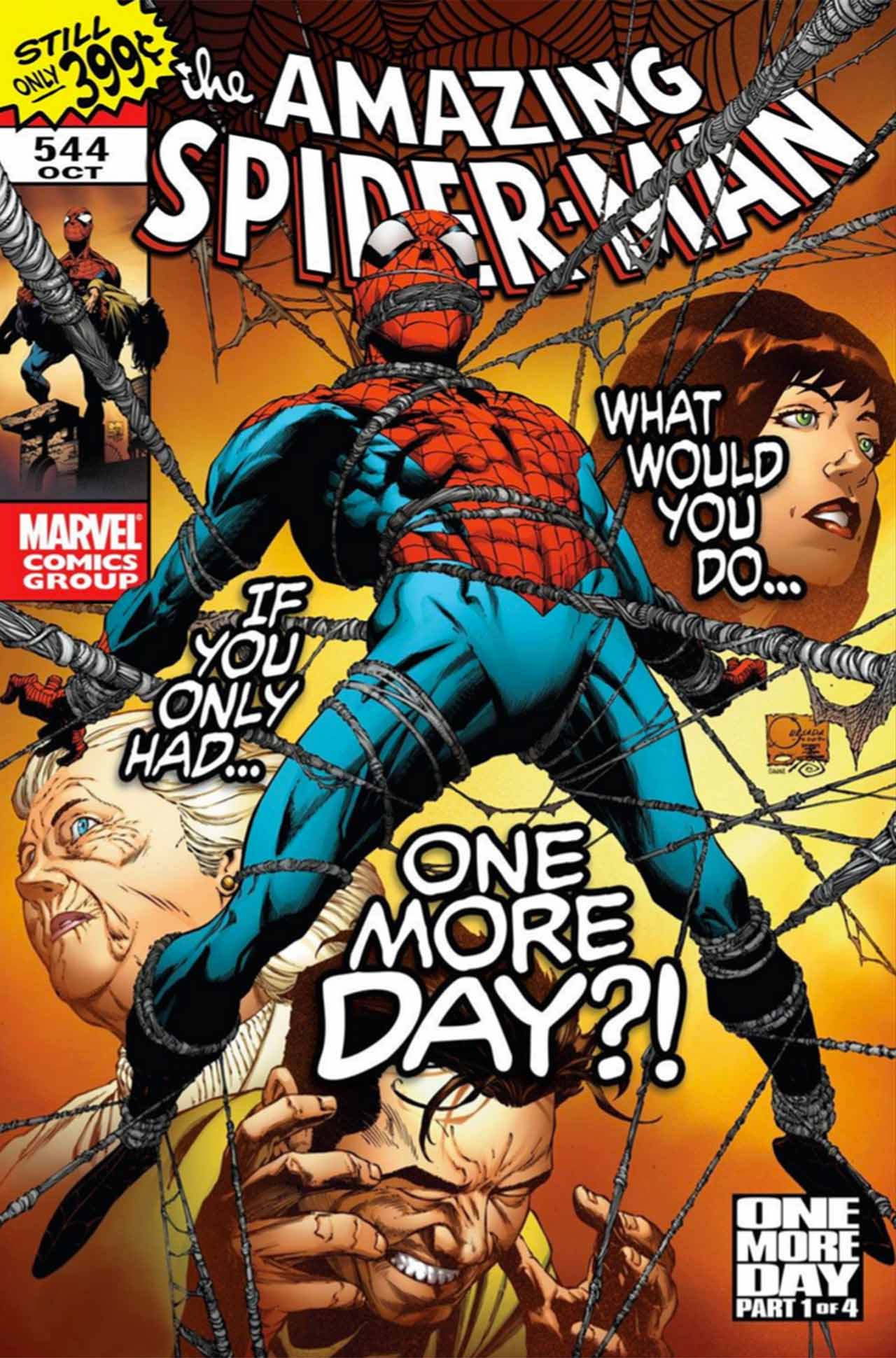 4 Issues written by J. Michael Straczynski (Supreme Power; Fantastic Four; Thor) and with art by Joe Quesada (Sleepwalker; Midnight Sons Unlimited; Friendly Neighborhood Spider-Man)
One More Day starts with Aunt May, who is dying from a gunshot wound after getting shot during the events of Civil War. In desperation, Peter Parker approaches Tony Stark for financial assistance in helping his aunt, even though they don't have much of a relationship anymore. After receiving help from Tony, Peter consults Doctor Strange to find out if his aunt will be okay, but Doctor Strange informs Peter nothing can be done to help her.
In reaction to this news, Peter tries to cast a spell he had seen in Doctor Strange's house. As predicted, the spell backfires, and Doctor Strange ends up finding a wounded Peter and encourages him to rather spend his energy with his aunt.
On the way to Aunt May, Peter ends up meeting a little girl who claims she alone can fix all of his problems before running away. While Peter chases after the girl, he ends up running into a woman in red. This woman informs Peter that she just met with all of her alternate versions from all the universes where Peter never becomes Spider-Man. This woman is Mephisto, and she has a proposition for him: She will save May, but in return, she wants Peters happiness, his marriage with Mary Jane.
Peter accepts Mephistos deal after being pushed by MJ, but before Mephisto puts the agreement into action, she unveils the identity of the child that Peter met. She is the daughter that Peter and MJ will now never have. Mephisto then changes history like agreed, and when Peter wakes up, he is in his childhood bedroom and Aunt May is in good health. Later that day, Peter heads out to a party being held for his best friend, Harry Osborn. As Peter toasts Harry, he sees Mary Jane sadly leaving the party on her own.
The Amazing Spider-Man: One Moment In Time
4 Issues written by Joe Quesada (NYX; Iron Man; Marvel Knights) and with art by Paolo Rivera (Peter Parker: The Spectacular Spider-Man; Batman: Black and White; Howard the Duck)
This isn't the most straightforward story to explain because it's told through the present day as well as through various flashbacks to the past.
When Peter ends up missing his wedding, he tries in vain to explain what happened to Mary Jane and let her see the light, but she already knows why he missed it: He was out being Spider-Man. After an argument about it between the two, MJ gives Peter an ultimatum: Step away from being Spider-Man, or we are through, they end up breaking up that night. However, after a talk between MJ and her aunt, MJ goes back to Peter. MJ explains to Peter that when she imagines her life with him, she sees them having a daughter, but she doesn't feel like that will ever happen because bringing a child into his life as a superhero isn't fair.
MJ and Aunt May are still together when Aunt May gets shot during the events in Civil War, where Spider-Man identity was revealed to the world. Peter refuses to accept his aunt's death, and when he performs CPR, Aunt May is miraculously brought back to life. We then see MJ making an agreement with Mephisto to trade their marriage for Aunt Mays life, which Mephisto agrees to. Peter approaches Doctor Strange to make everyone forget that he is Spider-Man; Doctor Strange ends up agreeing because it is partly the Avengers fault that Peter lost his secret identity, to begin with. The agreement is that no one at all will remember that Peter is Spider-Man; this includes MJ.
Peter then enters a protective shell while the spell is being performed, but at the last second, he breaks out to pull MJ into the shield with him so that she won't forget who he is. Later we see Peter explain what happed to MJ and MJ breaking down, asking Peter why he couldn't just let her forget. MJ explains that they can never be together because it's only a matter of time until history repeats itself, and she can't live that way anymore.
The trailer for Spider-Man: No Way Home borrowed quite a few parts of the One Moment In Time storyline. This includes Peter Parker reaching out to Doctor Strange to erase people's memories of him being Spider-Man and Peter breaking the spell.
Over the last few years, Spider-Man has managed to swing his way into my heart (pun not intended but appreciated). I've always enjoyed Spider-Man as a character, but ever since the rise of the MCU and Into The Spider-Verse, I've come to love him. Tom Holland is a fantastic embodiment of his Spider-Man, and with Sony just announcing that there will be three more movies with Tom Holland and Marvel after Spider-Man: Now Way Home, I can't wait to see what the future holds.
If you're looking for other Marvel-related content to binge on and comics to read then you should definitely check out Hawkeye, airing on Disney+ now. Also if either of the comics on this list inspired you to want to pick them up and read further, then head over to Critters and Comics and check out everything they have or click here.