Today marks the official launch of Call of Duty: Black Ops 4 and we have something pretty creepy to show you. Like past Black Ops titles, Treyarch always releases one awesome, yet pricey edition of the game. This year is the Black Ops 4 Mystery Box Edition.
Black Ops had the RC car, Black Ops II had the drone, Black Ops 3 had the mini fridge and now Black Ops 4 has a Mystery Box replica and it is as mysterious as it sounds. The box is a replica from the new Mystery Box found in the new Zombie Mode and its design has been copied one-to-one.
The sheer amount of detail on this box is outstanding and the more I looked at it the more I became obsessed with its eerie look and feel. The box is also functional as it lights up and makes the same sounds as in-game and the lights shine through the skulls scattered throughout the outside of the box. In the dark, the box is extra creepy as you can just see the lining and these skulls glaring back at you. While the inside is pretty small, it is still quite an epic place to store some gaming accessories or even some prized possessions as the noise once opened will alert the dead.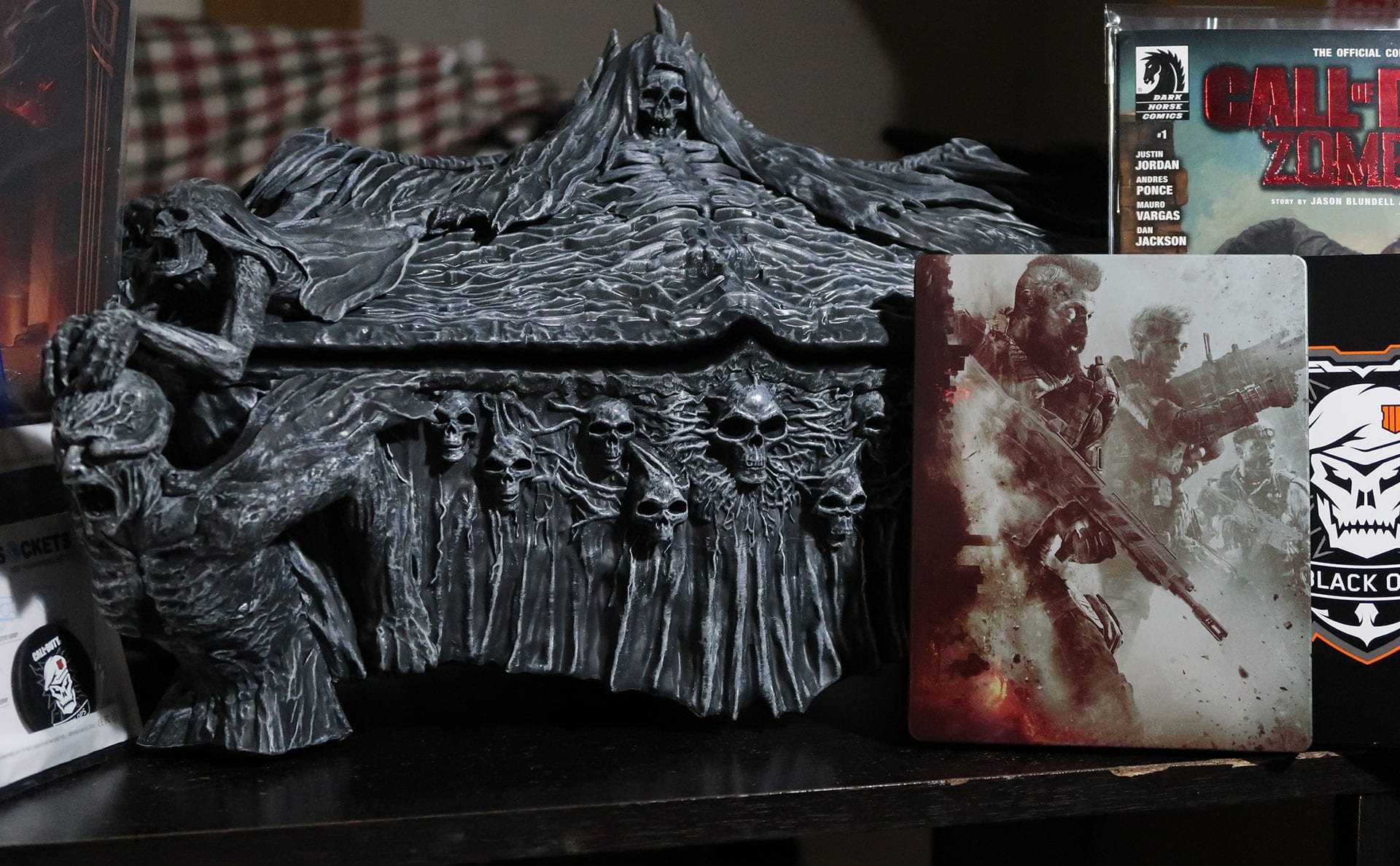 The Mystery Box Edition also comes with some other cool things like a set of Fig Pins, a Black Ops 4 PopSocket (win!), a 1000-piece Black Ops Zombie Puzzles that showcases 10 years of the mode, a comic book, the game in a steelbook case and the Black Ops Pass. For R2,799 it was not a bad buy considering the game along with the Black Ops Pass is R1,600.
Check out this epic Mystery box unboxing in our video below and let us know what you think of it. The Call of Duty: Black Ops 4 Mystery Box Edition is currently sold out in SA but if you are desperate for this then look around and you could perhaps import it. While we did not receive this from Activision, we do want to thank them for the review code which we are currently using to test the game.
[su_youtube url="https://www.youtube.com/watch?v=Dh98WVMUYtA"]