ASUS' ROG Evangelion range is an impressive lineup of PC hardware and components that, if you have enough money to buy it all, can kit you out with everything you need to build an entire gaming PC. We are talking about a mouse, keyboard, headset, RTX 3080, power supply, mouse pad, motherboard, cooler, gaming case, monitor and even an SSD case. Yes, ASUS even went as far as to create an EVA SSD case where you can store your portable storage device in style.
I originally set out to review only the ASUS ROG Maximus Z690 EVA motherboard. However, after I told ASUS that I don't have other components to use for the review, the brand decided to send me everything. No really, I have been tripping over boxes and packaging for a week now due to the sheer number of ROG EVA components in my house.
Check out the PC in action below 
But after spending a few days rigorously wiring a PC case in the dark thanks to loadshedding, I wanted to fully showcase each and every component I have had the joy of playing around with. It is always exciting to go from boxes of components to a fully workable PC.
This way you can also get a good look at what ASUS has on offer with this awesome Evangelion collaboration. Everything you see in the video either is currently available or plans on releasing by the end of the year. You can also get non-EVA versions of this hardware across the range so if you see something you like but don't want it in that colour, you can opt for the base versions without the cool-looking mechs and neon colour pallets.
ASUS ROG Delta S Headset EVA Edition
Before we get to the meaty PC components, let's cover the accessories first. First off, we have the Delta S headset. This 300-gram headset packs some pretty impressive tech. You'll get ASUS RGB Aura lighting, an active noise-cancelling microphone and a set of high-res ESS 9281 Quad DAC converters.
For those who don't know, DAC stands for digital to analogue and provides lossless audio processing. The fact that there are four DAC converters in this headset means that each frequency that comes into the headset is processed for the best possible sound. That combined with the noise-cancelling microphone means you'll get a fantastic experience whether you're shooting Hive on the Moon in Destiny or raging at your team in a competitive game.
ASUS ROG KERIS Wireless Mouse EVA Edition
The ROG Keris mouse is definitely one of the most vibrant accessories I have seen. Its bright purple shell stands out on my desk and even its charging wire is unlike anything I have seen before. It is also quite a powerhouse and weighs only 79 grams. It comes packed with a 16,000 dpi ROG sensor with a swappable switch design meaning you can easily change the side buttons to other textures and pressure switches that come in the box.
The mouse also comes with a swappable push-fit Switch Socket Design so you can change the main click buttons with alternative force versions if you prefer more feedback. Or simply swap them out to extend the lifespan of your mouse.
ASUS ROG Scabbard II Mouse Pad EVA Edition
When it comes to the Scabbard II mousepad, it is busy. I usually prefer a simple and blank mousepad but this one definitely caught my eye. The Scabbard II features a unique design with patterns scattered across the surface. The patterns represent a contrast between NERV and EVA. ASUS says it is 1.5x smoother than most mousepads on the market and it is also incredibly thin at only 3mm.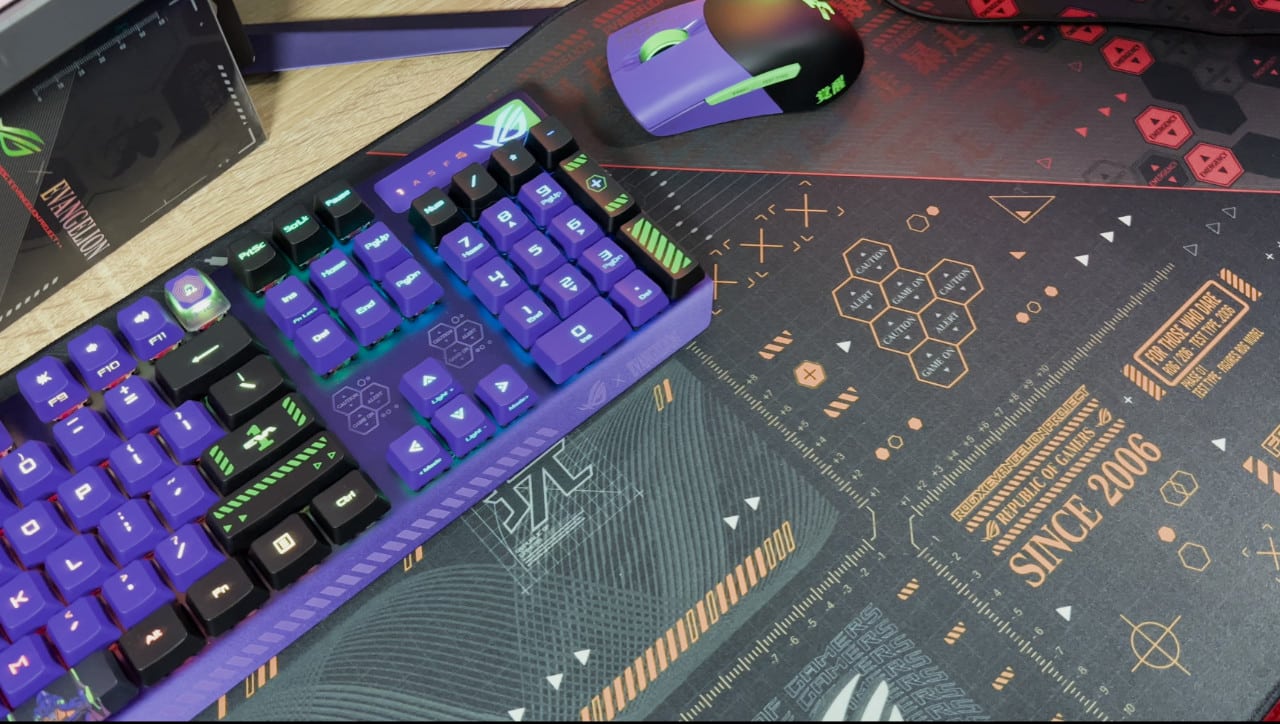 The Scabbard II is also quite durable and is resistant to water, oil and dust while also being anti-fray at the same time. This specific version is 900 x 400mm. It looks awesome with the Keris Mouse gliding around on the surface – just saying.
ASUS ROG Strix Scope RX Keyboard EVA Edition
Matching its mouse partner, the Strix Scope follows the Eva range's iconic purple and green design with its striking outer shell. This optical-mechanical gaming keyboard packs Aura RGB in all the right places and is also IP57 waterproof and dust resistant. The top of the keyboard is made with an alloy plate and it boasts a USB 2.0 passthrough.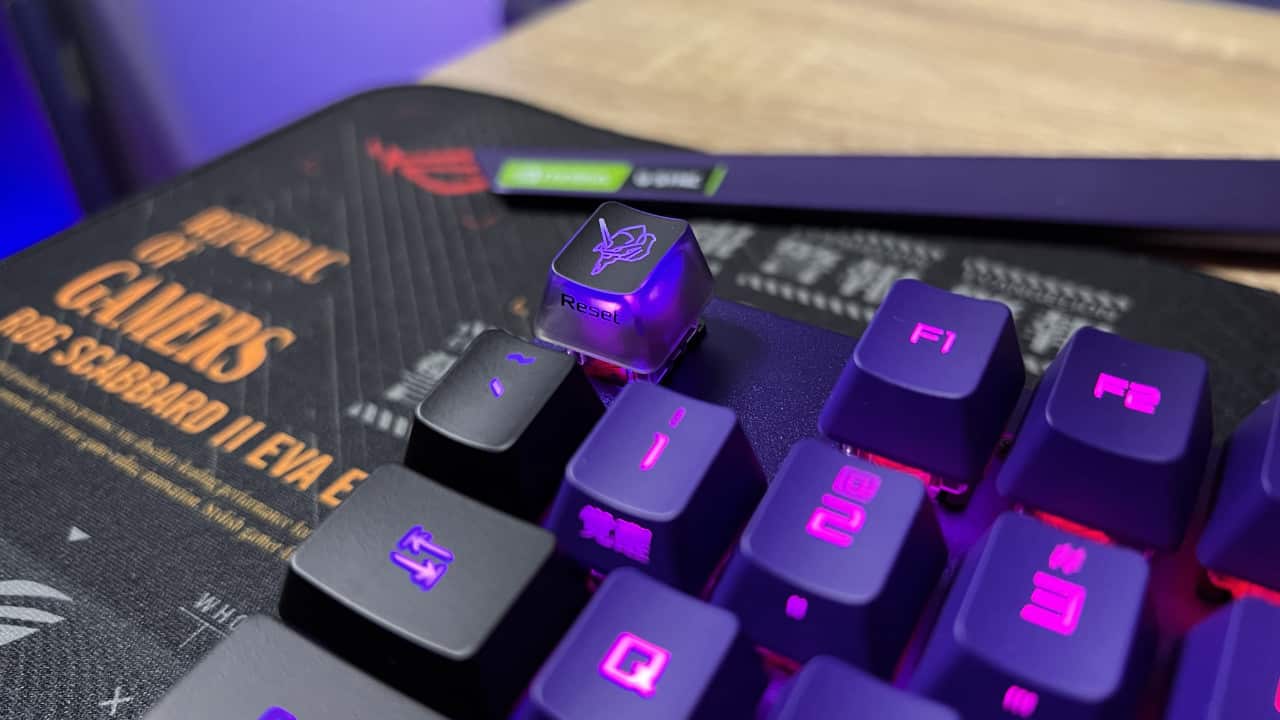 The Strix Scope has some cool EVA design features. Not only does the keyboard have a striking purple shell but it packs some nice decals on a handful of the keys too. The spacebar features an EVA mech that has been water transferred onto the plastic shell. The extended Cntrl key is also decorated with print. The keyboard also comes with some cool transparent caps that are placed over exclusive EVA RX switches. In the box, you'll find some additional EVA-inspired caps that you can swap around to customize your keyboard. These are easily swappable with the includes key removal tool.
ASUS ROG Strix Arion SSD Case EVA Edition
The last of the accessories come from the Arion SSD enclosure. This metal case packs a removable faceplate that once taken off, can be used to install an M.2 NVMe SSD. It comes with everything you need to install the SSD too. It has a screwdriver-less design, included thermal pads and fits PCIe 2280, 2260, 2242 and 2230.
Depending on your SSD, the case supports USB 3.2 Gen 2×1 Type C, Dual USB C to C and USB C to A thanks to its included cables. You can get speeds of up to 10Gbps from the case all dependent on SSD of course. It wouldn't be an ASUS ROG device without including ASUS Aura Sync on it too. This means you can sync up the RGB lighting to your PC so it can glow alongside all the other cool EVA hardware.
ASUS ROG Strix Helios Gaming Case EVA Edition
The ROG Strix Helios gaming case is the perfect place to house all the other EVA components. This gargantuan case comes with a three-sided tempered glass design supported by an aluminium frame. It comes with GPU braces to support those extra-large graphics cards and includes 420mm radiator support. On the top, the case comes with some great port support. There's a USB 3.1 Gen 2 Type C port, four USB 3.0 ports and audio jacks.
Putting the PC build together was a lot of fun. The case provides some nice room for all the EVA components including a translucent power supply housing that perfectly shows off the display on the Thor unit. There's also a door-hinge design on the one side that can be screwed closed once all the cables have been plugged in and installed.
The case also boasts some cool EVA art scattered across it. The front has an EVA-01 decal that lights up. This compliments the giant number 1 on the inside and the EVA-01 sign on the GPU braces. The case also comes with purple and green finishes. This is found on the hand straps, corner surfaces and even at the bottom of the case. ASUS has even included purple and green plates for the PCIe grates.
ASUS ROG Maximus Z690 Hero Motherboard EVA Edition
The heart and mind of this PC build are thanks to the ROG Maximus Z690 Hero motherboard. It has also been designed with inspiration from the EVA-01 and also features purple and green designs scattered around the hardware. When it comes to the specs, it boasts four DDR5 slots, support for the latest Intel LGA 1700 chipsets, three M.2 slots and comes with an additional ROG Hyper Card M.2 Card that can be installed onto the motherboard if you plan on using it.
The Maximus Z690 Hero also packs extra heatsinks found near the M.2 slots and by the chipsets. This helps provide extra cooling and heat dissipation. When it comes to the lighting, the board features a new Polymo Lighting display that packs two RGB patterns that can be swapped around. This is then connected to the ASUS Aura sync meaning you can change the colour of the board at the same time. It offers a unique style that you won't see anywhere else.
ASUS ROG Ryujin II 360 Cooler EVA Edition
While the motherboard is strictly EVA-01 inspired, the Ryunin II cooler takes inspiration from NERV. It features NERV ARGB fans that complement the gunmetal pump outer shell design. The pump is made from a 9-piece mechanism that packs airflow vents, a gasket, and a high flow rate impeller and is all attached to a 3.5-inch full-colour LCD.
This LCD is fully customizable and can monitor the fan speed, and temperature or just showcase a cool piece of art you have around. Using the armoury crate software, you can tweak everything to your liking.
ASUS ROG Strix RTX 3080 OC EVA Edition
The NVIDIA RTX 3080 is already a chunky and eye-catching GPU but ASUS has taken it to a new level with the EVA edition. It packs a unique EVA-01 cover on the top and a full purple backplate. The fans are black and feature NERV and EVA-01 stickers and the outer plastic packs a purple and green striped layout.
These fans are part of ASUS' Axial-Tech design. This means the fans boast more fins across more surface area. The middle fan has 13 fins while the outer two pack 11. This enhances the cooling in the middle of the GPU where the heat spreader is located.
It goes without saying that this RTX 3080 is a beastly card and packs 12GB of GDDR6X RAM. There's also a cool Aura Sync lighting feature on the outer side of the card that lights up the entire surface of the GPU.
ASUS ROG Thor 1000W Platinum Power Supply EVA Edition
To power this PC you'll need a hefty power supply and ASUS has the perfect one. Usually, power supplies are boring metal boxes with wires sticking out of them but ASUS has designed the ROG Thor 1000w to follow the stylish EVA style sheet. This is seen in the NERV artwork found on the side of the unit.
It comes with a light-up ROG logo and crystal edge that can sync to your system's lighting. It also packs a wattage display that shows you what your PC is currently using. The modular design also makes it easy to install as you can easily just wire things to your liking and only plug in cables you'll need on your system
ASUS ROG Strix XG27AQM Monitor EVA Edition
Lastly, we have the sexy 27-inch Strix monitor. This display packs some great specs including a WQHD panel with DisplayHDR 400. It comes with a 144Hz refresh rate which is overclockable to 270Hz. You'll also get 97% DCI-P3 colour space. It is a gaming dream.
But beyond the specs, this monitor is also incredibly stylish thanks to its EVA design. If anything, this is the most EVA product in the range so if you're looking to pick one thing up make sure it's this. Right from the purple and green stand to the striking accents on the back casing, it is so unique and looks fantastic on display. You'll want to rotate this monitor back to front when you're not using it just so you can look at it. It also comes with all the ports you need including audio out, 2 Display 1.4 ports, 2 HDMI 2.0 ports and 2 USB 3.2 ports.
So there you have it. The entire ASUS ROG EVA range. I absolutely had the best time working on this project. Everything worked so well together and you can definitely feel the ASUS ROG ecosystem working here when you combine all the products together. My only issue and I had one problem. The CPU cable was too short for the case. No matter what I did, I could not get it to run neatly along with the rest of the cables because of the length. You'll want to pick up a longer cable because having this one running across the back isn't easy on the eyes.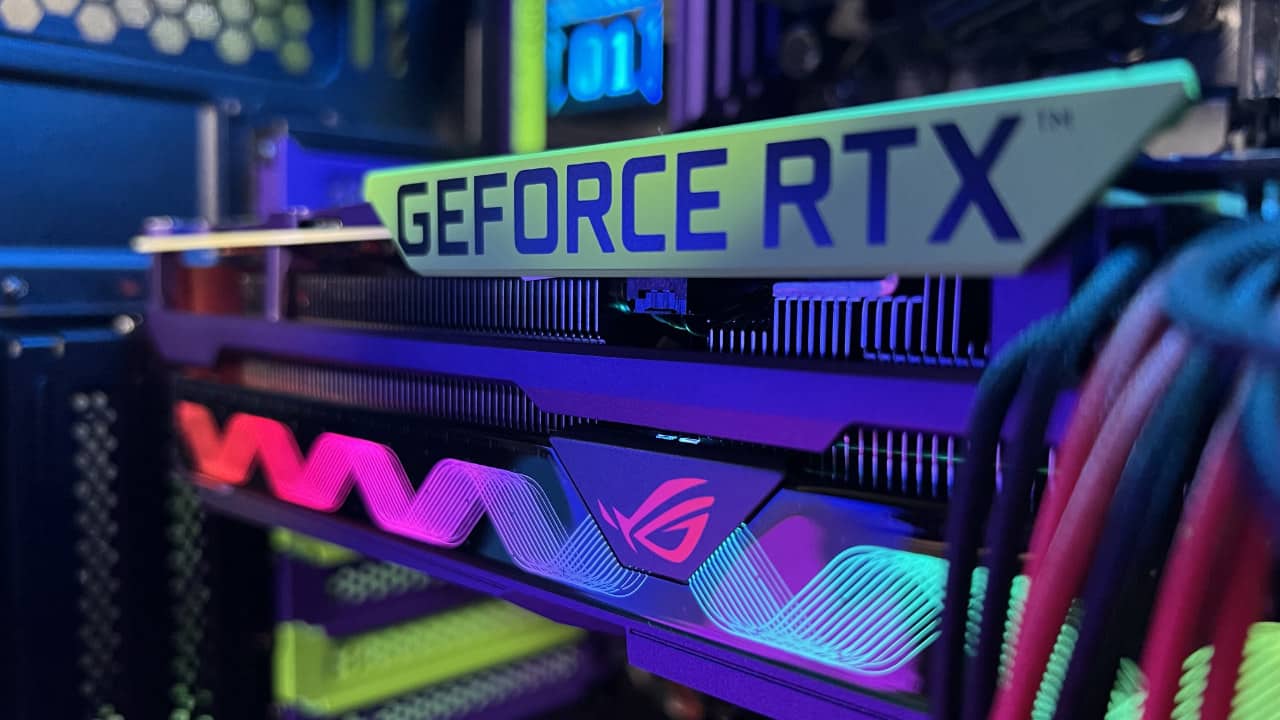 Huge thanks to ASUS for sending all of these products my way to play with. Thanks to my cat too for being so patient while I destroyed the office with boxes and wires while I built this PC. You're a champ. It was not only a learning experience but also just very exciting to see and play with.