It has been a couple of years since Bethesda rebooted the Wolfenstein series. Wolfenstein New Colossus, The New Order and of course, The Old Blood all delivered the typical copy-and-paste FPS experience that we all loved. Bethesda had a feeling that the series needed some new magic and Youngblood came along to save the day. This co-op game is everything you enjoy from the series but now with a strong emphasis on co-op.
In the E3 2019 demo, I managed to test out the game's fantastic shooting and deep co-op system that relies on players to work together with friends or an AI bot to get through your mission. In Youngblood, you take on the role of either Jess or Soph Blazkowicz as they set off on a mission to take down the last of the Nazi generals. The game takes place two decades after the events of Wolfenstein II: The New Colossus and sees the twins trying to not only find their missing dad, B.J. Blazkowicz but also help the French revolution.
RELATED: 10 Hidden Things We Discovered From the Borderlands 3 E3 2019 Demo
The E3 2019 demo I played was a well-rounded experience of what is to come in the game and started off with me choosing a loadout before heading into a mission. The loadout system was bare bones but Bethesda states it will be the place where you equip weapons, a specific look for the twin you choose to play with and prepare for the mission ahead. The mission was simple, we had to infiltrate a zeppelin and take down a general.
[su_youtube url="https://www.youtube.com/watch?v=SNpgKytPcc4&t"]
While this sounds like a typical Wolfenstein experience, it is far from it. The layered co-op mechanics make Youngblood feel so different in every way. From the puzzles that I had to complete with my partner to the shared lives system that sees us have three lives across both of us and when I died, it took one of them away. The twins can also level up which grants them ability points used to unlock new skills such as a slide dash attack, increased health, revive time for your partner and weapon reload and ammo increases.
The level system also means enemies come in different levels which are harder to take down too. Higher levelled enemies often have armour that needs to be shot off and they deal more damage to you with whatever weapon they are using. This, yet again means you will need to take on the tougher enemies together and plan your approach if you feel like things may get out of hand.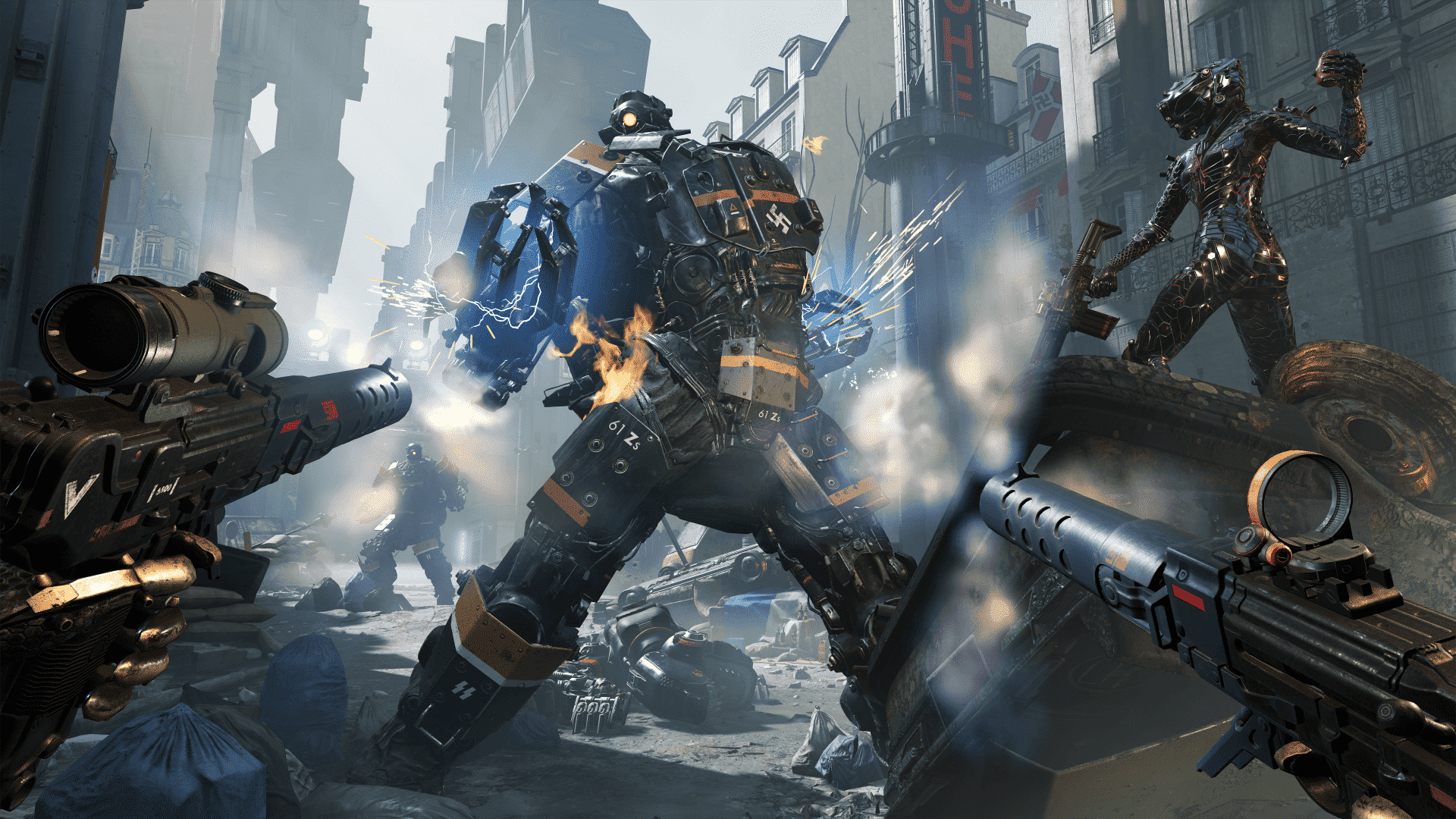 The demo threw some pretty tough challenges at me during the mission. Armoured enemies were higher level and at times they felt like they were not even taking damage. I teamed up with my partner to power some ammo into them before they finally took a dent. This sort of co-op feature was seen in the smaller details too like opening doors and making sure one of us remembered the keycode to a door we needed to unlock.
[perfectpullquote align="right" bordertop="false" cite="" link="" color="#19006E" class="" size="21″]I am sold on just the idea of a  "Wolfenstein co-op" game[/perfectpullquote]
Certain boxes also require both players to pull a lever in order to open it and checkpoints are only activated by both players being present to proceed through a door. Then it comes to the sneaking which, of course, is as enjoyable as you make it. It also relies on you and your partner working together to take enemies down without being seen. While this sounds great, clumsiness will cause issues unless both of you are determined to keep things quiet.
My partner and I managed to get through a good portion of the stage without being detected. All hell broke loose when we were detected and it was then a case of running from cover to cover, screaming at each other and shouting commands in order to know who was taking down what enemy. It was chaotic but there was a lot of fun to be had especially when it came to those tougher, higher-levelled enemies.
Wolfenstein: Youngblood is doing a lot differently. It is an ambitious co-op experience with a layered level system and ability mechanics that will deliver something to grow into. It is not your traditional run and gun shooter but a more detailed and immersive RPG-esque game.
For me, it was when I reached the new open world-like hub that things really go crazy. These areas are something new in the game and are where you will enter new missions and take on the side objectives. However, they are littered with crazy powerful enemies that you can either take on or try and run away from. I can see myself challenging the system with a friend while trying to survive the mass of powerful enemies that come at us.
Wolfenstein: Youngblood is a new approach to the series that plays like any other co-op shooter. It is held up by its great story (from what I experienced) and of course, the gunplay that is matched with a deeper power suit system and the ability to do it all with a friend. For me, I am sold on just the idea of a  "Wolfenstein co-op" game. At least I don't have long to wait as the game releases on 26 July 2019 for PS4, Xbox One, PC and Switch.