After a two-year break for the WRC franchise, developer KT Racing is back to deliver a rally game that will make fans of the motorsport scream with joy. In 2017, I reviewed WRC 7 and quite honestly, the game didn't impress me that much at all. Two years later and the improvements seen in WRC 8 FIA World Rally Championship is impressive and diverse.
RELATED: Gears 5 Review – This Changes Everything
First off, I'm not a big fan of racing games in general and rally titles always feel extra boring as you mostly just race against the clock, not to mention that I have never watched a real-life rally in my life. With that being said, I did a bit of research into the motorsport when receiving WRC 8 FIA World Rally Championship to review. The game boasts over 100 special stages, 50 teams 14 rallies in 14 different countries and they have all been faithfully recreated from what I can gather.
That's a whole lot of content and after playing multiple rally games in the past few years, I can say without a doubt that WRC 8 delivers the most complete package to date and fans of the motorsport should not miss out, especially with all the new, great features that the game provides.
First up and most importantly, we have a robust career mode that just screams quality. At first, it felt like a chore, as in the career mode you have to manage your crew, your calendar, sometimes even respond to fictional emails. You need to take a look at your finances, improve your team composition, watch your crew morale, hire new members and more. That's a whole lot of admin work but after a few hours, I was hooked, as it felt like an RPG experience inside a racing game.
There is a whole headquarter bustling with employees for you to look at. You need to hire specialists that help you during races, from a physical therapist who helps keep your other specialists' stamina up, to a mechanic that repairs your vehicle between days of a rally, a meteorologist who predicts the weather and more. That meteorologist is extremely important as the game has a dynamic weather system and choosing the right tires based on the meteorologist's prediction is essential for rallies as you progress in the game.
That's only touching on the detail put into the career mode, as you have to watch the morale of your staff, complete manufacturer objectives to increase your reputation and a whole lot more. There's even a skill tree which you spend points in as you level up, for example, headlight damage resistance, increased experience from races, better finance management from your Financial Director crew member so you can pay your crew or hire new members and much, much more. It is the most robust and detailed management system in a rally game I have ever seen, but the most important aspect of any racing game is still the gameplay.
WRC 8 FIA World Rally Championship is a massive step up from WRC 7 when it comes to driving and handling. It feels great using a controller, where the last entry had some really big controller issues that made the game a chore to play. Even with the improved control, the game is still extremely difficult. I can't stress this enough, because even at the easiest difficulty, I spent several hours before winning my first rally.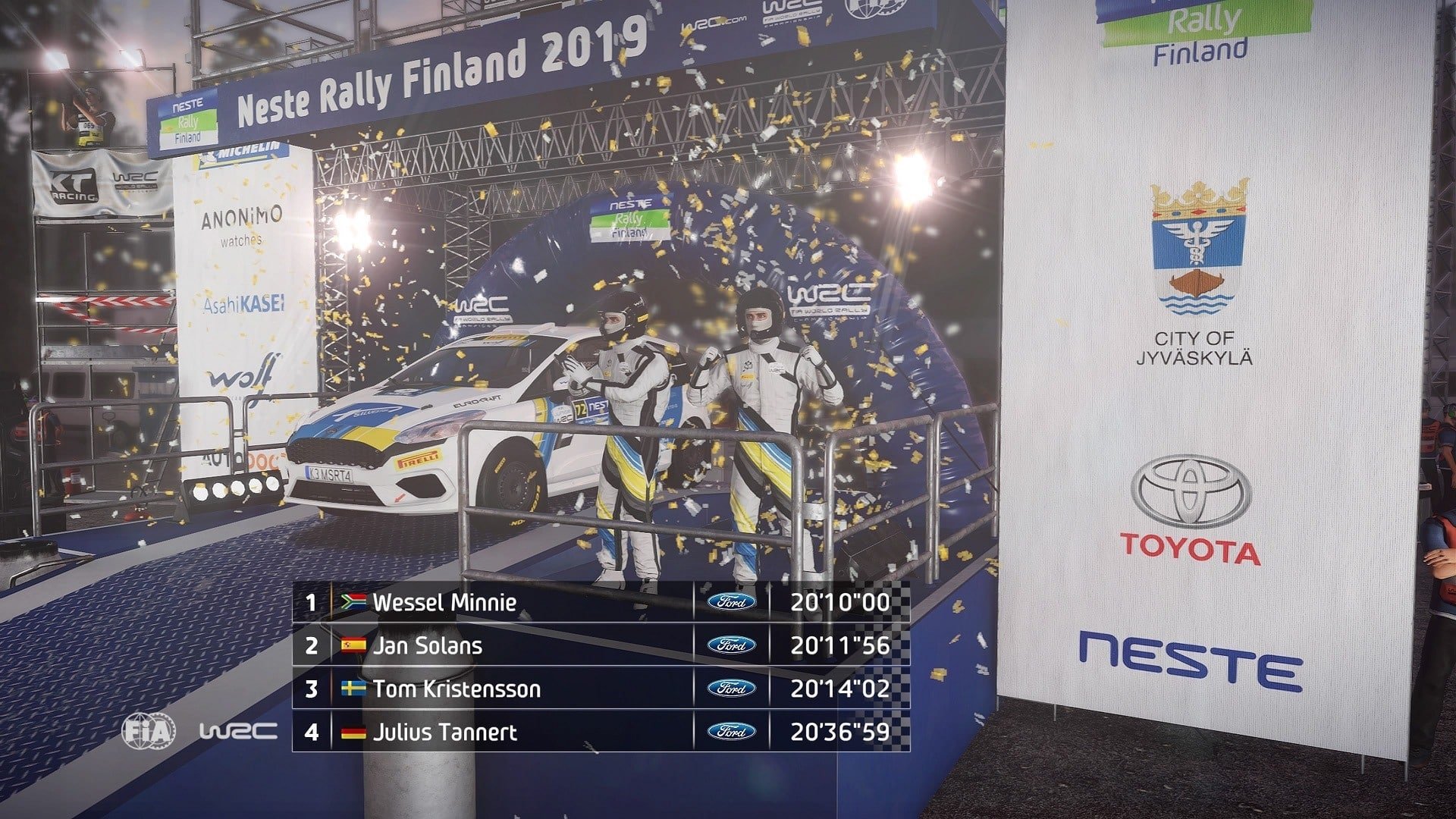 [perfectpullquote align="left" bordertop="false" cite="" link="" color="#1cedea" class="" size="16″]WRC 8 FIA World Rally Championship demands the utmost focus from the player and it is this challenge that makes the game such a joy to play[/perfectpullquote]
This is because the game goes for an authentic, rally simulation approach instead of an arcade feel and it works. I felt physically tired after each gameplay session at the start of my time with the game, as the smallest mistake could cost me that podium position and it did, over and over again.
WRC 8 FIA World Rally Championship demands the utmost focus from the player and it is this challenge that makes the game such a joy to play after you've gotten to know your vehicle, the co-pilot's directions and the extremely narrow sections of a rally. It is nervewracking, exhilarating and rewarding to compete in, to say the least especially when vehicle damage, weather, surface types and more come into play.
There are also historic races, which tasks you with setting the fastest time and these races are extremely difficult but oh-so rewarding to complete. You also get to play with some iconic rally cars, such as my personal favourite, the Lancia Fulvia HF which was a joy to drive within the rally Guanajuato in Mexico. With that being said, each vehicle handles so differently from the last that it takes multiple retries to even have a chance at earning the best time.
Between big rallies, you have the option to take rest days to regenerate your crew's stamina, or you can compete in manufacturer's challenges, historic races and extreme condition challenges. The latter is my personal favourite part of the entire game, as it throws you into a massive storm and tasks you with making it a certain distance in a short time frame of two to three minutes, with a damaged vehicle that makes staying on the track nearly impossible.
Playing this mode in a view as you can see above is probably the most intense experience I've ever had in a racing game.
While handling feels a lot better than it did in previous WRC titles, I did find that my vehicle spun on a few times where it really shouldn't have in a corner I took the same way multiple times. However, it can take dozens of hours to fully understand the game's handling and physics.
For the most part, I slowly improved until I won my first rally in Sweden. It was one of those satisfying, proud moments that you rarely get in a racing game as I learned how to listen to the navigator instead of watching for queues on screen, which is a must when you want to compete and win.
In terms of multiplayer, I simply couldn't find a match or a custom lobby to join after trying for several hours. The esports events and weekly challenges for the game also haven't gone live yet.
However, since WRC 8 is a rally game, playing it from South African shouldn't be a problem because you won't have to overtake other players as your race is against the clock.
On the technical side, I experienced two crashes on the PS4 Pro in roughly 20 hours of play. There were no noticeable framerate drops to report on, but there were some texture pop-ins especially when driving really fast. With that being said, the game looks absolutely gorgeous and there's so much detail in the faithfully recreated, massive stages that I can't complain.
Combine this with excellent sound, crowds cheers as you speed past them and breathtaking scenes, and the game becomes a visual treat.
The Verdict
WRC 8 FIA World Rally Championship is the best rally game I have ever played, delivering a robust career mode with a team management system that feels like an addictive RPG experience. Unfortunately, I couldn't test the multiplayer aspect, but the single-player content alone kept me busy for well over 20 hours and I plan to go back to the game to compete in more rallies, it's just that precise and satisfying to play.
However, there are some technical flaws such as texture pop-ins and high speeds and a couple of crashes, but that didn't take anything away from the breathtaking, massive stages and attention to detail by the developer. In the end, it is still a rally game and for those not into the motorsport, it might get a bit boring as it is a niche title. Even so, as someone who has never watched the motorsport before, I personally enjoyed my time with the game. It is definitely a massive step up from WRC 7 and arguably even a contender to the rally game crown.
This WRC 8 FIA World Rally Championship review was based on a code sent to us by Big Ben Interactive

Available On: PC, PS4 and Xbox One | Reviewed On: PS4 Pro | Release Date: 5 September 2019  | Price: R929