In one of the most bizarre gaming stories currently making headlines, Microsoft once actually tried to acquire Nintendo. The Xbox Virtual Museum features a letter from the year 2000 which details how Microsoft tried to pitch an acquisition to Nintendo, who apparently laughed when the idea was proposed to them.
As part of Xbox's 20th Anniversary celebrations, Microsoft launched the Xbox Virtual Museum which showcases the history of Xbox and their various landmark moments in history. During the year 2000, Microsoft wrote a letter to Nintendo suggesting an acquisition of the huge Japanese gaming company. Naturally, this didn't go so well.
The letter reveals some communication between Xbox's head of hardware at the time Rick Thompson and Nintendo of America's former executive VP of business affairs Jacqualee Story.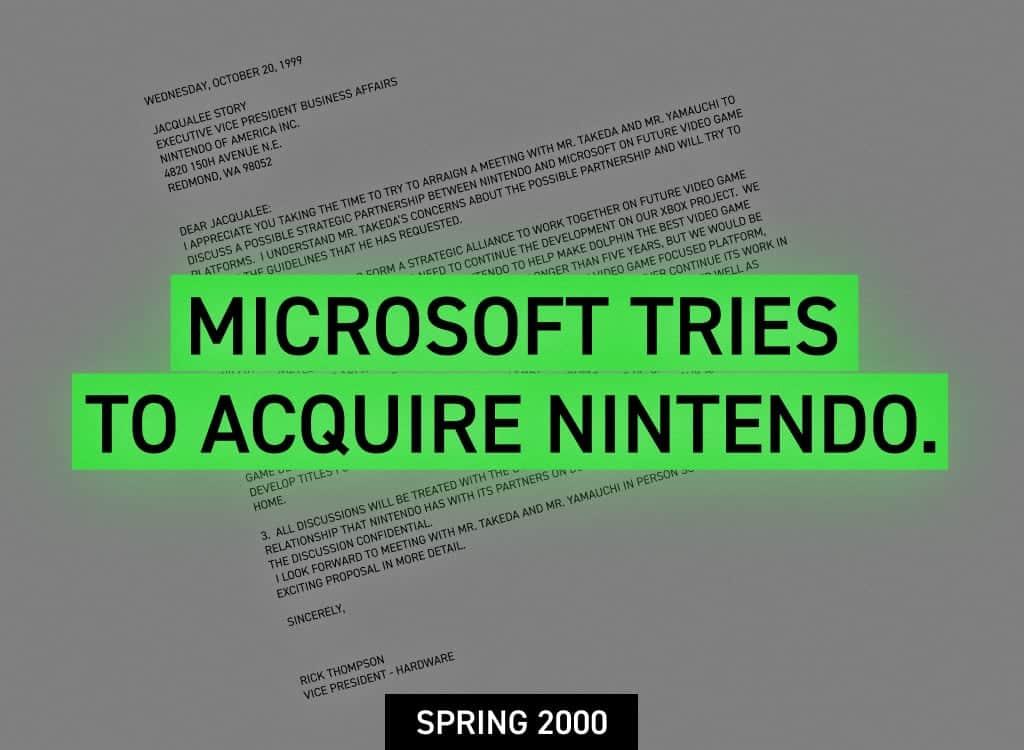 Much of the letter is obscured, but IGN were able to make out:
"Dear Jacqualee, I appreciate you taking the time to try to arraign a meeting with Mr. Takeda and Mr. Yamauchi to discuss a possible strategic partnership between Nintendo and Microsoft on future video game platforms. I understand Mr. Takeda's concerns about the possible partnership and will try to [obscured text] the guidelines that he has requested."
Needless to say, none of this came to fruition. Earlier this year, former director of third-party relations at Microsoft Kevin Bachus detailed the exchange between the two companies upon their initial meeting. Bachus stated:
"Steve made us go meet with Nintendo to see if they would consider being acquired. They just laughed their asses off. Like, imagine an hour of somebody just laughing at you. That was kind of how that meeting went."
Microsoft have been quite aggressive with their studio acquisitions and partnerships over the past few years, and it's hard to imagine Nintendo being a part of that now. However, they still have a decent list of developers and IPs under their belt from Obsidian Entertainment and Bethesda Game Studios to id Software and Ninja Theory. We don't think Xbox is ready to quit just yet.
Source: Xbox Virtual Museum