SEGA has been teasing a new hardware announcement for a few weeks now. SEGA announced a new range of Game Gear Micro portable consoles. They are expensive and only have four games on each console. In addition, each of them packs four separate games forcing players to purchase all four of them if they wish to experience the entire library. You could also just buy the one that packs the games you like? However, this thing is tiny. No really, even in a child's hand, this game console may be tough to play.
From the photos, the SEGA Game Gear Micro looks quite big but it is far from it. The buttons are tiny, the display is as big as an Apple Watch 44mm, and the body is as big as a box of Tic Tacs. The hardware itself is 80mm x 43 mm x 20mm with a 1.15-inch display. It has a built-in rechargeable battery but can also run on two AA batteries. It packs a mono speaker and a headphone jack. There's a lot going on for such a tiny device. Pity, it's so small that you won't be able to use it? But you know what they say? It's not the size that matters.
The four models come with four different games pre-installed.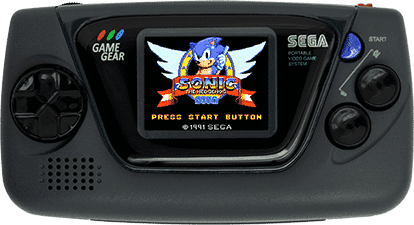 Sonic the Hedgehog
Puyo Puyo 2
Out Run
Royal Stone
Sonic Chaos
Gunstar Heroes
Sylvan Tale
Baku Baku Animal
Shining Force Gaiden: Ensei – Jashin no Kuni he
Shining Force: The Sword of Hajya
Shining Force Gaiden: Final Conflict
Nazopuyo Aruru no Ru
Revelations: The Demon Slayer
Megami Tensei Gaiden: Last Bible Special
The GG Shinobi
Columns
The Sega Game Gear Micro consoles will sell for around $50 each. You can also buy all four of them for around $250 and get a Big Window magnifiying-glass with the bundle. This display will attach to the already-pointless device and increase the display's screen size. However, the buttons will then be even harder to get to.
There's someone out there that would spend money on these tiny consoles. I have huge hands so that person is not me. Check out the trailer down below;
https://www.youtube.com/watch?v=ZJD0VZQzK1s