Just when you thought laptops could not possibly get any thinner, ASUS as walked in and laid down an 880-gram productivity notebook. Not only is the ASUS Expertbook B9400 one of the lightest devices you could have on your desk but it is also incredibly powerful.
The ASUS Expertbook B9400 is an ultra-thin and ultra-light laptop. It is a bit pricey costing R26,999 but you can pick it up with cheaper CPUs including a Core i5.
The ASUS Expertbook B9400 is a 14-inch, all-business device that comes equipped with a Core i7-1165G7 CPU and 32GB of LPDDR 4 RAM. Its 1080p display might seem a bit dated but the bezels on this notebook are so thin that it looks and feels like something so different from its competitors. But there is more…
ASUS Expertbook B9400 Tech Specs
CPU –  Intel® Core™ i7-1165G7 Processor 2.8 GHz (12M Cache, up to 4.7 GHz, 4 cores)
GPU – Intel Iris Xᵉ Graphics (available for Intel® Core™ i5/i7/i9 with dual channel memory)
Display – 14.0-inch, FHD (1920 x 1080)
RAM – 16GB LPDDR4X on board, Memory Max Up to:32GB
Storage – 1TB + 1TB M.2 NVMe™ PCIe® 3.0 Performance RAID0 SSD
Ports –

1x USB 3.2 Gen 2 Type-A
2x Thunderbolt™ 4 supports display / power delivery
1x HDMI 2.0b
1x micro HDMI (RJ45 lan)
1x 3.5mm Combo Audio Jack

Expansion Slots – 

2x M.2 2280 PCIe 3.0×4

Camera – 720p HD camera with IR function to support Windows Hello / With privacy shutter
Network – Wi-Fi 6(802.11ax) (Dual band) 2*2 + Bluetooth 5.2
Battery – 66WHrs, 4S1P, 4-cell Li-ion
Dimensions – 0.88 kg (1.94 lbs) / 32.00 x 20.30 x 0.90 ~ 1.49 cm
ASUS Expertbook B9400 Design
The notebook is really thin at only 14.9cm thick. This is even thinner than MSI's Evo Flip13 2-in-1. However, this thinness does come with some downfalls. For example, the overall structure of this notebook suffers a bit due to the thin shell. The screen has a noticeable flimsy wobble to it when opening the device and there's a sort of "flex" to the whole notebook when you apply force.
That aside, the notebook is definitely something to gawk over. The matte shell looks clean and the display's matte coating is so premium. It is made from a magnesium-lithium allow material which goes a long way here to make this notebook so light. ASUS has also secured military-grade MIL-STD-810H certification on the ASUS Expertbook B9400 which is just impressive given the design form of this device.
In the box, you'll find a 65W USB C charger and my model came with a sleeve. The box can also be used as a laptop stand by unfolding the two parts of the box to create a triangle. The bottom of the box includes small grips to keep it from sliding across the table. If you don't use the box, you can simply open up the ASUS Expertbook B9400 and the display is used as a kickstand to provide better ergonomics and cooling.
There isn't much going on with this ASUS Expertbook B9400 when it comes to the design. It is simple and it works. ASUS has done a great job putting a lot of tech and innovation into this notebook. For example, it can actually be opened with one hand even though it weighs less than a kilo.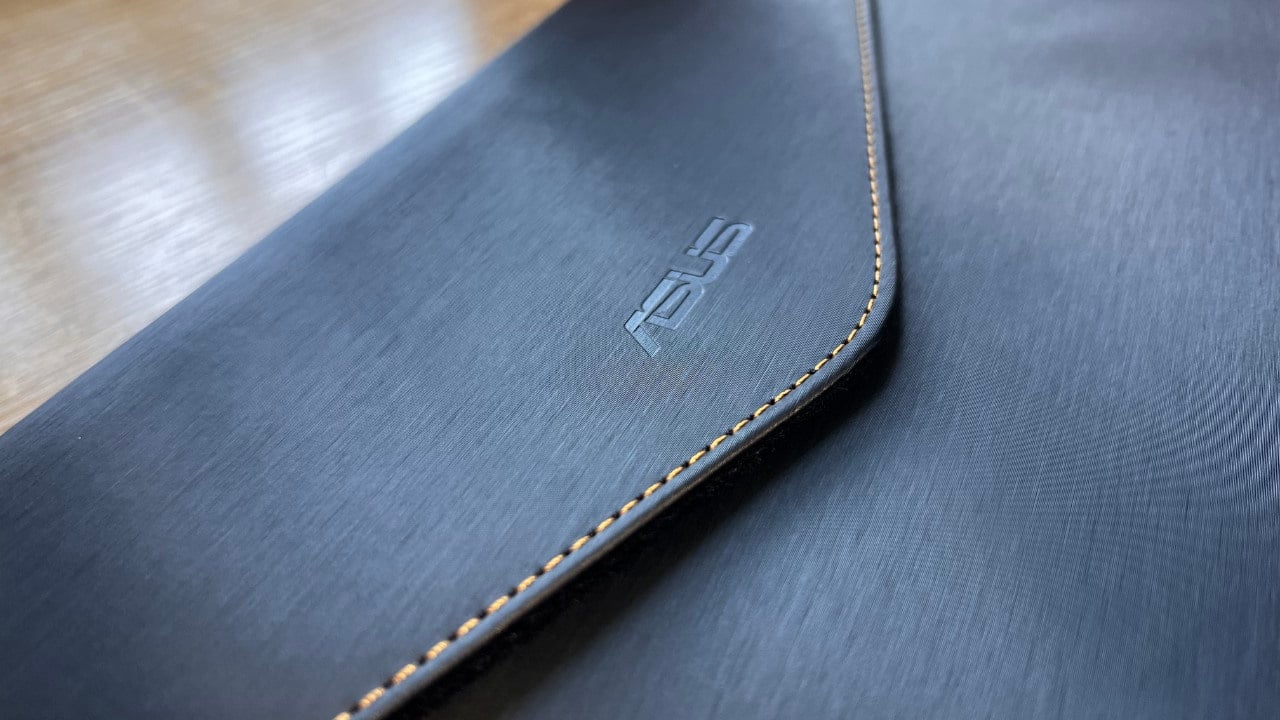 On the right-hand side, you'll find a full-sized USB 3.2 Gen 2 port, a headphone jack and a Kensington lock slot. On the left, there are two Thunderbolt 4 ports that both support DisplayPort and power delivery. There's also an HDMI port and Micro-HDMI port that doubles up as a Gigabit Ethernet port when making use of the included adapter.
Inside, the webcam includes a privacy shutter and comes with Windows Hello support. There's also a proximity sensor that detects when you walk away from the notebook to automatically lock it.
The keyboard feels great to type on. They have some decent travel time and the buttons feel satisfying to press. I do wish the keyboard had a bit more click to it but over time, I could get used to this. ASUS also says the keyboard is spill-resistant. I just don't have the nerve to throw a drink over the keyboard to test that out.  The trackpad is quite large and great for gestures. It also has a number pad overlay which can be activated with the press of one button.
The general design of the ASUS Expertbook B9400 is nice. I loved how light it was. Like almost unbelievably light. ASUS is obviously trying to rival the MacBook Air here with the lightweight design and if you're not into the Apple ecosystem and need a Windows alternative, this is definitely it.
The general use of the B9400 is good. The screen is likely the most important factor here and it is a non-touch 1080p display that features a matte anti-glare coating. There's nothing amazing about the panel but that's okay too. ASUS is targeting the businessman here and not the creator so it doesn't need high resolutions and colour certifications. However, you do need to keep in mind that while that is the case, you can get better notebooks with better displays especially the MacBook Air which is sharper and brighter. It even uses new Mini-LED tech and adheres to DCI-P3 Gamut certifications. The ASUS B9400 display is fantastic for what it is though and should be ample for your daily tasks.
It can it a peak brightness of 380 which isn't super bright but results in a reasonably bright panel for both indoor and outdoor environments.
ASUS Expertbook B9400 Performance
When it comes to the ASUS Expertbook B9400, it excels in its tasks. The Core i7-1165G7 is a reliable and snappy CPU that can potentially reach a max speed of 4.7GHz. Granted, it only packs four cores, but these are no doubt enough to carry you through the day. Sadly, while this notebook is powerful, there's always that discussion of "how powerful" and "can it beat Apple's M and AMD?" Intel is sadly lagging behind its competition of late and you always need to consider this when purchasing a new notebook. Intel isn't useless by any degree but better value can be found elsewhere.
Test scores showed that the ASUS Expertbook B9400 can pump out some decent performance:
Geekbench

Single Core – 1499
Multi Core – 4990

PCMark 10 
3DMark Time Spy
The scores are great here but expect a 200 to 250 increase across the board when comparing them to AMD and Apple's M1. I can't vouch for Apple's M2 chip yet because I haven't been able to run tests on these yet.
When running tests, the fans did turn on but they were surprisingly quiet and reasonable. The machine does make a noise but I doubt it is going to become an irritation during meetings and Zoom calls. The speakers are mediocre and will get you through the day. They are also loud enough to muzzle out the sound of the fans.
When it comes to battery life, the ASUS Expertbook B9400 has an excellent battery package. So much so that you'll likely get an entire day out of this notebook if you watch your screen brightness and power consumption. At 50% brightness, the notebook got well above 13 hours of life. You can likely get more than 15 hours if you are careful and in the worse case, 11 hours on peak brightness.
The battery life is really great here and it should be a selling point for the notebook. This means you can honestly go about your day without even worrying about packing your charger. If you have a long flight, leave it in your bag and take the notebook through carry-on, for example. It is a relief. Don't get me wrong here, if you start watching movies loud with the screen on max or spend the day surfing the web, this battery won't last long. However, even "not long" is around 5 hours and that is great for a notebook pushed to the max.
ASUS Expertbook B9400 Verdict
The ASUS Expertbook B9400 is definitely a contender in the range of "ultra-portable notebooks" and if you are brand loyal, is a no-brainer. However, it is quite an expensive notebook which, can't compete with the likes of the MacBook Air and other AMD counterparts so it makes it a tough sell. It is great, but at the same time not the best.
The ASUS Exportbook B9400 is available in South Africa starting at R26,999
ASUS ExpertBook B9400
Performance -

7.5/10

Display -

8/10

Cooling -

8.5/10

Value -

8/10
Summary
The ASUS ExpertBook B9400 is a great contender for the best ultra-book notebook around thanks to its incredibly-slim design and lightweight form factor. But it isn't the best in the bunch making it a tough decision.
Pros
Incredibly light
Great battery life
Quite powerful
Cons
Pricey in comparison
There are better ultrabooks around