Wireless gaming keyboards seem about a dime-a-dozen these days with almost every brand having its own range of gaming keyboards. These "gaming" keyboards are usually simple keyboards with sparkly lights on them and massive "made for gamers!" labels all over the place. However, the ASUS ROG Strix Scope RX TKL Wireless Deluxe (kudos on the short, easy-to-remember name) is something quite spectacular.
The ROG Strix Scope RX TKL Wireless Deluxe (which we will just refer to as Strix Scope from now on) is a truly magnificent little wireless keyboard. The Strix Scope boasts a huge range of "gamer" specific features that are actually relevant to gamers with three connectivity modes for convenience, ASUS's own RX Optical switches, as well as one of the comfiest wrist rest's I have ever experienced.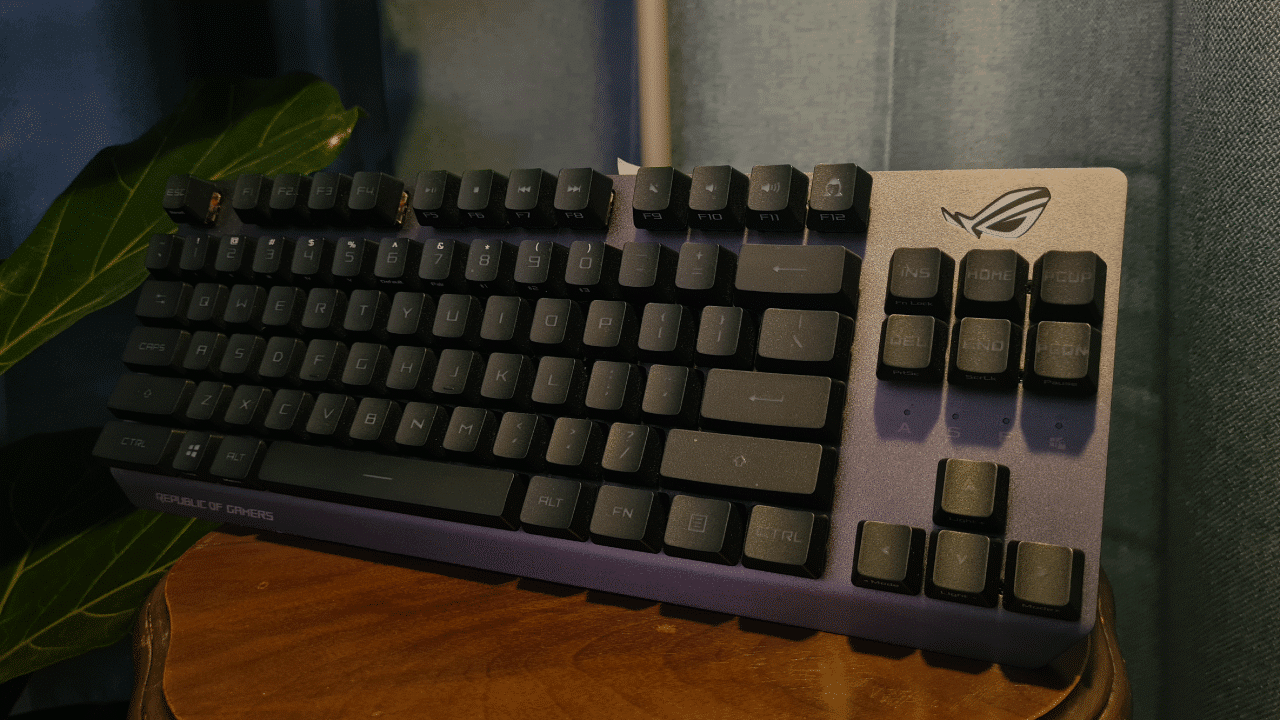 ROG Strix Scope RX TKL Wireless Deluxe Design
The Strix Scope boasts a durable aluminium frame that sports a sandblasted finish for a premium ROG experience. ASUS has standardised this sort of brushed metal look through their ROG keyboards for some time now and I am still a fan. The keyboard not only offers an edgy aesthetic that is nuanced enough to remain somewhat low-key but it also feels – and is – strong, sturdy and tough; it definitely lives up to the hype of being "built to last". 
The tenkeyless (TKL) form factor means that the Strix Scope does not feature a Num Pad that you would typically find on a keyboard and is something that is becoming more common on gaming keyboards. The removal of the Num Pad makes space for your mouse hand to move more freely, and also transfers if you are left-handed. This is only really a detriment if you need the num pad for daily tasks but it is still something to keep in mind. 
The Strix Scope features PBT double-shot keycaps, something that ROG is also standardising across their range of keyboards. This key finish gives you a more premium feel and longer-lasting durability in the keys, as well as a more comfortable typing and gaming experience. I really enjoyed the PBT finish and I wish it was something that would be standard across keyboards as a whole. 
The connection settings and the wireless dongle are located at the top section of the keyboard, giving you easy access to on-the-fly switching if you want. It is tucked away nice and neat so you wouldn't see it otherwise but still have convenient access. The wireless dongle is also stored here which ensures it is always safely secured on the keyboard itself while not in use. 
One of the standout features for me on the ROG Strix Scope TKL Wireless Deluxe was the included magnetic wrist rest. The wrist rest sported a leather-esque finish that was quite breathable no matter how long my hand was on it. It also featured some of the most comfortable paddings around which my wrists were extremely grateful for, especially after long days of typing and playing. Since it's magnetic, it's super easy to detach and even move around for a personalised fit. 
The Strix Scope also boasts a sort of "boat" design to it where the keys are designed in a way that makes them easier to reach through angles and varying heights to make typing more ergonomic. As someone who writes a lot (or types, I guess) this was an incredibly small detail as my fingers were significantly less fatigued after typing all day and playing in the evenings.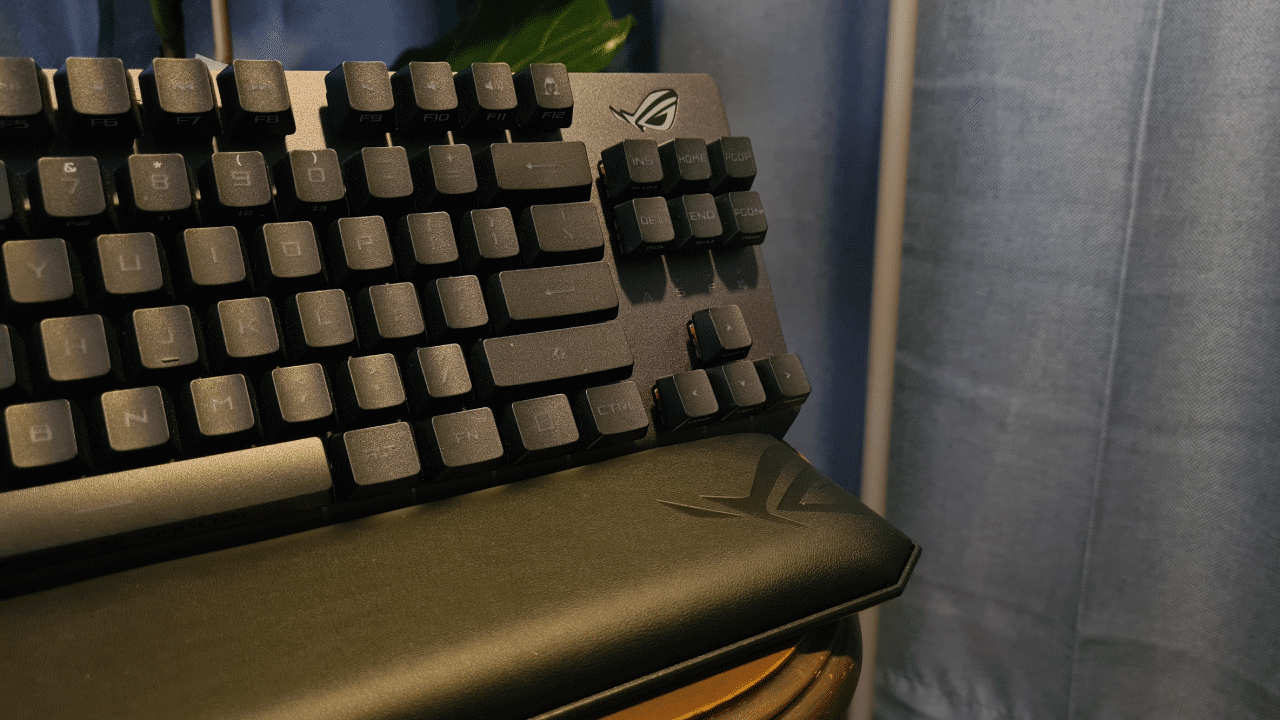 ROG Strix Scope RX TKL Wireless Deluxe Performance
The Strix Scope is a fully wireless keyboard that offers three ways to connect to devices – a 2.4GHz RF wireless mode, Bluetooth, as well as a standard wired USB-C connection. The 2.4GHz wireless option is available thanks to an included USB dongle that fits quite elegantly with notebooks, and as far as wireless gaming goes, it's probably your best option. The Bluetooth 5.2 connection is almost negligible in terms of connection speeds and latency (or lack thereof) but I understand the hesitation. 
The Bluetooth connection also offers the chance to connect to three different devices at a time through the different Bluetooth profiles you can set for extra convenience. This was actually amazing for switching between my desktop PC and my laptop where I didn't need to worry about forgetting the wireless dongle or my USB cable as I could just switch the profile and be connected. 
ROG promises "76 hours of low-latency gameplay" through the wireless RF mode which held up as I was able to go a number of days without having to recharge the battery. I did not notice any increase in latency as the battery drained, or even when it was critical. I did notice that there would be missing key inputs moments before the battery died but the chance of getting to that level is pretty slim. The Bluetooth connection lasted a smidge longer than its RF counterpart but the differences were fairly negligible in real-world situations.
The ROG RX Red switches are comfortable and quite silent which I really enjoyed. The RX switches were fantastic for prolonged gaming sessions as the resistance is just enough to prevent accidental clicks but not so much that it fatigues your fingers. The same can be said for all-day typing, and in our case, a full day of typing with long gaming sessions straight after. My fingers were never screaming for a break and the PBT finish also saved my fingertips which was great. 
The only problem with the keycaps is that they are not compatible with other key designs so you will need to replace any keys through ASUS. You cannot swap with custom keycaps either, which does limit your customisation options, but the trade-off is fairly worth it. The best way to customise the ROG Strix Scope TKL Wireless Deluxe is through the Armoury Crate software to change the RGB lighting.
ROG Strix Scope RX TKL Wireless Deluxe Verdict
Overall, the ROG Strix Scope Wireless TKL Wireless Deluxe keyboard is an excellent all-around, versatile TKL wireless keyboard that offers a comfortable experience, excellent connectivity options and great battery life. The only drawback came down to its customisation options or lack thereof, so if you are looking to change the keycaps for your own, you will be disappointed.
The ASUS ROG Strix Scope RX TKL Wireless Deluxe is not available in SA with the current ETA in mid-November but ASUS SA has yet to confirm a price point for when it lands.
ASUS ROG Strix Scope RX TKL Wireless Deluxe
Design -

9/10

Performance -

9/10

Value -

9/10

Connectivity -

9/10
Summary
The ASUS ROG Strix Scope RX TKL Wireless Deluxe is a fantastic keyboard with excellent ergonomics, performance, connectivity and battery life.
Pros
Versatile
Ergonomic
Excellent battery life
Multiple connectivity options
Cons
Lack of customisation options