After spending over a dozen hours with Back 4 Blood during the beta in August I was on the fence about the game. I didn't enjoy its limited card system, thought the multiplayer was an afterthought and the challenging gameplay means you'll probably never see any stages past Recruit if you plan on playing this game solo.
For the most part, the above is still true. The Back 4 Blood Swarm multiplayer still feels uninspired and tacted-on and the game's brutal difficulty will limit the experience to groups of players who work together. However, the recipe in Back 4 Blood simply works. The grind to get the best cards and build classes around these cards feels great and I can honestly see myself playing this for months ahead as I tackle the toughest modes or backtrack to earlier ones in the hopes of improving my loadout.
[perfectpullquote align="right" bordertop="false" cite="" link="" color="" class="" size=""]Back 4 Blood also wants you to die and you will[/perfectpullquote] The more I played, the more I brainstormed ways cards could work together with specific characters to form new playstyles. Be it a shotgun build based on healing with every shot while also improving reload speed when killing an enemy in front of me or a character solely built with ammo capacity and healing support for my teammates. There's a lot to digest in Back 4 Blood when it comes to the versatility of the card system. Sure, the cards don't have the exciting mods I hoped for like exploding bullets and slow damage but once you wrap your head around the mechanics and how the game's replayability relies on these systems, it becomes a lot more exciting.
Back 4 Blood also pushes the challenge to a whole new level but at the same time, the game feels rewarding for the toughest modes. Don't expect to simply jump into Nightmare all willy-nilly without grinding for weeks to get there. You need to know what you're doing, how your build works and hope the card system works in your favour. It is a refreshing experience that manages to take the tired zombie co-op shooter genre to greater heights.
It goes without saying that Back 4 Blood is technically Left 4 Dead 3. The same team behind the original Left 4 Dead games worked on this and the moment I booted it up, the nostalgia was oozing out of every Ridden's gun wound. The game takes place in a world where people have become crazed Ridden freaks. It has also caused a range of creatures to spawn that mostly represent the cliche co-op shooter enemies. You have the Snitcher that calls in a hoard when startled. The Reeker that explodes leaving acid on you that also attracts hordes and the Stalker hunts and pins players down.
While the story in Back 4 Blood struggles to become relevant in the game, the main point is to survive while running around completing objectives for the people of Fort Hope. Each act consists of a range of stages totalling 33 missions across four acts. There are also three difficulties but I will get into that in a bit. Most of the time, I started a new mission thread at the gate of Fort Hope, left the area and ventured off into another part of the town. After completing the mission thread, I then went back at the Fort ready to find another path to explore.
While there's very little freedom of exploration in Back 4 Blood, given that most of the stages are linear, the world comes to life thanks to the way these missions flow. I got the feeling that I was in a city with its own population and a once-functional society. The missions all link together and the environments I explored felt as if they belonged in the town. During some missions, I could even see locations I previous visited in the distance. It goes a long way in making Back 4 Blood's environments feel authentic.
I also didn't feel as if these locations felt copy-and-paste even after days with the game. The areas change slightly upon each playthrough. You can open new doors, toolbox doors appear in different areas and the enemy spawns change too. The stages also offered fun mechanics to complete and the finale chapters are great fun. I don't want to spoil anything so you can discover these when you play the game.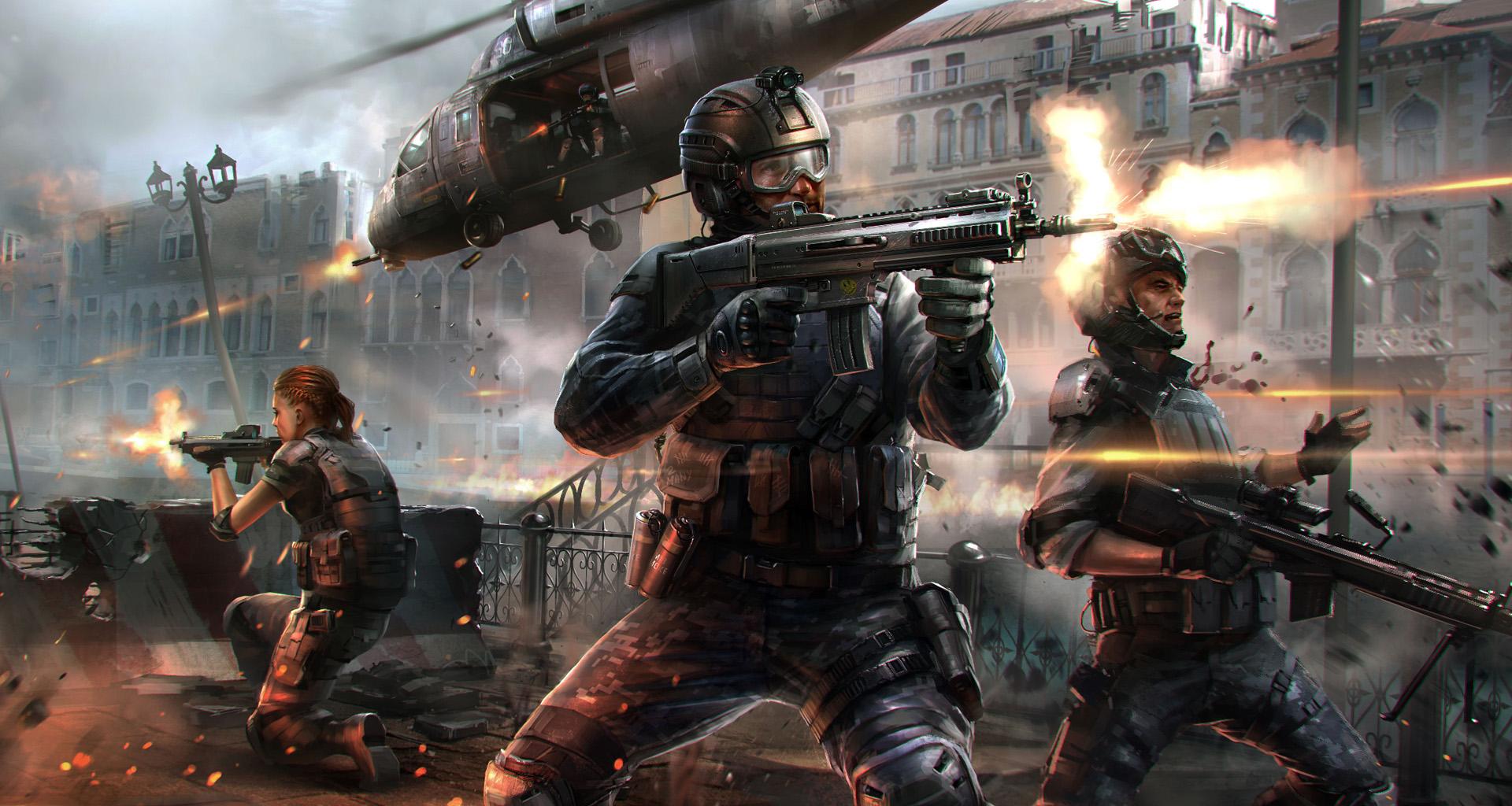 Anyone who has played any co-op survival game in the past decade won't find anything surprisingly new here when it comes to the enemy types. They are all there to make your life hell and keep you moving the entire time. If you go on your own path and leave your team behind, the game spawns a Stalker to punish you for doing so. It is all very reminiscent of games like Vermintide, Aliens Fireteam Elite and World War Z.
Enemies also have weak spots that help kill them faster. A tallboy, for example, has a large glowing sac on his massive arm that once popped kills him. Stalkers have large glowing heads that are weak to damage and Orges pack a handful of poppable sacs dealing a large chunk of damage to their health bar. Again, it's nothing majorly new for a shooter but it makes for a fun time regardless.
[perfectpullquote align="left" bordertop="false" cite="" link="" color="" class="" size=""]Back 4 Blood really wants players to invest time in the card system[/perfectpullquote] Where Back 4 Blood truly shines is in its card system. Think of the card system as a roguelike mechanic. You play Back 4 Blood, earn Supply Points and purchase cards scattered across a range of Supply Line battle pass-like tiers. These cards then go into decks that hold 15 cards. As you buy more cards and complete more Supply Lines, more cards arrive and they get better and better the more progress you make. You then start a new "Run" and each run locks in the deck and character you choose at the start. This means the cards you purchase and decks you make while that run is still active won't appear until you start a new run.
You can also start multiple runs and delete them so you're not locked into sticking with that basic deck run. You can also create multiple decks with multiple playstyles in mind and start a run with each of them. This way you know that you're playing a sniper build with one set of friends and a shotgun healer with another set. I think this system is fantastic and works with how the game is meant to be played.
Back to the cards. This roguelike approach works wonders for the game's progression system. All progress I made in a run was lost when I either completed the entire act rendering that run "complete" or died multiple times. The only thing that carries over is the Supply Points used to buy more cards. As you can tell by now, the idea is to go into a run with a deck, attempt to complete it or die in the hopes you can use the points earned to buy better cards in order to do it all over again.
The cards are vital in carrying the experience in Back 4 Blood and without them, this would be a rather boring generic shooter. You get one new card from your deck at the start of every chapter so you hope to get the one you need. On one playthrough I focused on improving my team's ammo capacity so I played Hoffman with a deck containing a range of ammo buffs and a handful of other stamina and health buffs. This is especially helpful in the Veteran and Nightmare difficulties as ammo is a massive issue and hard to come by.
My partner focused on self-healing perks that granted temporary health after each kill. This way as a team, we were able to keep our ammo numbers high while also keeping our health going without worrying too much about finding healing items. We did die but walked away with points we used to buy new cards. Sure, the cards weren't aligned to our current build objectives but I was able to replace a "20% to stamina card" with a new "+20% to stamina and +5 to health". So the progress, while being small, was at least something and the death was not for nothing.
Back 4 Blood really wants players to invest time in the card system and discover new playstyles along the way. You are only as good as your deck and if you don't pay attention to the buffs and perks you include in it, you won't get anywhere. Back 4 Blood also wants you to die and you will. It is not an easy game by any means. Sure, the Recruit difficulty is a walk in the park but the moment you attempt Veteran and Nightmare, prepare for a world of pain. These modes rely on teamwork and decks that can help increase your health, deal more damage, help your team with more ammo or whatever floats your boat.
The higher difficulties also come with tougher enemies and Challenge Cards that kit out the chapter with specific modifiers that work against the player. Be it filling the area with blinding fog or granting the Ridden armour. These cards get painful the deeper you go into Back 4 Blood.
It is also important to mention how Back 4 Blood's progression relies on a team of human people. You can get away with playing with bots on the Recruit but even with a team of two humans on Veteran, the game is painfully challenging. You see, the bots are dumb and extremely buggy. They glitch out and get stuck in doorways and shoot at random objects wasting ammo and dealing friendly fire to players if you're in the way of fire. The bots also can't carry specific gear that would help the team later on. They also waste resources by tossing grenades and firecrackers when it really isn't necessary. If anything, AI seems to work against the progression of the game more than anything else and I feel sorry for people who don't have friends to play with.
Sure, you could opt for matchmaking but you never know what you'll get there either. Again, Back 4 Blood's tougher difficulties rely on a full team and communication. If you're not shouting at your teammate about the Reeker running up behind him then you're not going to get far here.
Back 4 Blood also feels incredibly fun to play. Guns feel great and the action of every chapter kept me glued to my screen the entire time. Weapons have unique mods that can be found throughout the game that improve all aspects of the weapon. As you dive deeper into the game, rarer weapons are available with better mods. So tossing away your favourite starter gun is worth the risk of picking up a legendary Ak47 which you'll improve as you explore the future chapters. The higher the difficulty, the better the guns and the more effective each mod feels on the weapon. Remember, weapons also tie into the decks you make so you'll stick to a specific type if your playstyle for that run depends on it.
Swarm Mode is okay… I am not a fan of PvPvE modes by any means but those who enjoy them might find joy here. The mode has its own card system and classes. You build a deck for each class and head into a match where players need to survive against a horde of basic Ridden. Other players then spawn in as unique Ridden and try to kill the human Cleaners. If they do, the humans then become the Ridden and they try and survive longer.
Swarm Mode might be for you. The card system is focused on heavy teamwork and you can earn Supply Points for completing matches. Keep in mind that all the cards in the game are available at the start of Swarm Mode. This means you can't unlock anything new. Everything you do unlock goes towards the campaign. It kind of made this mode pointless for me. I also think there's a lot more fun to be had in the campaign and again, this mode feels a bit tacted-on and unnecessary.
At launch, there are no visible microtransactions available for Back 4 Blood. You can't purchase Supply Points with real money and all the cosmetics are locked into Supply Lines too. Warner Bros. Games has yet to announce any plans for in-game purchases for Back 4 Blood at this point. However, given the scope of the cosmetics, I won't be surprised to see costume and gun skin packs available in the future. It is WB Games. afterall. There's also a Year One pass included in the Ultimate Edition that offers the promise of new content later down the line. It is also unclear whether or not this is story missions or new Cleaners.
Back 4 Blood Review
Back 4 Blood is an excellent shooter but do be warned, this is not a solo game. Even matchmaking with random players might prove to be a challenge on the tougher difficulties where communication is vital for survival. The game has some of the worst bots I have ever seen in a co-op shooter so don't rely on them either. What you're getting here is a challenging shooter that requires time and patience in order to grow your card collection and overcome the difficulties that await. That alone makes it a refreshing take in a genre oversaturated with dull ideas and re-releases.
This Back 4 Blood review is based on a code sent to us by WB Games. 
Available On: PS4, PS5, Xbox, PC | Reviewed On: PS5 | Release Date: 12 October 2021 | Price: R1099