While I've never been the biggest "Superhero" fan when it comes to comics, it's an undisputed fact that superhero comics have remained popular throughout the ages because of how well they suit the format. Comics allow superheroes to be wild, wacky and crazy without ever being questioned or taken too seriously. Unfortunately, when those comics make their way to screen, we see a lot of that madness disappear and a lot less of the fun and quirky side that flourishes in the comics, which is precisely where Doom Patrol shines.
Doom Patrol is one of the most fun comic-to-screen adaptions I've ever seen. Instead of downplaying anything that makes The Doom Patrol the trippy ride that it is, the show instead leans into it. The result is a show that feels like a loving adaption of the source material and is utterly entertaining from start to finish.
3 Best Doom Patrol Comic to Read
If you're a fan of the Doom Patrol show or even if you're looking for a new comic book to fall in love with, here are my picks for the 3 best Doom Patrol comics to read if you love the show and need more:
Doom Patrol: Brick by Brick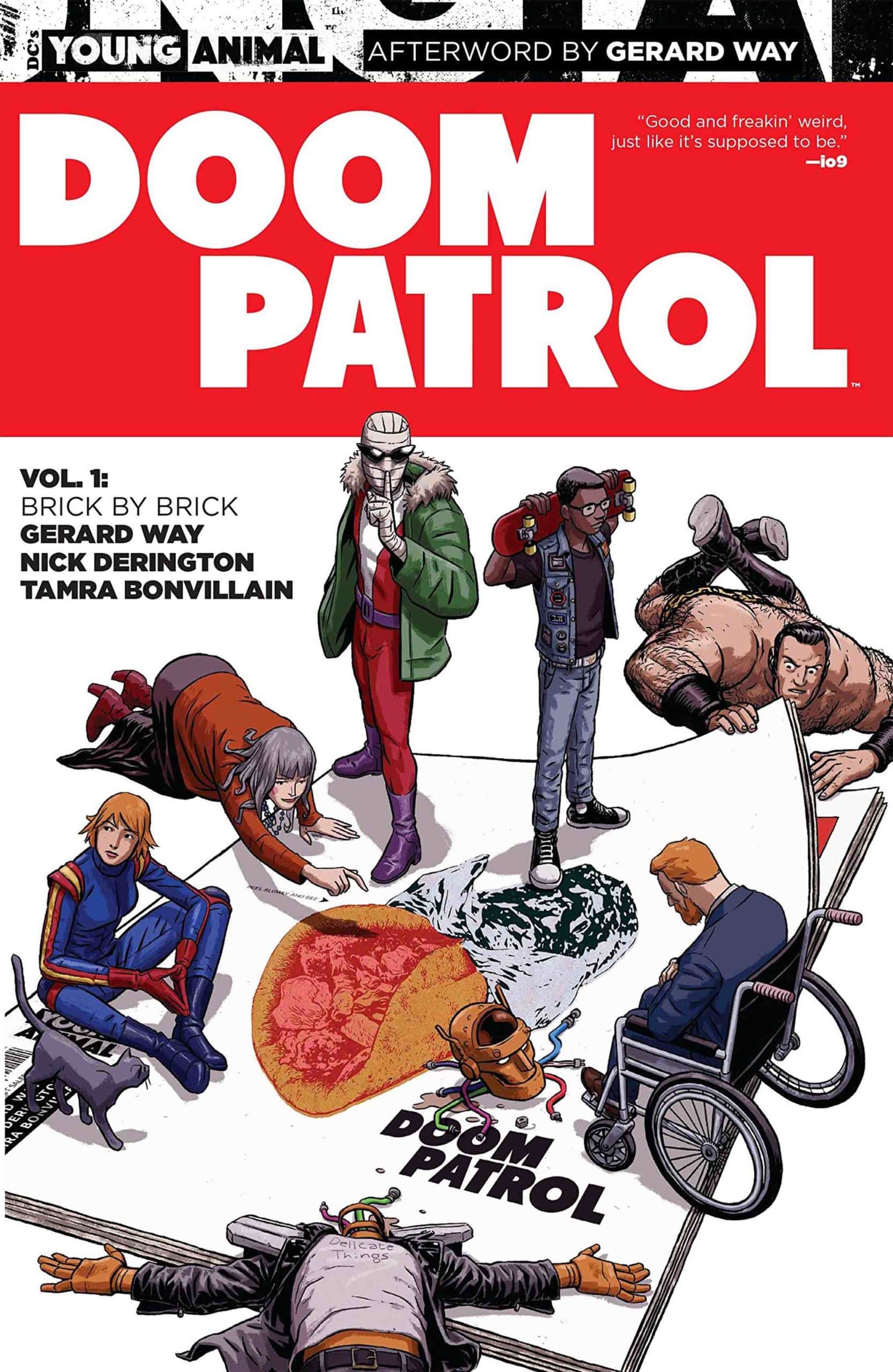 6 Issues written by Gerard Way (The Umbrella Academy; The True Lives of the Fabulous Killjoys) and with art by Nick Derington (Teen Titans; Mister Miracle)
The first comic on this list is Doom Patrol: Brick by Brick. This is the first Doom Patrol comic I ever read. The story follows a young E.M.T. Casey Brinke. When Casey and her partner, Sam, answer a seemingly ordinary hit-and-run call, they find themselves tossed headfirst into the chaos that only members of The Doom Patrol can create.
When they arrive at the hit-and-run location, they find themselves face to face with Cliff Steele, otherwise known as Robotman. This encounter soon leads Casey right into the middle of a showdown between the Doom Patrol and an intergalactic corporation. Casey will need to uncover the truth about her past and embrace it if she ever hopes to survive, and that's exactly what she does.
Doom Patrol: Brick by Brick is every bit as crazy and bizarre as the TV show adaption, and if you've never read a Doom Patrol comic before, it is the perfect place to start.
You can grab Doom Patrol: Brick by Brick here
Doom Patrol: Crawling from the Wreckage
7 Issues written by Grant Morrison (Hellblazer; The Invisibles; Final Crisis) and with art by Richard Case (Doctor Strange; Hunter: The Age of Magic Sandman; Sandman), Doug Braithwaite (Punisher; Green Arrow; The Flash), Scott Hanna (Green Lantern Corps; Suicide Squad; Dark Reign: Hawkeye), Carlos Garzón (Star Trek, the Next Generation: Beginnings; The Question: Peacemaker; Flash Gordon) and John Nyberg (Green Arrow; The Flash; Plastic Man)
Dubbed as "the craziest superhero story ever told", Doom Patrol: Crawling from the Wreckage offers everything you could want from a Doom Patrol story and more.
The story takes place almost directly after a previous comic run that had seemingly destroyed the Doom Patrol once and for all. Now the Doom Patrol is putting itself back together. As always, when it comes to this group of superpowered misfits, things start getting weird.
We see Robotman dealing with the confusion of being a human trapped in the body of an unfeeling machine; Negative Man merged with a woman to create a new character named Rebis, and the group gets a new member, Crazy Jane. The Doom Patrol needs to overcome their woes and problems to stand together because, as weird as they may be, they're also the only ones who can save the world.
Doom Patrol: Crawling from the Wreckage is a wild and crazy trip that introduced one of the best characters to the team, and the Doom Patrol show we all love wouldn't be what it is without it.
Grab Doom Patrol: Crawling from the Wreckage here
Doom Patrol: Nada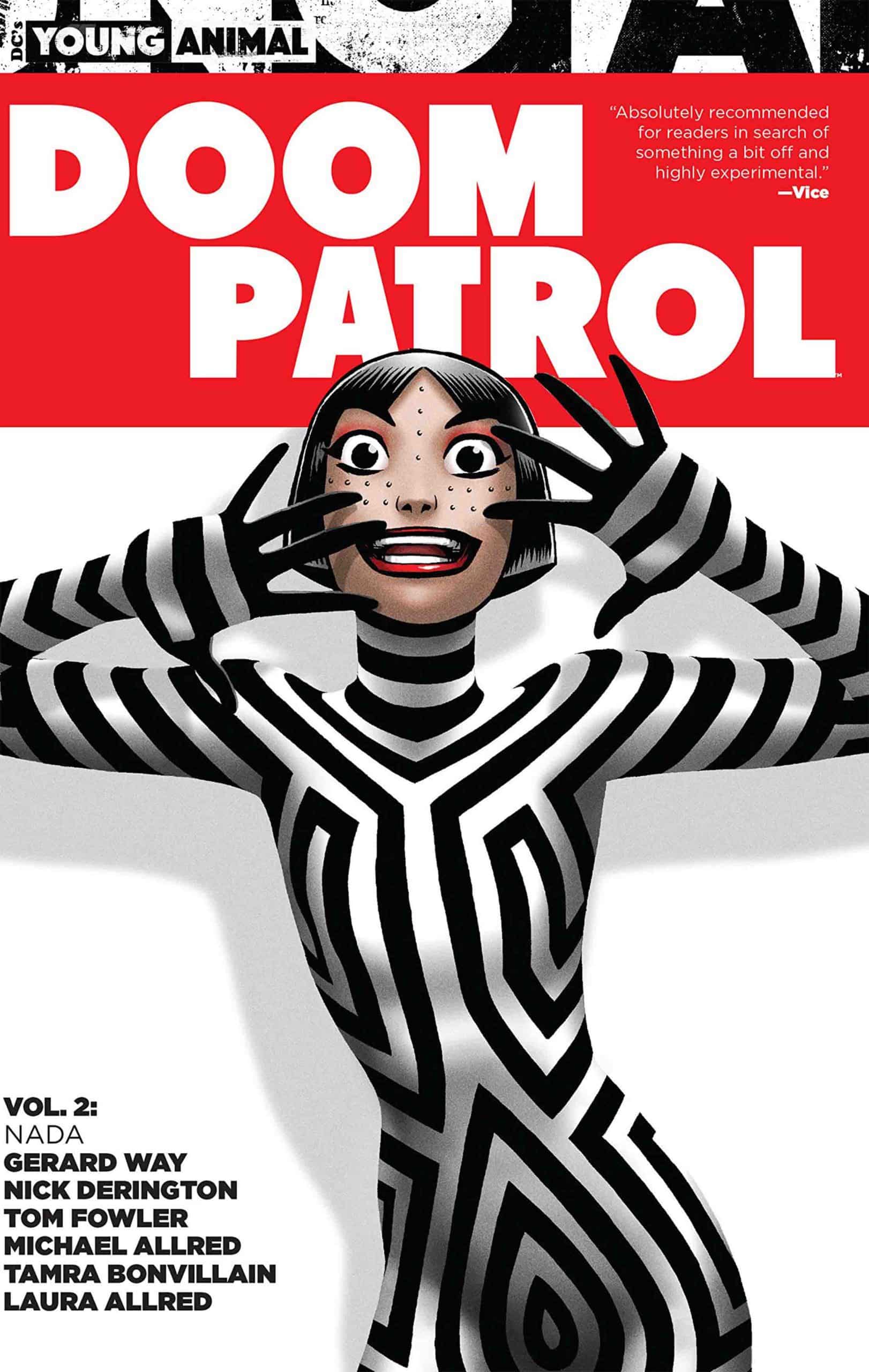 4 Issues written by Gerard Way (The Umbrella Academy; The True Lives of the Fabulous Killjoys) and with art by Nick Derington (Teen Titans; Mister Miracle)
Doom Patrol: Nada picks up and continues the story mere moments after the conclusion of Doom Patrol: Brick by Brick. Once again, there is a situation that is fast escalating towards the end of the world and humanities only hope is the Doom Patrol.
This time around, the drama's cause is a mysterious new food that people can't seem to get enough of, known only as S**t. As the Doom Patrol investigate S**t, they soon discover that their old nemesis, Mister Nobody, is somehow behind everything. It's up to the Doom Patrol not just to fight Mister Nobody but also Nobody's new crew: the Brotherhood of Nada. The latter threatens not just our world but the entire multiverse.
Doom Patrol: Nada is a ridiculous and bizarre trip through the increasingly crazy world that the Doom Patrol must constantly fight to save. If you're looking for something to help tide you over as you wait for new Doom Patrol episodes to launch, then Doom Patrol: Nada is what you've been waiting for.
You can grab Doom Patrol: Nada here
In a world arguably filled to the brim with Superhero content, it takes something extraordinary to be able to stand out. For me, Doom Patrol is just that, extraordinary. No, I'm not just saying that because Brendan Fraser can do no wrong (fight me), it's because everything about Doom Patrol, from the cast, cinematography and story, just works.
Doom Patrol Season 3 released exclusively on HBO Max on September 23rd, and to say I'm excited to binge through the latest season is an understatement. If you're also dying to see what the season holds, make sure you have a VPN active so you don't have to miss out.
If, like me, you can't get enough Doom Patrol in your life and the time between seasons is just too damn long, then remember to head over to Critters and Comics and collect all of the things – you know you want to…