Blizzard recently released a Hearthstone update to prepare for the Saviours of Uldum expansion that is set to launch next month on 6 August 2019 and with it, the developer made some changes to Hearthstone card art that didn't sit well with a lot of gamers. Basically, Blizzard censored graphic violence or sexual nature of eight cards.
RELATED: GeForce RTX SUPER Range Announced With a Great Performance Boost
Apparently, eight cards were too heavy on the sex or violence and fans of the game took to Reddit to talk about the subject, mostly voicing their dissatisfaction with the change and many called Hearthstone a "kids game". Further, the reason for these Hearthstone card art changes was thought to be about Chinese regulations, but that doesn't seem to be the case, not according to Blizzard.
The Hearhstone card art changes are for the following cards:
Succubus (now named Felstalker)
Mistress of Pain (now named Queen of Pain)
Windfury Harpy
Secretkeeper
Eviscerate
Bite
Deadly Shot
Headcrack
You can view an example below as well as a full comparison via this Imgur gallery: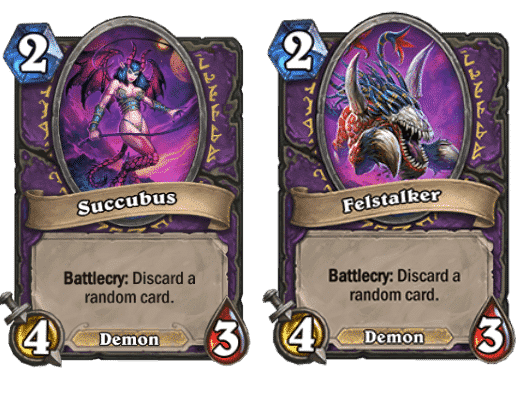 So why make these card art changes? Well, as reported by PC Gamer, the game's Lead mission designer, Dave Kosak, explained that Blizzard "wouldn't print those same cards today" and further explained that:
We went back and really just brought everything up to our standards. It wasn't because we were looking at ratings, or international [regulations], or anything like that. We really just wanted our artists to feel good about everything in the set.
My take on all of this is that sure, it doesn't change gameplay, but Hearthstone is based on Warcraft and War is literally in the game. It seems like an unnecessary change and one that I find hard to believe enough people complained about. In the end, however, it is Blizzard's game so it is their decision.
RELATED: Microsoft Introduces "All-New" Windows 1.0 and it is Pretty Strange
What do you think about the Hearthstone card art changes made by Blizzard and the reason given for the changes? Let us know in the comment section below and check out the Saviours of Uldum trailer if you haven't already.
[su_youtube url="https://www.youtube.com/watch?v=uEDJ-ak6VxQ" width="600″]