While we're still living in very unpredictable times with movies changing release dates about as often as we change underwear, I've put together a list of all the biggest movie releases of 2022. These films include some of our favourite geeky and superhero movies coming our way.
Biggest Movie Releases of 2022
January 2022 Movie Releases
Anyone who reads my posts here on GLITCHED knows all about my love for anything and everything horror, so I could not picture a more fitting or perfect way to start 2022 than with a journey back into one of horrors most iconic franchises thanks to the new Scream movie. Suppose you enjoy a good horror like me but want to sleep well at night. In that case, the new Hotel Transylvania is the perfect movie to wash Screen down with – a little bit spooky but a lot goofy and funny.
Scream – 14 Jan

Hotel Transylvania: Transformania – 14 Jan

The Ice Age Adventures of Buck Wild – 28 Jan
February 2022 Movie Releases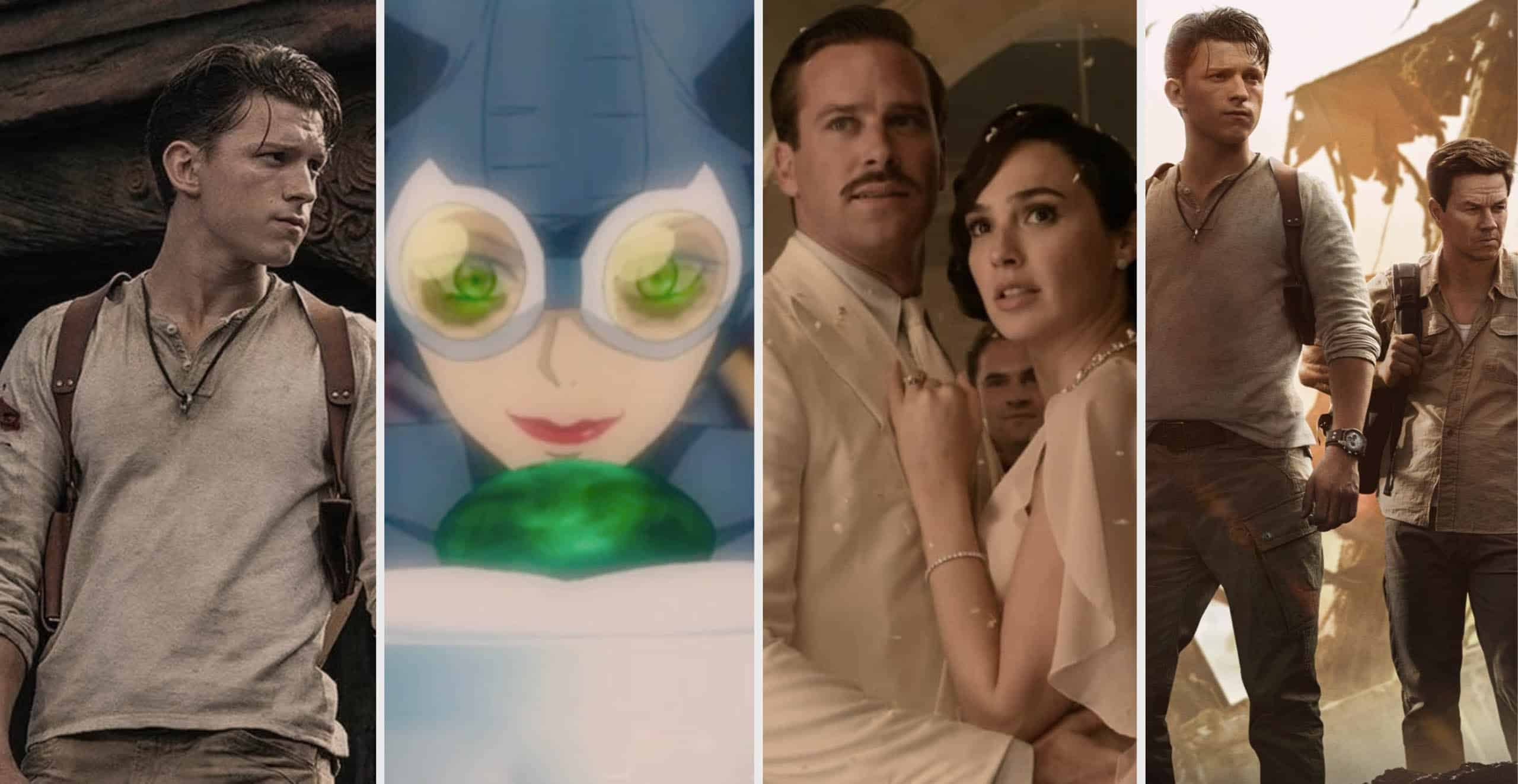 What a start to 2022. February is starting us off strong with the highly anticipated release of Uncharted (you can get free tickets by pre-ordering the Uncharted: Legacy of Thieves Collection); Death on the Nile, a beloved adaption of an Agatha Christie novel and then just some animated Catwoman thrown in for good measure. DC has always dominated when it comes to their animated movies, and judging from the trailer, Catwoman: Hunted looks to be another success for them and a wonderful lead up to the new Batman movie where Catwoman will show her face. Uncharted is adapted from the much-loved video game franchise, and while game-to-screen adaptions have notoriously been a hit or miss, this looks to be a good one.
Catwoman: Hunted – 8 Feb

Death on the Nile – 11 Feb

Uncharted – 18 Feb
March 2022 Movie Releases
March is nothing if not a month about controlling your emotions. From a cute looking animated movie called Turning Red about a girl who turns into a panda whenever she gets over-excited to The Batman, a darker version of a beloved hero who is still new to fighting crime and finds himself face to face with a serial killer targeting Gotham's elite. Even though The Batman just got a PG-13 rating.
The Batman – 4 March

Turning Red – 11 March
April 2022 Movie Releases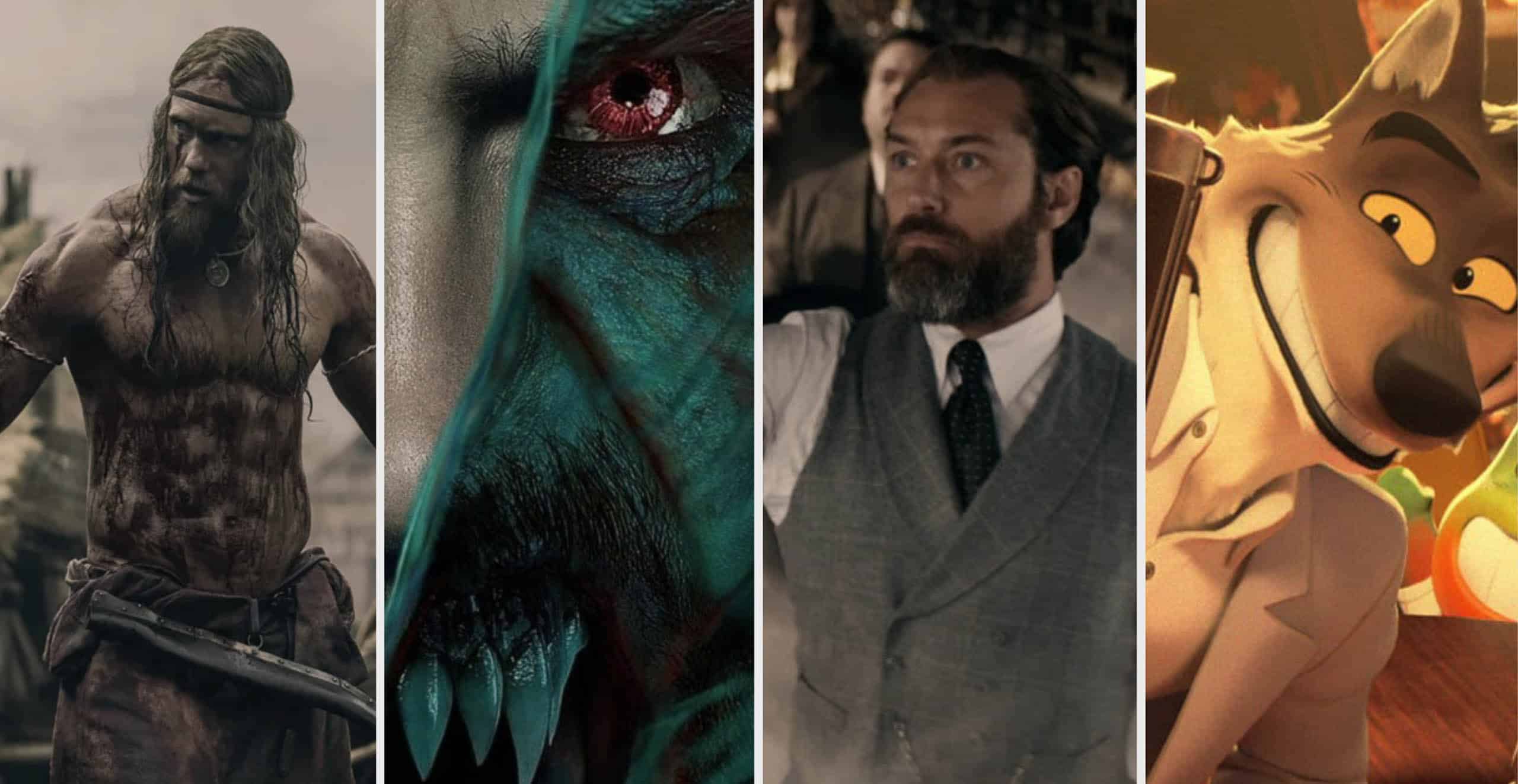 April 2022 is truly one of those months with a movie for everyone. In the mood for something animated? The Bad Guys is for you. Feel like a good comic book adaption that's on the darker side? Morbius is what you want. Say you're looking for a little bit of magic, well then there is a brand new Fantastic Beasts movie for you, and let's say you're looking to see a shirtless Skarsgard brother? Well, once again, April has your back with The Northman.
Morbius – 1 April

The Northman – 8 April

Fantastic Beasts: the Secrets of Dumbledore – 8 April

The Bad Guys – 22 April
May 2022 Movie Releases
May is the best month of the year. Don't even try to come at me with other, subpar months; May is where it's at. It is partly because May is my birth month but mainly because it is the month we FINALLY get what we've always wanted and needed in our lives, even if we didn't know it. May is the month that Bob's Burgers comes to the big screen. There are two other big confirmations for the month, with Marvel and DC both bringing out movies, but I say again, Bob's. Burgers. Big. Screen. In. May. Best month, undisputed.
Doctor Strange and the Multiverse of Madness – 6 May

DC League of Super-Pets – 20 May

Bob's Burgers – 27 May
June 2022 Movie Releases
You might as well already book out your weekends for June because with all the big releases coming in this month, there will be no time for anything else. June is jam-packed with cinematic awesomeness from a new reason to bring up dinosaurs in conversation thanks to Jurassic World to a new Transformers movie. If blue hedgehogs or come-to-life toys aren't your cup of tea, The Black Phone, a dark and disturbing adaption of a short story by Joe Hill, is also in the confirmed lineup.
Jurassic World: Dominion – 10 June

Lightyear – 17 June

The Black Phone – 24 June

Transformers: Rise of the Beasts – 24 June

Sonic the Hedgehog 2 – 26 June
July 2022 Movie Releases
July is all about the big two going head to head with each other, with highly anticipated releases confirmed from both comic book giants, Marvel and DC. As a direct sequel to Thor: Ragnarok, Thor: Love and Thunder will see Jane Foster become the new god of thunder, which fans have eagerly awaiting while the Shazam! spin-off, Black Adam, will see Dwayne Johnson's DC debut.
Thor: Love and Thunder – 8 July

Black Adam – 29 July
August 2022 Movie Releases:
August is gearing up to a great month for fans of Marvel comics with a completely new Marvel movie which is the first "non-adaption" we've seen out of the studio, as well as an adaption of the Mythos graphic novels. I'm always genuinely excited whenever Marvel comes out with a new movie because they're still pretty entertaining even at their worst.
Secret Headquarters – 12 August

Samaritan – 26 August
September 2022 Movie Releases
Not a lot is known about Septembers sole geeky release. Nothing is actually known about it other than its title and release date. Based on the Stephen King novel by the same name, Salem's Lot is something I'll be keeping my eye on during the coming months.
Salem's Lot – 9 September
October 2022 Movie Releases
October is the month I dedicate to catching up and binging through all the horror-related movies that I didn't get around to during the year or, if I have time, going back, forcing my partner to re-watch old horror from my childhood with me. October 2022 might just be an exception to my "month of nightmares" though because there is absolutely no way I will be able to sit on the next Spider-Verse movie. Into the Spider-Verse is still, without question, one of my favourite super-hero movies and in my top 10 regular movies of all time and judging from the trailer, the sequel promises to be even better. I'm not surprised that there haven't really been other announcements for October as of yet; I wouldn't want to compete with the Spider-Verse either.
Spider-Man: Across The Spider-Verse Part One – 7 October
November 2022 Movie Releases
November 2022 is all about comic books, and honestly, I couldn't pick a better way to finish the year. While Disney+ has been churning out comic-related adaptions at an astronomical rate, it's still very rare to have not one but three huge film adaptions launching within the same few days, and yet, that's what November promises to bring. From DC to Marvel, November truly is Christmas for comic book fans everywhere.
Flash – 4 November

Black Panther: Wakanda Forever – 11 November

The Marvels – 11 November
December 2022 Movie Releases
December is always my favourite month for movies because of getting to share them with family. My family is usually so busy during the year that we very seldom get to sit down and watch anything together. However, December has always been the exception to this, and while I love lying watching movies alone or with friends, sometimes, it's nice to share the experience with my parents, nieces or even grandparents. December 2022 promises to be a good one with the highly anticipated sequel to Avatar as well as a Mario movie which hopefully won't ruin too many childhoods.
Avatar 2 – 16 December

Aquaman and the Lost Kingdom – 16 December

Super Mario Bros. – 21 December
TBC 2022 Movie Releases
I can still remember watching Hocus Pocus as a child with crystal clarity. When they announced that Hocus Pocus 2, featuring the same main cast, would be coming out sometime this year, the nostalgia hit me hard. While there isn't a confirmed date for any of the movies in this category, they have been confirmed for a 2022 launch, and I think I'll use the time to go back and re-watch some childhood classics to either fall in love all over again or wonder how I ever used to think it was good.
Batgirl – TBC 2022

Battle of the Super-Sons – TBC 2022

Merry Little Batman – TBC December 2022

Hocus Pocus 2 – TBC 2022
There you have it, our list of all the geeky movies coming your way in the next few months. Of course, this list will constantly evolve as new movies get announced and release dates get confirmed and moved, so make sure you bookmark this post to stay updated through the year. If you want to see the lists we've put together of all the games and comics coming our way this year you can check our posts here and here respectively.
Which 2022 movie releases are most excited to see? Let us know in the comments down below.