CD Projekt Red has confirmed that it has shifted the bulk of its workforce to the development of the Cyberpunk 2077 story expansion which is expected to release next year. The shift came as part of the company's latest earnings call where CD Projekt Red broke down its shift in revised project workload.
Cyberpunk 2077 faced a pretty horrific launch in the holiday season of 2020 with the major problems coming from the PS4 version of the game running terribly, as well as many players reporting various bugs and glitches across all platforms. Since then, the studio has worked to rectify a lot of the issues in the game and is now able to work on the story expansion.
The image below highlights the workforce split across CD Projekt Red's various ongoing projects and how they have shifted since the launch of Cyberpunk 2077. Each half-year has seen a reduction in the support for the title where teams were focused on correcting issues, to developing the new story expansion, while most of the other projects have remained fairly consistent.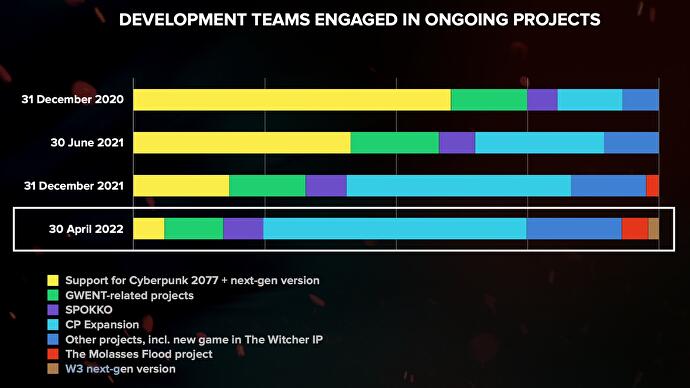 As you can see, the majority of CD Projekt's development team is now firmly fixed on creating the expansion for Cyberpunk 2077, with nearly a quarter also working on new IP material – such as the new Witcher game. Interestingly, we can also see an increase in resources for The Molasses Flood which CD Projekt Red acquired late last year.
We still don't know too much about the upcoming expansion for Cyberpunk 2077 aside from a news report by VGC, who claims that dialogue from the expansion has leaked, outlining the main plot. According to the report, the expansion will take place in the Combat Zone in Pacifica, and will have something to do with the currently inaccessible Sports Dome arena.
CD Projekt Red confirmed that a new Witcher game is currently in development, as well as that the medallion featured in the announcement image is that of a Lynx. Outside of the studio, former CD Project Red staff broke away from the Polish developer to form a new studio called Rebel Wolves, and are currently working on a "dark fantasy RPG".