Black Friday is kicking off this week around the world and while many of you may be jumping at the opportunity to save some money, you have to keep in mind that local retailers don't "want" you to save anything especially in South Africa. They are there to screw you over, falsely advertise, delay your deliveries and milk you for every cent you have. Unfortunately, the reality of Black Friday in SA is sad but that does not mean there are no savings to take advantage of during the week ahead.
RELATED: The New Monopoly "Longest Game Ever" Edition Sounds Like Torture to Play
In order to help each other, we have put together a survival guide which we hope will help you from jumping down the black hole of bad savings.
Tips before we start
Men – Please avoid open-toed sandals. Have some respect for those around you.
If you see a "Karen" complaining to management, find another store. It will be faster to go there and buy the product before she is done holding up the line
Please keep your children at home. No one wants to deal with them while fighting over that last six-pack of Coke
Stay hydrated and follow the scent of food. It will often lead to boerewors on the braai outside the mall. A great pick-me-up during those intense shopping sprees.
Make sure you have your Clicks Card, Smart Shopper, Spar Card, eBucks, Standard Bank Rewards Card or any other loyalty card you own ready. You WILL be asked for it.
Please don't ask the shop if the product is free because there is no price on it, clearly it is not.
There will be many forms of Karens out there this weekend. Stay safe, kids
[su_youtube url="https://youtu.be/HBspygDA8Vo" width="900″]
Don't Believe Them!
First off we have the fake sales. Already this week we have seen local retailers lie about their discount rates on specific products. What they do is take a product, increase its original retail price and then discount it down to the actual RRP so the "% savings" sounds like a bargain. This is NOT the case. Whatever you are purchasing this Black Friday, do your research first. A simple Google search will show you other competitor prices for the same product. If it sounds too good to be true, it probably is.
It is important to know what you are buying and what the original price was for it before its discounted rate. Perhaps make a list of stuff you want so come Friday, you can compare the two and see if there is actually a saving to take advantage of. In short, the "save 50%" is usually a lie to draw you to the checkout. Make sure you know this before you shop anywhere.
Buy Digital Content
If you are not looking for anything techie to buy this Black Friday then maybe stick to a digital purchase? You can't go wrong with digital content as ninety-nine percent of the time the sales are honest and true. Digital games are actually discounted by a specific percentage so if you head to the PlayStation Store and buy something, you are saving money. Keep your eyes peeled for digital movies on Amazon, Apple TV and even Google Movies as they could also be on sale.
Often you will find a digital box set of Marvel movies less 30% which is a great deal for a digital collection of films. Maybe stock up on PlayStation Plus which is currently on sale for R675 instead of R899 for a year subscription?

Avoid the Malls if You Can
This weekend the shopping centres are going to be crazy but you don't have to deal with them. It is 2019 anyway and there are other ways to get what you want. If you are planning on purchasing something, look if there's an option to pick it up from a store. You can then just run in and grab it instead of fighting your way through the lines to buy what you want. Marko offers this service which is a great way to avoid the lines.
Shop online and just get whatever you want delivered to your door. Sure, you won't get it until Monday for most online retailers but if it saves you the trip in this current heatwave then it could be worth it.
Watch Those Delivery Costs
If you are opting for online shopping make sure you don't get crooked by delivery fees. Often online retailers will promise cheaper products but overcharge for delivery. I have seen some retailers charging up to R200 for delivery even on products that cost thousands of rands. Often the "savings" aren't worth it when you add the delivery charge to the bill. Sure, you can't expect them to cover the deliver on say furniture but just be aware what they are charging you for.
Buy Food Instead of Gadgets
At the end of the day, we can survive without a new TV but we can't live without food. We focus a lot of attention on Black Friday sales across the gaming and tech world but pay attention to the sales at local food retailers. Perhaps the best thing you can do this weekend is stock up your pantry on food for the next few months? Just because it is a shopping day does not mean you need to spend it on entertainment. It is hard to pass up the latest Borderlands 3 game for a few kilograms of sugar but sometimes tough decisions need to be made.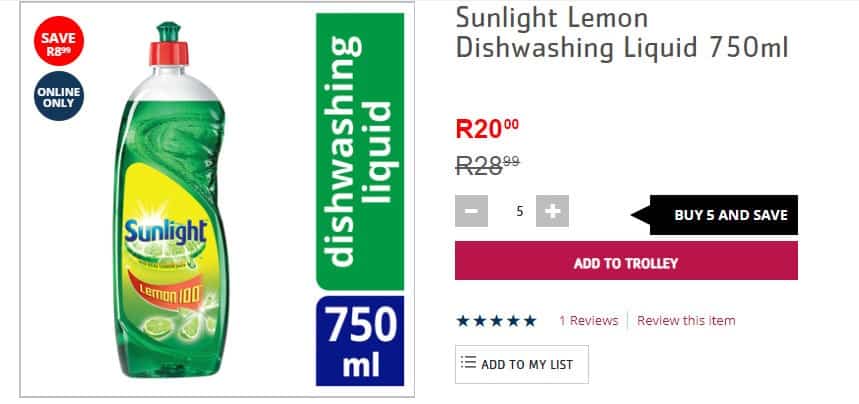 Haggle for your Life!
The last tip we have is to make sure you get your discount wherever possible. If you saw it cheaper at another store, try price match it where you can. Often, stores will honour this practice by price matching specific products. If you saw it on their online store show them this deal and get them to match the in-store price to the same level. Retailers will drop prices of their in-store products to the online listing unless stipulated that the sale is online only.
Stay Safe
The harsh reality of living in SA is going out is already a safety hazard. Black Friday is feeding frenzy for crime across South Africa, especially in malls. Keep your wallet, purse, cellphone and all your belongings safe at all times. Avoid leaving your bag visible in restaurants and even your phone on the table in front of you. Its gets crazy out there and people will snatch stuff right off the table in front of you.
Don't Spend What You Don't Have
This current Cyril Rhamposa economy is rough. We are all feeling it. The best thing you can do this Black Friday is to not spent any money at all. It will be a challenge as the deals are good and the savings could be the best you have ever seen. However, try and resist the urge to spend money you don't have especially if something you want is only affordable on a credit card. If you have lived without it, you can survive without it for another year and chances are, it will be even cheaper next year.
Do you have any tips for Black Friday in South Africa? Let us know down below.