Tina Tina's Wonderlands is a new spin on the Borderlands series and while it features some exciting new mechanics, the core of the experience remains the same – shoot stuff and blow things up. Given that Wonderlands is a fantasy game, it also comes with some rather awesome classes to choose from that play into the game's cool new "Dungeons and Dragons" theme.
With that being said, there are six playable Tiny Tina's Wonderlands classes to choose from. Depending on your playstyle, each class will offer some unique abilities to build into while also being hilariously "Borderlands" when it comes to comedic dialogue.
Don't know what Tiny Tina's Wonderlands class you want to choose? We have you covered. Here is a breakdown of all the classes and what they do.
Tiny Tina's Wonderlands Playable Classes
Brr-Zerker
The Brr-Zerker, as the name implies is all about up-close combat with a touch of frost. The Brr-Zerker can deal massive damage in wide areas thanks to her slam and smash attacks. Her Dreadwind attack sees her spin around in a circle like a deadly frost axe tornado. She chills enemies while dealing melee damage to them. Chilled enemies can then be shattered and killed.  You can also use a leech life attack to drain the life from dead enemies and refill the Brr-Zerker's HP bar.
Clawbringer
The majestical Clawbringer loves empowering party members with buffs like damage boosts to fire and more. She can attack with her cool-looking dragon hammer either from a distance or up-close. This Spectral Hammer can be thrown at enemies in the distance or she can slam it down in from of them to deal massive shockwaves of fire.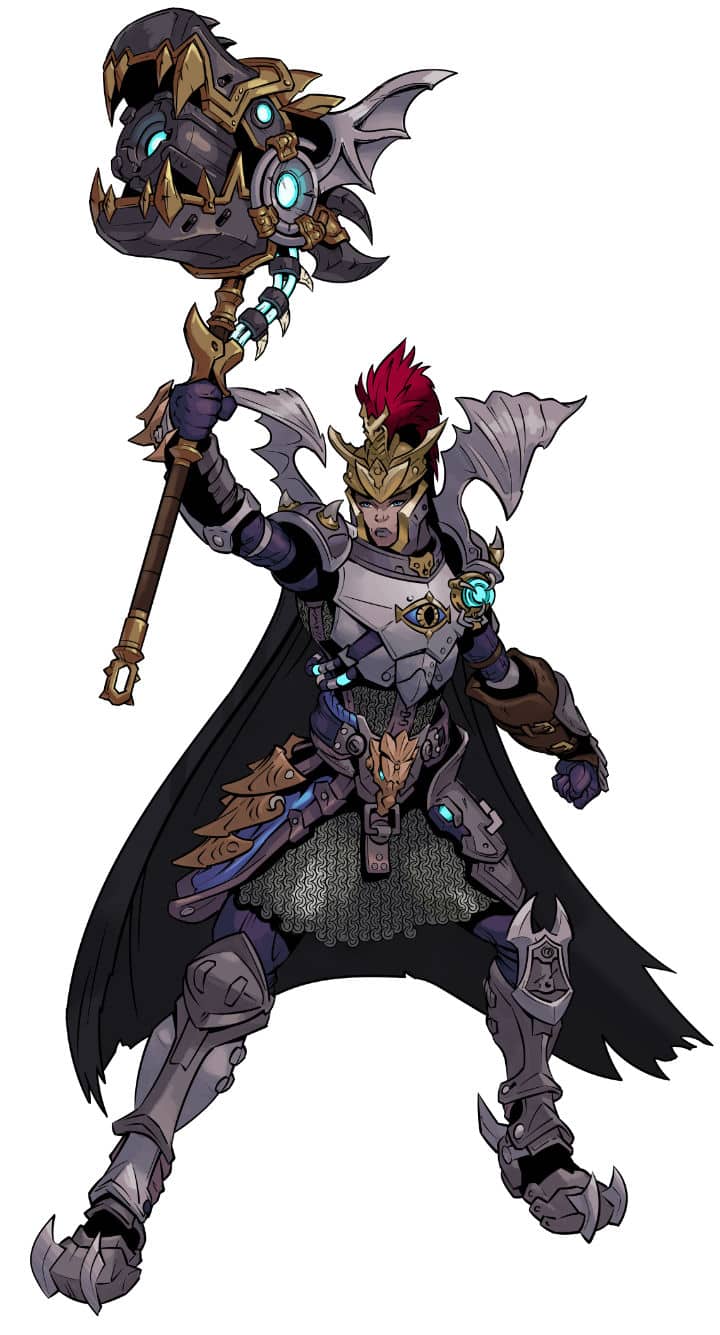 The Clawbringer also has a Wyvern companion that flies around next to her and shoots elemental balls at enemies. Combined with her hammer and her dragon, the Clawbringer is a force to be reckoned with in Tiny Tina's Wonderlands. 
Graveborn
Where the Spellshot focuses on elemental damage, the Graveborn is all about that Dark Magic and necromancy. The Graveborn walks around with a Demi-Lich companion by his side and both thrive on the death of others. While the Graveborn casts spell that deal damage, his companion follows up with its own spell every time too.
But the Graveborn doesn't just pull this magic out of thin air, everything he does has a life cost of his own. The more health he sacrifices, the bigger his attacks. He can even sacrifice a chunk of health to deal massive damage to enemies caught in a blood shockwave of death.
Spellshot
The Spellshot class is Tiny Tina's Wonderlands' answer to a mage but with guns. This class focuses on heavy elemental damage. Her Spellshots sees her shoot elemental bullets out of her hand while also wielding a gun in her other hand. She can then use both hands to shoot two different kinds of elemental attacks at her enemies using a separate ability.
The Spellshot also has a Spellweaving ability where she can increase spell damage and fire rate while casting and reloading so whichever attack she is using is granted buffs while the other recharges and reloads. Lastly, a mage class wouldn't be a mage class without a polymorph attack. The Spellshot can turn enemies into Skeeps using magic too.
Spore Warden
Ranged attacks and companions are the Spore Warden's forte. He can control his adorable little mushroom friend to attack in combat while also pulling off cool skills and abilities. The Spore Warden is also equipped with a mystical bow that he can summon out of thin air and use to shoot elemental attacks at enemies.
The Spore Warden can also use large AOE spells that deal damage in a large radius. One of these is the Blizzard attack that freezes and shatters enemies who are caught in the spinning frozen tornado.
Stabbomancer
The Stabbomancer is a spin on an assassin class but with less sneaking and more stabbing. Even if the Stabbomancer doesn't directly stab people, his Ghost Blade can be shot out of his arm contraption into the air as it spins and deals damage to enemies on the way to a specific point. Once there, it carries on spinning around slash… I mean stabbing enemies as it deals AOE damage.
The Stabbomancer can also go invisible for a short time. While invisible, his next melee attack deals heavy damage to his foes and can also apply elemental damage to them.
Which Tiny Tina's Wonderlands class do you think you will play first? Let us know down below. Tiny Tina's Wonderlands is out on 25 March for PS4, PS5, Xbox One, Xbox Series X/S and PC. Find out more about the game on the official site here.