The ASUS ZenBook Pro 16X OLED is one of the most advanced, future-proof notebooks you can possibly get your hands on. Every aspect of this creator notebook has been through rigorous testing and refinements to offer the best possible experience on the market. Windows 11 also helps elevate the ASUS ZenBook Pro 16X OLED to another level thanks to its deep learning systems and advanced features that make it the most modern operating system for the most modern creator notebook.
ASUS has put a lot of love and attention into the ZenBook 16X. It also packs hardware and features that you won't find anywhere else. This starts with the overall design of the notebook and how ASUS crafted it with cooling in mind and making it as eco friendly as possible. ASUS has changed how we approach our daily tasks with some dramatic design changes.
First off, let's unbox the notebook. ASUS has designed the unboxing experience on the Zenbook Pro 16X to represent the lineup's unique form factor. In the box, there's a pull tab that once removed, acts as a holder for the pyramid-shaped enclosure. This sturdy box has been designed after the Zenbook's iconic monogram logo and inside, the notebook is beautifully presented to the user. I have never unboxed a notebook in a pyramid box before, that's for sure and the experience here is refreshing.
There's an additional box inside this package that then contains the ASUS Pen 2.0 stylus, a USB A to Ethernet adapter and the hefty 200W charging brick. Of course, the notebook is the highlight here. It is wrapped in plastic and protected with an inner fabric sleeve. Once removed, the last thing I had to do was satisfyingly peel off the touchpad protector.
ASUS' Active Aerodynamic System Ultra, or AAS Ultra design on the 16X provides a new advanced cooling system. When opening up the 16X, the keyboard will rise to 7 degrees. This not only provides natural comfort when typing at an angle but the open space underneath the device also enhances the airflow by 30%. This especially comes in handy during heavy tasks and content creation. This extra airflow helps keep the notebook running cool.
Not only does the AAS Ultra provide natural cooling but ASUS has built-in an impressive cooling system underneath the hood of the 16X. The notebook has a 3D vapour chamber with two 12V efficient fans that feature 97 blades. There's also one 5mm heat pipe. All of this is combined together to provide one of the most advanced cooling systems seen on a notebook. Surface temperature is reduced by up to 7 degrees celsius even when using the max 140 W of combined TDP in performance mode.
The ASUS ZenBook Pro 16X OLED is also strikingly unique. This is thanks to a combination of its incredible chassis, keyboard layout and of course, the giant OLED panel. You'll also notice a few cool details on the device. The off-centre monogram logo lights up on the lid and the entire notebook has been made from one piece of Aerospace-grade Aluminium Alloy that has been machine CNCd. This means that this notebook that you see on your screen right now was once a single piece of alloy that was slowly machine-crafted over 35 days to build a chassis to house its internals. Damn, I love technology.
The moment you have it in front of you, you'll know this is unlike other notebooks. You're welcomed to a gorgeous 16:10 16-inch OLED display with an incredible 3840 x 2400 resolution. The OLED panel also comes with its own set of incredible perks including a 1 million to 1 contrast ratio, 0.2ms response time and a peak brightness of 550 nits.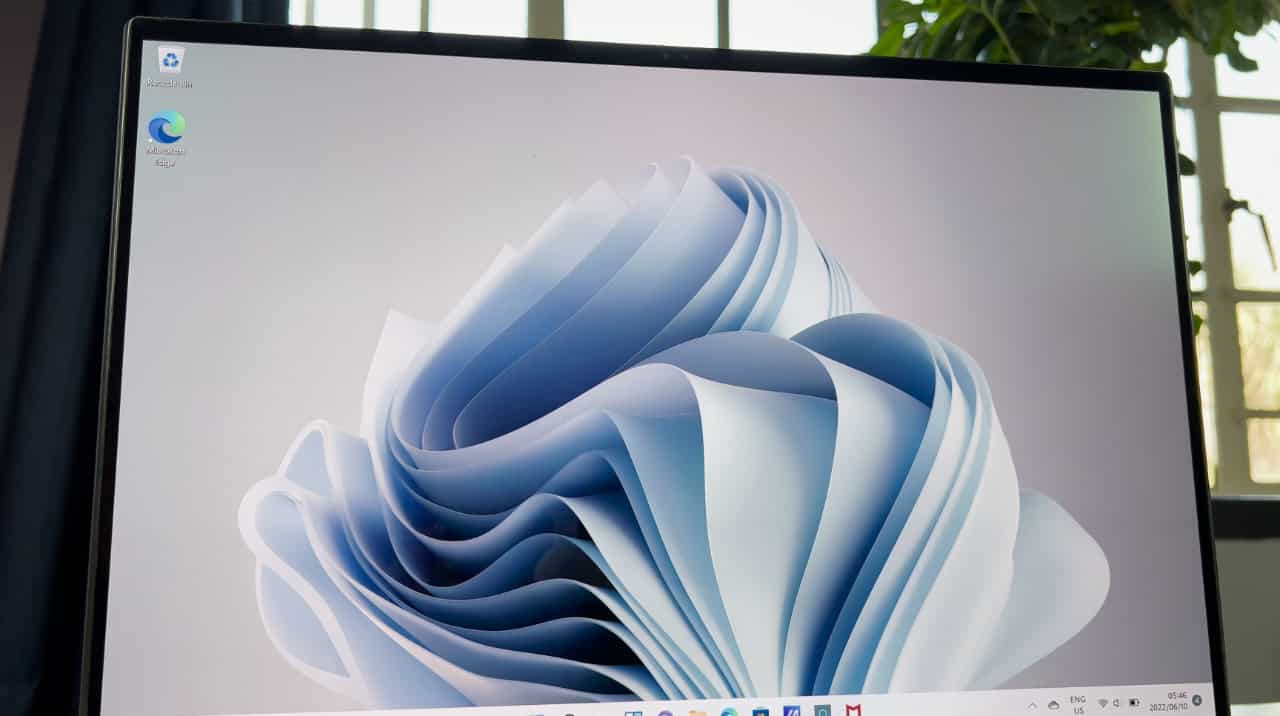 Creators will also enjoy the 16X's ability to deliver 100% colour gamut with Pantone certification and DisplayHDR True Black 500. ASUS has also developed a way for users to change their colour gamut preference depending on the content they are working with. Using the MyASUS Splendid Page, you can easily switch from the default ultra-vivid native colour gamut to DCI-P3, sRGB and even Display-P3. These gamuts specifically suit certain content. DCI-P3 is for cinema content, for example, while Display P3 is for movie-grade colour.
These specs also mean Dolby Vision content looks incredible thanks to the panel's ability to increase and decrease brightness depending on the content. That way, you'll be watching movies and shows the way they were meant to be seen. All these perks and features are brought to life on the ASUS ZenBook Pro 16X OLED thanks to its large display that boasts 90% screen-to-body ratio.
When it comes to the keyboard, the ASUS ZenBook Pro 16X OLED include a new layout. Each key on the keyboard comes with a subtle 0.2mm disc-shaped indentation that helps when typing. Key travel is also 1.4mm which is the longest you can find in this class of notebooks.
Users will also find the per-key lighting on the 16X a dream. The lighting ties into the LEDs found underneath the sides of the notebook too. This helps illuminate the area around the notebook and sets the mood for what you're doing. This lighting system is highly customizable and lets you set up all sorts of creative profiles depending on what they are doing. You can set up some ambient lights or let the notebook change the lighting depending on your battery level, fan profiles or even flash when you receive an email.
The ASUS ZenBook Pro 16X OLED also includes the world's first haptic touchpad that doubles up as a digital NumberPad too. The touchpad is large at 150 by 90mm. 84% larger than the previous generation. It is also now anti-fingerprint and ultra-smooth making gestures and actions in Windows 11 much easier to perform. This includes swiping to access all windows, going to the desktop, pinching to zoom or simply scrolling through a web page. The pressure sensors underneath the touchpad make every click and gesture smoother than ever.
The Touchpad also doubles up as a NumberPad with a simple press of a button. This is thanks to the LED illuminated backlight that turns the large touchpad into a calculator. When you no longer need the numbers, simply pressing the NumberPad button turns the touchpad back into a full-sized trackpad.
ASUS has also included a brand-new ASUS Dial on the 16X. This version is thinner, at 3,5mm more tactile and comes with countless shortcuts and features across dozens of apps. Say you want to change the brush size, hardness, opacity, flow and smoothing in Photoshop using just a turn of a wheel. You can. Say you want to select objects, change opacity, make a text group and change the stroke weight in Illustrator. You can. Say you're just watching Netflix and want to increase the brightness of the display and turn up the volume of the speakers. You can. The ASUS Dial has unlimited potential for all sorts of users and the freedom to create your own shortcuts makes this possible.
The ASUS ZenBook Pro 16X OLED is also made for those who need the most advanced ports and the most advanced internal hardware. The notebook packs an HDMI 2.1 port, audio jack combo and SD Express 7.0 card reader on one side. On the other, there is a USB 3.2 Gen 2 port and two Thunderbolt 4 ports.
Inside, you can find up to a Core-i9 12900H and an NVIDIA RTX 3060 with 6GB of GDDR6 RAM. There's also up to 32GB of RAM and a 2TB PCIe 4.0 NVMe SSD. As for connectivity, the 16X packs the latest Wi-Fi 6E technology along with Bluetooth 5.2. The notebook also packs a 96W battery. All of this is crammed into a device that weighs less than 2.4Kgs.
When it comes to the real meat and juice of the 16X, the performance doesn't disappoint. ASUS has truly built one of the best cooling systems in a notebook and they had to in order to power the beastly Intel Core i9 12900H. Across tests, this notebook performed very well. Benchmark scores showed just how powerful this notebook is and how the cooling system kept the Core i9 CPU going.
Geekbench
Single-Core – 1925
Multi-Core – 13981
Cinebench
Single-Core – 1979
Multi-Core – 17102
While ASUS markets the 16X as a creator notebook, you can most definitely get away with some gaming on it too. The RTX 3060 is a great GPU for gaming and benchmark scores showed that it manages to run some of the latest games pretty well. This is also thanks to some of the great gaming settings available on the device like the Performance Mode built-in by ASUS and Windows 11's advanced gaming modes.
ASUS ZenBook Pro 16X OLED Gaming Benchmarks
Elden Ring (1080p) – 59FPS
Dying Light 2 (1080p) – 65FPS
God of War (1080p) – 71FPS
Far Cry 6 (1080p) – 75FPS
So that's the ASUS ZenBook Pro 16X OLED. One of the most refined and powerful creator notebooks you can get. From its incredible display to its powerful internals and of course, the advanced operating system powering it all.