In a world filled mostly with racing games that punish you for colouring outside the lines of a set track, nicking an opponent or even thinking of causing a crash, Wreckfest is a breath of fresh air with a hint of burned rubber and a background noise of powerful, gas-guzzling engines and metal scraping and breaking apart. Wreckfest, for me, is the best racing game in over a decade and if you enjoyed the original Destruction Derby or FlatOut titles, you will absolutely adore the game from start to finish.
RELATED: Control Review – The Perfect Pace
Wreckfest delivers a level of freedom that very few racing games have done this generation and with it comes as much destruction as you can handle thanks to true-to-life physics combined with soft-body damage on every single one of the dozens of vehicles available.
These vehicles, from a lawnmower to a car that looks very much like the classic Volvo 240 Estate to school busses. Vehicles all feel extremely unique in their handling, break to pieces if you get into enough crashes and simply ooze personality. These vehicles are divided into different classes and each and every single one can be upgraded by unlocking different parts, from entirely new engines to adding, for example, a Sports Air Filter for more speed and acceleration, to a Driver Cage so you can take more damage.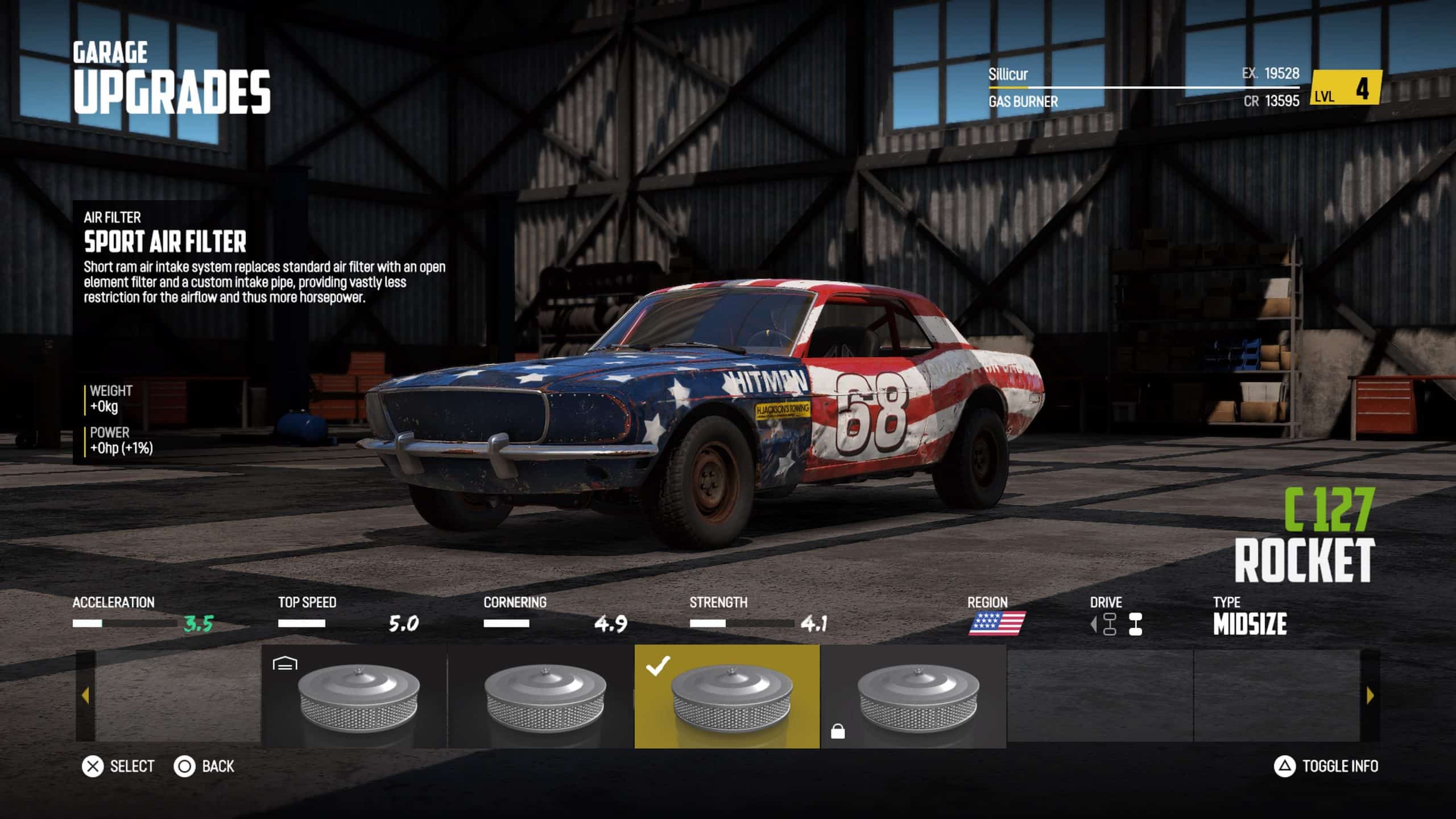 [perfectpullquote align="left" bordertop="false" cite="" link="" color="#6eed1c" class="" size="16″]Vehicles all feel extremely unique in their handling, break to pieces if you get into enough crashes and simply ooze personality[/perfectpullquote]
Wreckfest allows you the freedom to upgrade and customize your vehicles to exactly the way you want them. For example, I could upgrade a Muddigger so that it can take even more damage without adverse handling issues, but since damage reducing upgrades are heavy, the vehicle is more difficult to control or bring to a stop. In terms of the Career mode, the game delivers a fantastic and diverse experience, allowing you to unlock new vehicles and upgrades, as well as earn credits to purchase and install upgrades and totally new vehicles after almost every race.
From the Regional Juniors that kicked things off with a demolition derby event in Lawnmowers (yes, that's not a typo) all the way up to the frantic, A class Championship series, each part of the career mode just delivered so much diversity that it never got boring at all.
Wreckfest's career mode doesn't have a story, but you make your own one as you compete against the superb (and sometimes absolutely crazy) AI that rams you off the road. In this game, unlike so many other racing titles out there, hitting other vehicles isn't only allowed, but encouraged, as you gain points for spinning out or completely wrecking an opponent. The AI, at least in each race, remembers what you did to them in a Rivals system. Take your rival off the road for good and you earn even more points, making many races more about taking down AI with colourful names like "Tough Nut" or "Cannonball" than anything else.
Boasting well over a dozen very unique and detailed tracks, from a daunting Deathloop to oval demolition derby stages (including a cornfield where you can play around with tractors) there is a lot to love about every single new track you get to wreck your opponents on.
These tracks, just like the vehicles, ooze personality and contain objects to drive over, crash into and knock around. I simply loved it when a crash happened and tyres that were placed alongside the road shot into the air and on the next lap, I could see the consequences, sometimes causing even more glorious crashes or close calls.
It goes without saying that these tracks were made to cause havoc with sections doubling back on each other and deadly eight-shaped tracks where you can get rammed from opponents you have managed to get past at the beginning of a race.
Combine this with the excellent physics, destructible vehicles that, when damaged enough, even see their engines cut out for a few seconds, and you have an unforgettable experience in each race, with my favourite one being couch racing on an eight-shaped track providing hilarious crashes and drivers flying off their couch-shaped vehicles.
There is one issue with the career mode and progression that makes it a bit frustrating at times. First off, you don't have to complete every race in the five tiers, as you just need a certain number of points to make it to the next tier. However, you do need to own a specific vehicle for some events, such as a Banger race or a lawnmower demolition derby. You can purchase the required vehicles but that means grinding for credits, or you can go back and complete a lower-tier race for a vehicle as a reward.
Unfortunately, I spent all my credits on upgrading the vehicles I already had, resulting in having to play some events over again to get enough credits to purchase the required vehicles. Thankfully, the game is just so much fun that it wasn't a big deal at all.
What can be a big deal for those who love the competitive nature of multiplayer. Every race I joined through the Quickmatch option put me with players who had better class vehicles, which are faster and tankier. This meant that there was a feeling of unfairness as everyone just gets thrown together, but even the A-class players could still be beaten if you managed to cause some "accidents" on the track.
It was, however, very difficult to compete against players who've been grinding out more races than I have done. Thankfully, playing from South African with roughly 200ms latency still felt great and I only experienced one disconnect after roughly 10 multiplayer matches.
On the technical side, Wreckfest is nearly perfect as it ran smoothly on my PS4 Pro. I had no framerate issues at all and the only thing that I could nitpick about was the long loading times. They also don't tell if you choose to restart a race instead of finishing it and taking a loss, none of your challenge progress in that race will be counted. Lastly, in the demolition derby stages, some debris disappeared after a while. That's not a big issue at all since there are still smouldering pieces of metal from the wrecked cars to feast your eyes on, but it would have been awesome if every little piece of debris stayed there until the end of a match.
Even with a few minor flaws, Wreckfest delivers that exhilarating experience that you simply can't get anywhere else with all the destruction, fast-paced driving upgrades galore. Throw in some awesome rock music as you drive along and push opponents off the road, into trees or into oncoming traffic, and you have an extremely addictive experience that gets that engine revving every time you boot up the game.
The Verdict
Wreckfest is the most enjoyable racing game I have played this generation (and possibly ever), delivering exhilarating racing, nerve-wracking demolition derbies, a tonne of customization options, a variety of different events and so much personality in every vehicle and track that it is one racing title that you should not ignore.
There are a few minor flaws, as progression feels a bit forced especially if you want to compete and do well in multiplayer matches. Then, on the PS4 Pro, some debris also seemed to disappear after a while, but that isn't a big deal as I could still see the aftermath of crashes on each track. However, these are minor issues and fans of the original Destruction Derby shouldn't miss out. Best of all, the game costs about R300 less than the standard AAA price and it will provide you with dozens of hours of beautiful, glorious destruction wrapped up in a robust package.
This Wreckfest game review was based on a code sent to us by THQ Nordic.
Available On: PS4, Xbox One, PC | Reviewed On: PS4 Pro | Release Date: 27 August 2019 | Price: R629