Can you believe it's already Valentine's Day? I swear my fingers still have paper cuts from wrapping Christmas gifts, but here we are. I love a good horror comic, as anyone who frequents here already knows, and I would pretty much suggest it as the go-to genre regardless of the event. Still, there is no denying that some of the best comics around are all about the one thing traditionally celebrated on February 14th, love.
Regardless of if you're spending today on your own or with someone close to you – if you're looking for comics to read this Valentine's Day, we at GLITCHED have got you covered. Whether you're looking for something light-hearted and sweet, some drama or something hot and heavy, it's all here.
Valentine's Day Comic Books
Disclaimer: By the descriptions of some of these comics alone, it should be apparent that these are meant for adults only, but in case not, these are meant for adults only.
Un/Sacred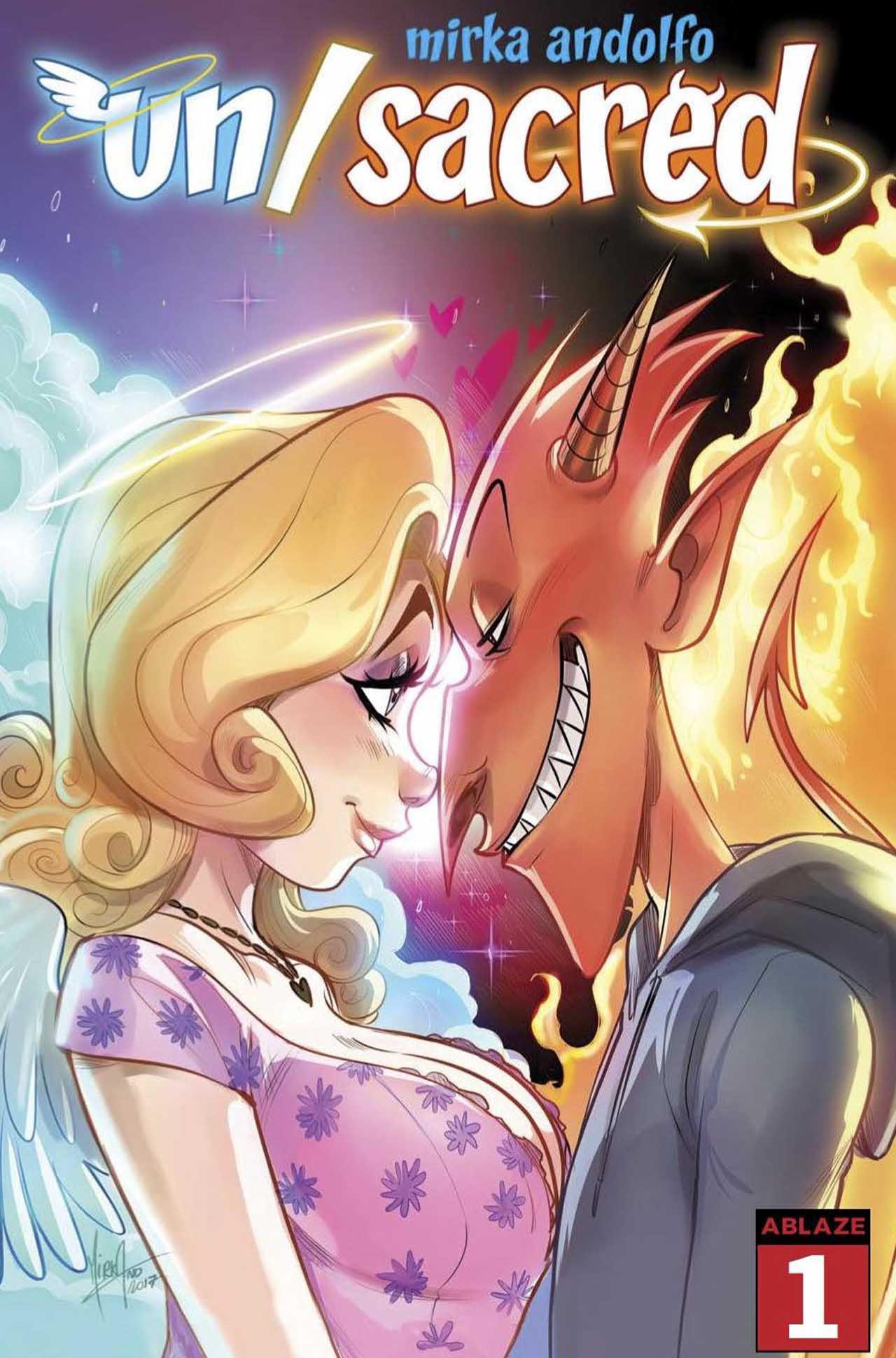 7 Issues written and with art by Mirka Andolfo (Buffy the Vampire Slayer; Catwoman; Deep Beyond)
Un/Sacred tells the story of an angel named Angelina and a devil named Damiano. The two couldn't be more different in every way, but there is one thing they agree on: they are both madly in love with each other. Can a love story between a devil and an angel work? Un/Sacred is an amusing slice of life story about lust, love and everything in between.
Mood: When you're looking for a humorous and sex-positive slice of life story all about relationships.
Sex Criminals
5 Issues written by Matt Fraction (ODY-C; Bitch Planet; 30 Days of Night) and with art by Chip Zdarsky (Batman: The Knight; Crossover; Black Hammer)
Sex Criminals is a sometimes serious and always ridiculous sex comedy in the same vein as The 40-Year Old Virgin. The comic goes about Suzie, a seemingly average girl who suddenly discovers she has a very unusual talent: whenever Suzie orgasms, she stops time. While still coming to terms with this "power", Suzie ends up meeting a man named John who has the same skill. What happens when two people meet who can stop time just by having sex? They start robbing banks together, of course.
Mood: Sex Criminals is everything you would expect from a comic with its name. If you're in the mood for something "in your face" and explicit, then this is the comic you've been looking for.
Saga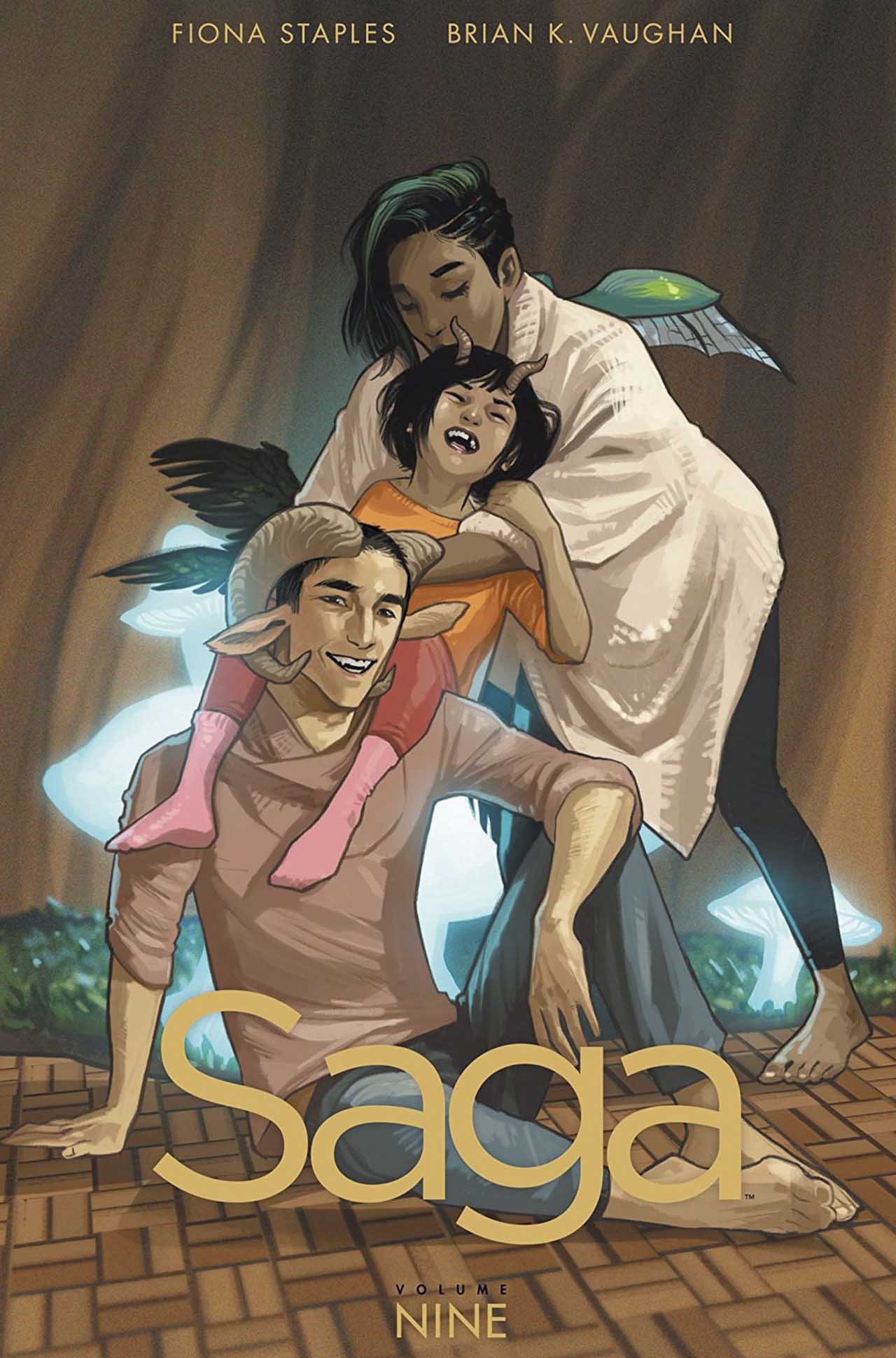 55 Issues written by Brian K. Vaughan (Y: The Last Man; Runaways; Paper Girls) and with art by Fiona Staples (Rat Queens; Jonah Hex; Batman)
Once in a generation, something so epic comes around that nothing else can stand up to it; Saga is that thing. Saga goes about two people caught in the middle of a seemingly never-ending galactic war who find themselves crazy in love. At first, they don't care about the consequences stemming from their forbidden love, but when they fall pregnant, they risk everything to try and carve out a better future for their child. Saga is an emotional rollercoaster from beginning to end.
Mood: Saga is probably the single most special comic you'll ever read. It's about every type of love you can imagine, and no matter what you're in the mood for, Saga is what you should read. Still not convinced? Read my review here.
The Me You Love In The Dark
5 Issues written by Skottie Young (Strange Academy; Rocket Raccoon and Groot; Oz) and with art by Jorge Corona (Middlewest; No. 1. With A Bullet; Firefly)
When Ro, searching for some much-needed artistic inspiration, she ends up moving as far out of the city as she can. When a realtor shows her a house but warns her that the previous owners said it was haunted, Ro instantly knows she's found the perfect place. After Ro moves in, she starts talking to the "ghost" in the house, hoping it will help her get past the creative wall she finds herself behind. However, it just doesn't seem to be working, that is until the ghost starts talking back.
Mood: The Me You Love In The Dark is perfect for when you're in the mood for a cosy spot, a glass of wine and a little bit of darkness with your romance. It's hard to sum up, what makes The Me You Love In The Dark as unique as it is, but if you want to know more, read my review here.
Sweet Paprika
6 Issues written and with art by Mirka Andolfo (Buffy the Vampire Slayer; Catwoman; Deep Beyond)
Paprika is your stereotypical successful businesswoman. She knows everything about business but nothing about love. Paprika chose not to pursue relationships or have a personal life during her pursuit of a career, but that doesn't meet she doesn't want one. When Paprika ends up getting close to Dill, the drop head handsome delivery boy with women falling at his feet, Paprika is in for one crazy and sex-filled ride.
Mood: If you're looking for a silly sex comedy, think Sex and the City meet The Devil Wears Prada, then Sweet Paprika is for you. It's funny, it's sex-positive, feel good and it's very sexy.
Sunstone
7 Issues written and with art by Stjepan Sejic (Harleen; Fine Print; The Darkness)
When Lisa, a budding writer and submissive with no real-life experience, ends up connecting with Ally, a programmer and dominant who has only ever played with her ex-boyfriend, the two start a real-life sub-domme sexual arrangement. A first for both of them. However, before long, the relationship turns into something more than just sex when they both start falling for each other, but neither is willing to acknowledge it.
Mood: Sunstone is a story about relationships that live in the dark and fetishes that aren't addressed at the dinner table. It's a modern BDSM romance story with all the drama you'd expect.
Scott Pilgrim
6 Graphic Novels written and with art by Bryan Lee O'Malley (Snotgirl; Hopeless Savages; Sacrifice)
Scott Pilgrim is a 23-Year old bass player for a band called Sex Bob-omb and lives with Wallace, his roommate. Scott is also dating a high-schooler. Everything in Scott's life is fine until the night he dreams about a girl named Ramona Flowers before actually seeing her in real-life. Scott and Remona instantly hit it off after meeting. Still, before they can be together, there is something Scott needs to do, defeat Ramona's seven evil ex's.
Mood: If you've watched the remarkably faithful movie adaption, then you know what you're in for with Scott Pilgrim. It's a light-hearted and funny coming of age story about who you are, who you want to be and who you want to be with.
---
Regardless of if you're planning on spending today alone or with someone else, the comics listed here are filled with so many feel-good moments, sex positivity, humour and sentiment that they're sure to put the love in Valentines Day.
If you've enjoyed this list and you're thinking of adding to your collection, then remember to head over to Critters and Comics. Also, if you use code "GLITCHEDVALENTINE" at checkout, you can get 30% off your cart… valid until midnight tonight (14 February).